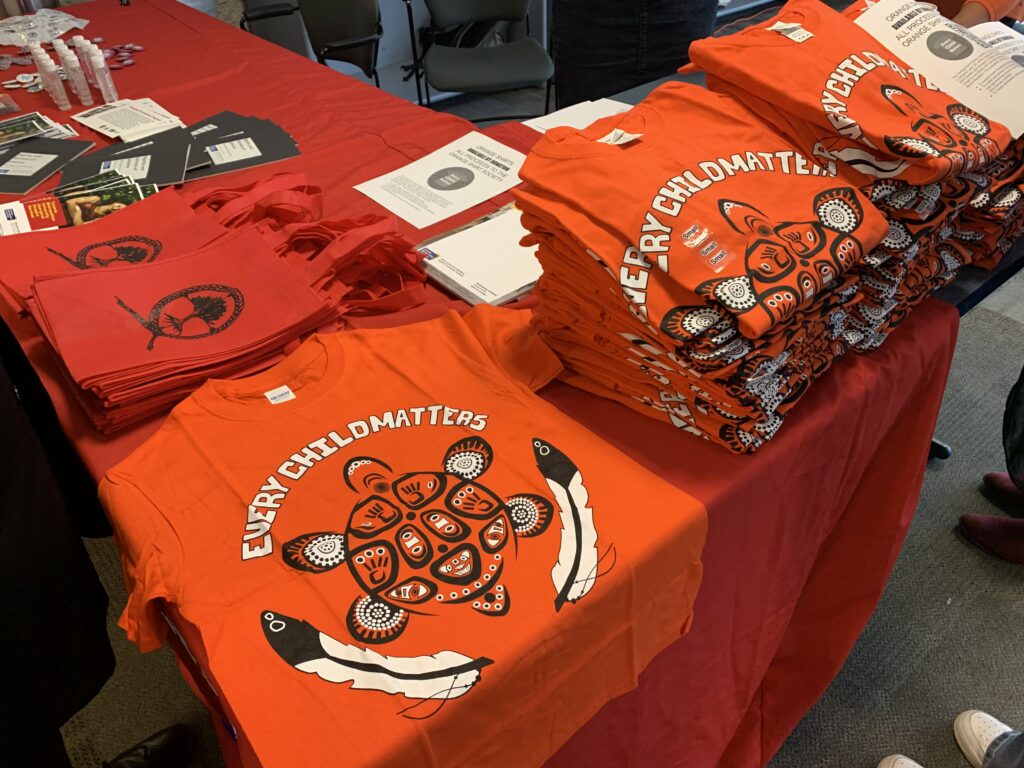 Listen to the audio version of this story:
A growing crowd of people wearing orange shirts, buttons, and pants filled the Podium Building at Toronto Metropolitan University (TMU) this morning as community members gathered to commemorate the university's sixth annual Orange Shirt Day.
Today, however, marks the first where the institution no longer acknowledges its former name's namesake: Egerton Ryerson. The educator played a key role in the design of residential schools in Canada, which ultimately shaped a system that the Truth and Reconciliation Commission final report characterized as cultural genocide.
"I enjoy seeing folks wearing orange. Even in public away from the university, it feels like we are supported," said Amy Desjarlais, co-chair of the National Indigenous Peoples' Day/Orange Shirt Day organizing committee, in an interview with On The Record. "It's a small way that folks can [show support] but the challenge is to make sure that it's not performative."
Also known as The National Day for Truth and Reconciliation across Canada as of last year, Sept. 30 is a statutory holiday meant to recognize the horrific effects of the residential school system – including the generations of trauma – on Indigenous peoples and to honour survivors. According to the TMU website, the day also aims to provide space for conversations in the spirit of truth-telling and reconciliation.
In speaking about the discovery of the mass grave sites at Kamloops in 2021, Joanne Dallaire, Elder (Ke Shay Hayo) and senior advisor for the Indigenous Relations and Reconciliation, said she was always taught to listen to children.
"Because the little ones will tell you the truth with no filters. They will look at you and say, 'You're fat, your hair is funny, why are you talking like that?' And the little ones took that time to have the truth be revealed by having themselves be found, and the veil of denial was ripped off our nation in one fell swoop."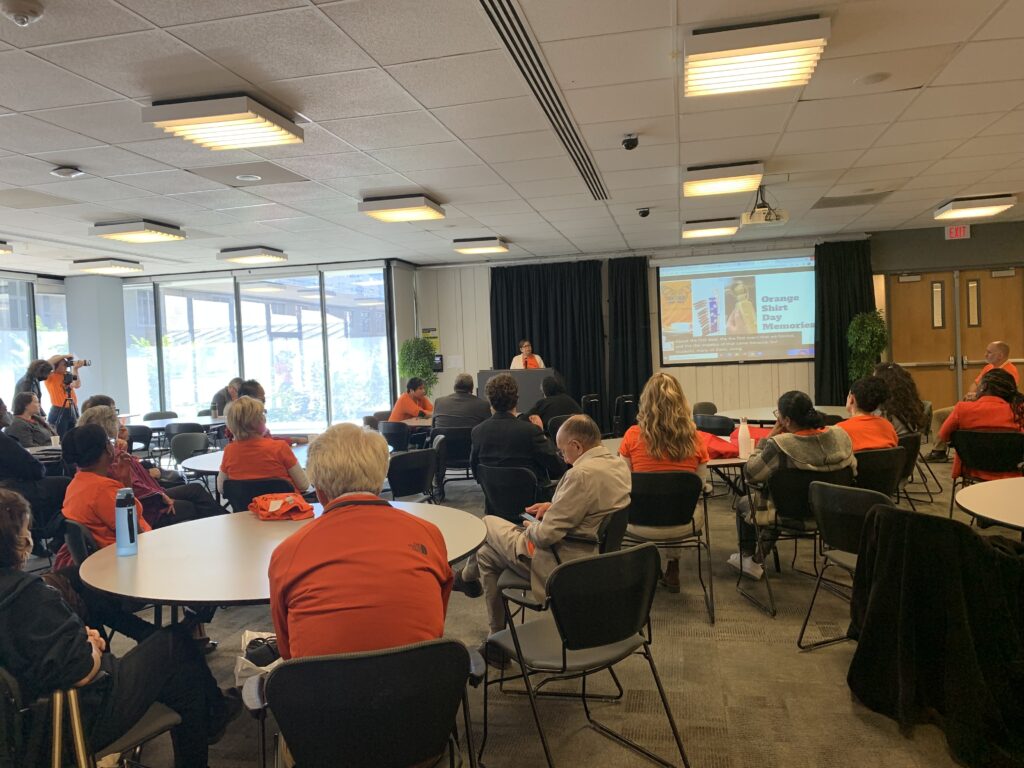 The welcoming remarks on Friday began with Brian Norton, program manager at TMU's Aboriginal Student Services, and a land acknowledgement presented by liaison librarian Jane Schmidt. Dallaire's call to the mic came after, in which she said she wanted to "do this a little differently."
Dallaire began to sing a lullaby – as a form of prayer or meditation – to "address the little ones, the parents who had to let go of their children, and the history and imbalance of power and inequity in our community."
Attendees closed their eyes, opened the palms of their hands, and tears were shed for the next two-and-a-half minutes. Dallaire concluded with a reminder to be kind because "it is easier to be unkind."
TMU president Mohamed Lachemi and vice-president Jennifer Simpson were also in attendance. Their remarks included the acknowledgement of the university's name change as a step toward reconciliation, but that there is further progress to be made. Lachemi added that both he and TMU are still "fully committed" to implementing all 22 recommendations of the Standing Strong Task Force.
Later today, the university shared its plans on further steps to ensure what Lachemi referred to earlier as "programs continuing mandatory learning opportunities about Indigenous history, and colonialism" as well as "developing education for all faculty and staff about Indigenous history, Indigenous and colonial relations, and the residential school system."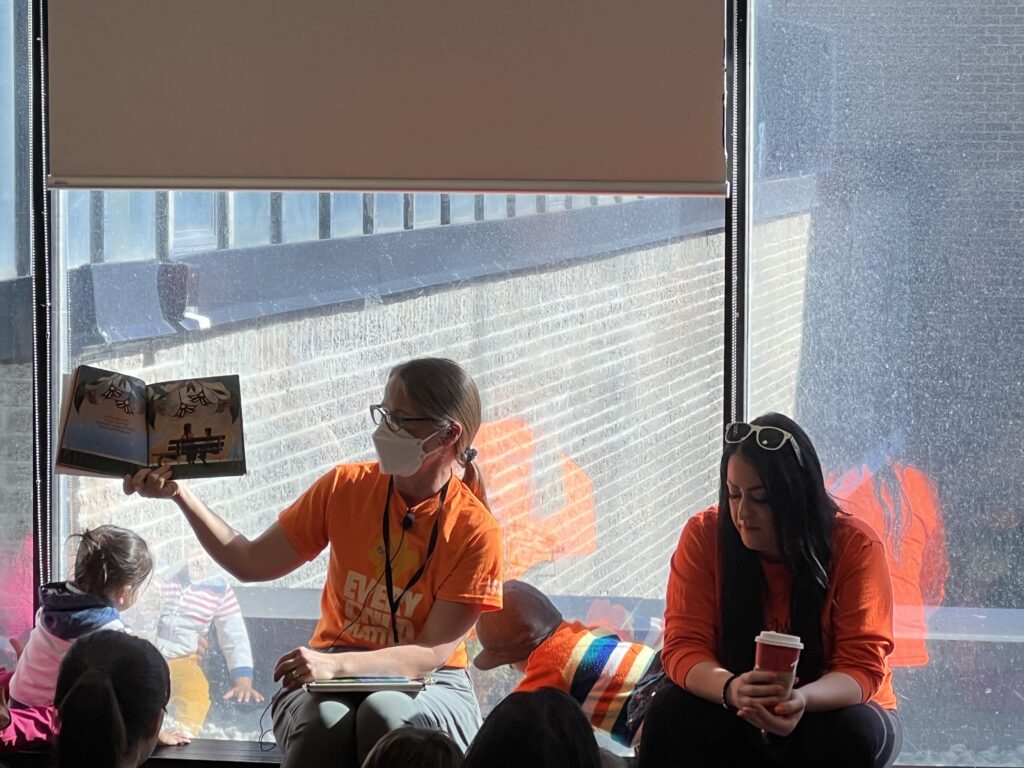 Toward the end of the welcoming remarks, about a dozen children entered the room, laughing and settling onto animal mats. Some in small- or extra-small-sized orange shirts, but all were there to hear the story behind Phyllis Webstad's orange shirt. The books included With Our Orange Hearts and Phyllis's Orange Shirt both by Webstad, along with We All Play by Julie Flett.
"An important thing for us in Indigenous communities is centering the voices of Indigenous students and youth," said Desjarlais. "But also listening to those voices and acting on them where appropriate…because the youth are our future. Our youth and children are our teachers."
Following the storytime was an invitation for attendees to express their sentiments through a collaborative mural. "Creative activities are really important to get in touch with those emotional, nonlinear places in ourselves, to have those outlets and expressions," said Desjarlais.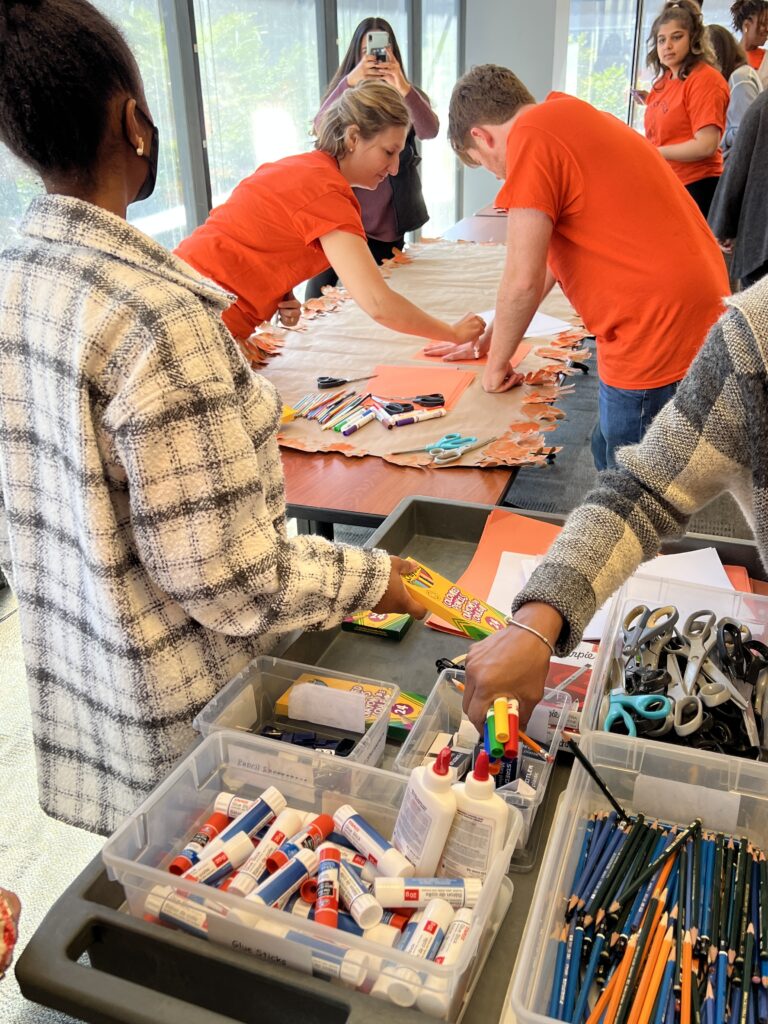 Events continue throughout the day, including button-making, a lunch, a silent meditation walk, concluding with a virtual tour of the Woodland Cultural Centre – formerly the Mohawk Institute Indian Residential School.
"This year it's important to make as big an effort as we can in the time that we've had to organize this. It's important for survivors and their families to know they are seen and heard," said Desjarlais. "Quite often it would be survivors that were pushing the government and everyone to be recognized [in previous years]."
The organizing committee also worked to illuminate the campus with orange lights from sunset to sunrise on Sept. 29 and again on Sept. 30 from Nelson Mandela Way, along Gould Street, and along Church Street.
For individuals wanting to become allies – or better allies – Desjarlais says it's key to understand the value behind reciprocity first, which is part of the education and awareness required to understanding Indigenous peoples' history.
"If you're going to come to an Indigenous [community] or if you're going to ask an Indigenous colleague or peer for anything, be prepared to offer something first," she said. "Be prepared to offer your time, your skills, materials, money, whatever, because [there's] a history of exploitation and taking of Indigenous lands, materials, resources and energy."
Desjarlais highlights that "there are no stupid questions" but the best place to start is self-education. Along with the Rebirthed Teachings working group, Desjarlais prepared a resource kit for individuals looking to start the self-education journey.
Other starting points to allyship include, but are not limited to:
"What you learn here today, take it home and teach it to someone else," stated Dallaire. "Every opportunity you have, be a voice of empowerment and recognition."
---
On The Record recognizes that the term "Aboriginal" is not what is recommended in the Journalists For Human Rights' style guide when referring to Indigenous peoples due to the connotation of the "ab-" prefix frequently compared to "abnormal" or "abduct". Any and all references to the term are taken either directly from interviews with Indigenous peoples or from proper names (i.e. the title of services).