The COVID-19 pandemic is known to some as the great equalizer, but to others a device for further wealth inequality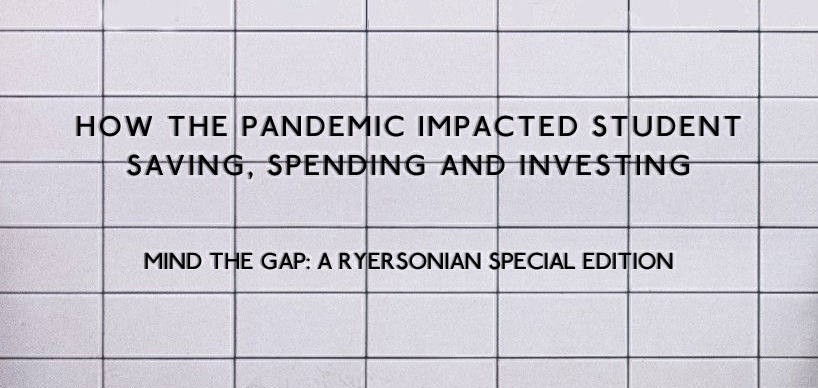 Gone are the days when commuting to school, buying takeout for lunch and networking with peers in person were the norm. Today, students can save hundreds of dollars a month through remote learning, are able to slowly accumulate wealth by starting to invest and can start to chip away at the mound of debt looming over their shoulders.
As classes shifted online and students moved back to their parents' homes in droves, many were able to capitalize on the opportunity to learn more about financial literacy. Arguably, now more than ever, students are in need of it.
Student debt is becoming more common year over year. In spring 2020, 50 per cent of post-secondary graduates owed a median average of $17,500 at the time of graduation, according to a Statistics Canada report. The pandemic has heightened students' concerns over taking on even more debt to finance their education. Often, they have little to no savings to cushion the blow, the report says.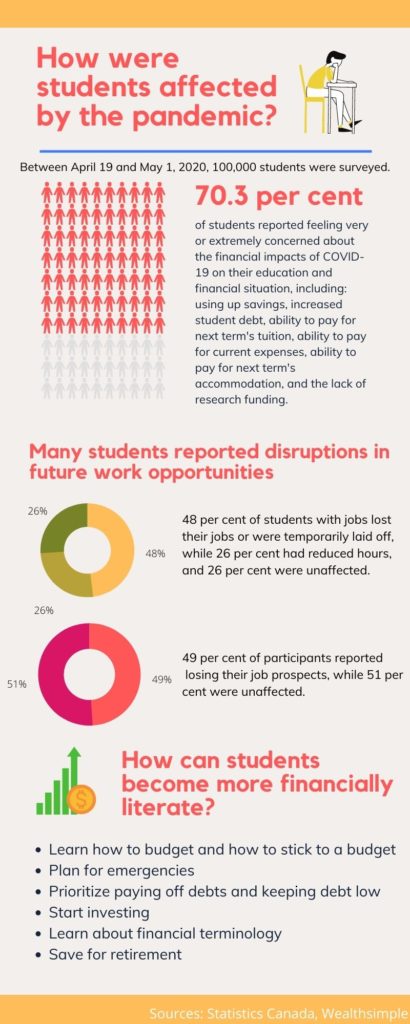 In response to the pandemic, stock markets have seen erratic and unpredictable trends that have caused a major increase in investing. The Ryerson Paper Trading Club (RPTC), which formed in the summer of 2020, was created to empower students to take advantage of the financial volatility the pandemic created.
"Something I advocate for is financial literacy," said Neil Jonatan, a fourth-year journalism student and the president and founder of the RPTC. "It's important that everybody knows how to make a budget, how to stick to one, what to do when you've made savings and how to make your money work for you. That's a really important part of managing your life properly."
Canadians are more likely to see their personal finances worsen this year if they are self-employed, work part time or make under $50,000. It's also true if they have experienced layoffs or a reduced salary. However, their finances are more likely to improve during the pandemic if they are between 18 to 24 years old, according to the BDO Affordability Index, an annual report that examines how affordable life is in Canada. This puts the majority of students in the unique position to benefit from the pandemic.
The RPTC has upwards of 150 members and meets regularly to network, share information on stocks and participate in paper trading competitions, where students use fake currency that follows the real stock market to get a better understanding of how the system works. Over time, interest in RPTC grew, especially after students watched GameStop shares grow to unexpectedly high levels.
Groups like RPTC, coupled alongside fundamental accounting and finance classes, help teach the fundamentals of managing money effectively.
"In personal finance class, we have extensive discussions (on) how to be prepared for unexpected events like this and how to avoid financial distress," according to Sergiy Rakhmayil, an associate professor who taught personal finance planning at the Ted Rogers School of Management.
"We should avoid impulse buying and paying good money for things we often do not need," Rakhmayil said. "We should at a minimum have a safety stash of cash that is not used for anything except emergencies like loss of (a) job, (and a) minimum three months' worth of our monthly expenses, which should be easily available in the form of a savings account."
Once these habits are established, building professional experience is the next step to financial independence, he explained.
"Very often businesses want experienced employees," said Rakhmayil. "This is where the co-op program enters the picture. If a student joins [a] co-op program, they will be getting a degree and at the same time getting work experience. Then getting a job is much easier."
But the pandemic has introduced barriers to students' internship and co-op search. More than 100,000 pos-secondary students surveyed by Statistics Canada from April to May of 2020 reported overall negative effects of the pandemic on their work placements and internships, which are often crucial stepping stones for students entering the workforce. Nearly 35 per cent of students and almost 40 per cent of prospective graduates reported a work placement cancelled or delayed due to the pandemic. Participants that fell within this group were also more likely to be concerned about their ability to pay for current expenses.
Although the seemingly dwindling number of work opportunities for students was discouraging for many prospective graduates, some students said they realize these placements never guaranteed jobs for them in the first place.
"You're investing in your education, right?" said Noah Hazlet, a senior financial analyst at RPTC. "You're paying thousands of dollars a year in order to get a career, and that's not guaranteed, either. You still don't know if you're going to get a job out of university."
Jonatan and Hazlet said they have relied on staying home, eating out less and resisting the call of spending money while lockdown orders were in place. Although two-thirds of continuing students live with their parents, students who are estranged from their families can't benefit from free and stable home arrangements. Students who live away from home and are living paycheque to paycheque may be among those who sat on the sidelines, watching as some of the richest companies in the world got even richer, while small businesses and the average Canadian became poorer.
"I think people who don't have the funds to invest yet — it's actually the best place to be right now," according to Roland Rozario, a second-year accounting and finance student and a senior analyst at RPTC, who has minimal expenses and is currently investing all of his income.
"When people do have funds and they want to invest, they go straight into the market without knowing anything," he said. "They're (almost) guaranteed to lose all their money. If you know someone who (wants) to do this but (doesn't) have the funds – that's actually the best place to be because now you can learn. And then when you do learn, and you pay per trade and get consistently better, and make profits when you (actually) have the money – you're going to see the results."
Online schooling has allowed students to meet others through innovative online platforms like RPTC. However, the downside to living life online means having more exposure to ads and online shopping, sending some students down a path of even more spending, since e-commerce and non-essential shopping soared to an all-time high last year.
"You've seen a lot more people, I guess, get bored," said Hazlet, who is also a second-year business management entrepreneurship student. "Some people just buy things when they're bored. And other than that, you've seen e-commerce take off – it's just so easy to buy things nowadays. The whole pandemic has brought Amazon to the forefront. Once people adopt a type of innovation, such as e-commerce, they don't tend to let off on it."
For 25-year-old second-year journalism student Mariam Nouser, paying off student debt and establishing future career prospects means more now than ever before. With a four-month old baby, a husband and a mortgage to worry about, better spending, investing and savings habits are crucial to ensure her family is well taken care of.
With five years experience in both chemical and industrial engineering, Nouser has more debt than your average student.
"Most of my money nowadays is just going towards paying off debt," said Nouser, who has fast-tracked her journalism degree and is on her way to graduating next year. "Which I think is good because I want to be in a healthy financial situation when I graduate and hopefully get a full-time job."
With no traveling costs for both her and her husband, Nouser and her family have been able to pay off more debt and save more than previously possible. The pandemic also gave her and her husband the opportunity to move out of the family household, and the unique opportunity to focus on her family without the hustle and bustle of commuting downtown for school.
"I definitely miss going downtown, going to work, seeing people – it's really been a hard time for me mentally," said Nouser. "But at the same time, I've been telling people I wouldn't be able to do school with a newborn who is now four months old, if it was in person. Even though I was given permission to bring (him) in, I know that was not going to be reality for me because of the commute."
Although students may be making the most out of the financial opportunities, Rakhmayil is a big advocate for going old school to tackle student, household and housing-related debt: discover what skills employers want, work towards building them and market yourself afterwards.
"When budget becomes an issue, it is logical for an individual to pay more attention to earning money, to saving money, and to using money more thoughtfully," Rakhmayil said. "If anyone is considering where to invest, invest in yourself first, pay off your debts and invest in your job skills."