The President's Blue and Gold Awards recognize Ryerson staff for quick response to an unprecedented global shutdown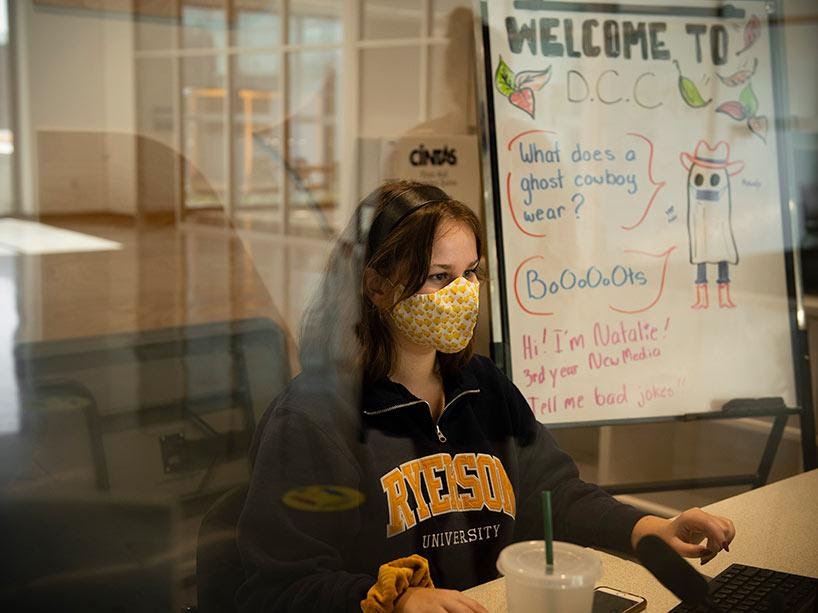 The Covid-19 pandemic took the whole world by surprise and forced the university to overcome challenges it had not faced before. This year, three President's Blue and Gold recipients were awarded for their extraordinary responses to the pandemic crisis.
The first award went to the Centre for Excellence in Learning and Teaching (CELT) that was recognized for enabling Ryerson to pivot from in-class learning to remote studies within a few days after the campus was shut down on Friday, March 13, 2020.  
A Keep Teaching Task Force was established immediately. Guides, tutorials and videos were prepared for both teachers and students to ensure a smooth transition to remote learning.
The centre collaborated with the Chang School, Computing and Communications Services (CCS) and the library to prepare continuity of teaching  and continuity of learning guides for teachers and students respectively.
"I logged into my email around 7:30 a.m. on Saturday and my team was already busy creating resources and working together," said Wendy Freeman, executive director of the CELT. "Everyone contributed to the whole. Even though we had to continually revise our understanding of what was needed to reflect what was happening at that time."
Another award  was given to the student housing COVID response and student experience team for creating a safe community for residence students.  
The recipients were a multi-disciplinary team of members of the student housing, facilities management and development, environmental health and safety, food services, and the community safety and security teams.  Keeping students safe, both on and off-campus while still providing the "residence" experience was a major challenge that the teams were effective in overcoming.  
"We wanted to provide some sort of residence life component to students in a way that was safe and could connect them with community and academic resources," said Marcelle Mullings, director of student housing and community care.  "So our campus partners, who we work with every day, had a very co-ordinated approach." 
Unlike the previous two winners, the third award was presented to an individual. Tanya Vlaskalin, manager of environmental health and safety's biological, chemical and radiological risk, received the 2021 President's Blue and Gold individual award for going well beyond her duties to provide COVID-19 case management, response planning, and scholarly, research and creative continuity.
Vlaskalin kept communication channels up to date with current, science-based public health to educate the Ryerson community about the pandemic. Meeting this challenge required her to be responsive and accessible around the clock.
"COVID-19 is going to be around for 2021, so we can only continue to learn about it and do our best to guide Ryerson back to a state of activity on campus where it's safe for everyone," she said in a statement released by the university.
Vlaskalin said she appreciates her team as well as the Ryerson community for supporting her in all her accomplishments to keep the university safe and well. The President's Blue and Gold Awards are handed out as part of the larger Ryerson employee recognition program co-ordinated by human resources to celebrate the achievements of faculty and staff in teaching, research, administration, service and leadership. Plans are underway for a virtual celebration of this year's award recipients and details will be available soon.