A year after the onset of COVID-19, people in Asian community reeling from hateful acts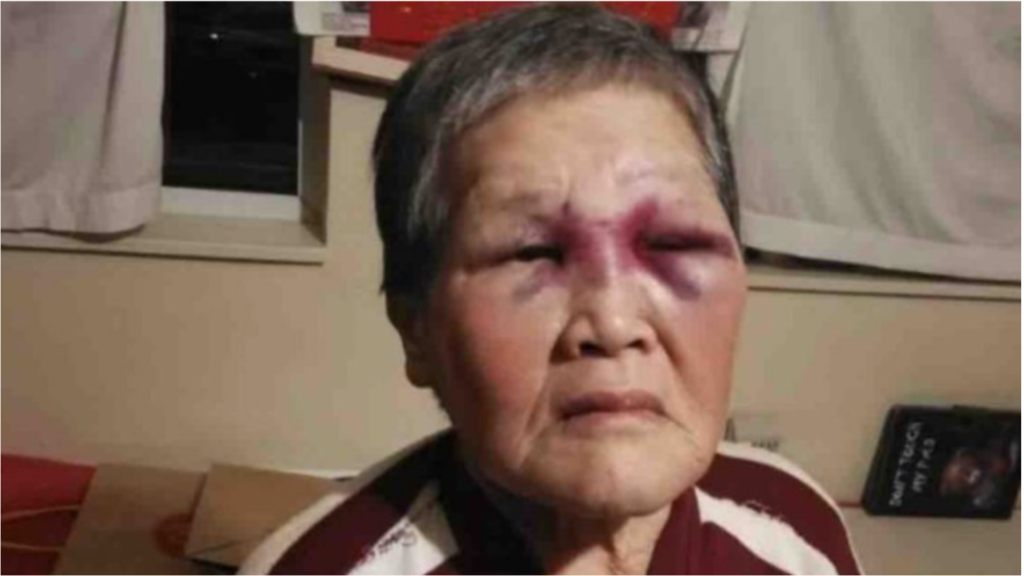 The news of the past week has been demoralizing for Asians living in North America. In the Acworth suburb in Atlanta, eight people were killed at massage parlours, six of whom were women of Asian descent.
The victims were: Soon C. Park, Hyun J. Grant, Suncha Kim, Yong A. Yue, Xiaojie Tan, Daoyou Fend, Delaina Ashley Yaun and Paul Andre Michels.
Outrage ensued over the longstanding failure to take serious action against the discrimination Asians face in North America. It has left the community shaken and traumatized.
"Our hearts definitely go out to the victims of the massacre in Atlanta," said Amy Go, the president of the Chinese Canadian National Council for Social Justice.
"But at the same time, as Asian Canadian women, unfortunately, while we're grieving and mourning, we're not surprised at all."
The number of anti-Asian hate crimes and incidents in the U. S. has increased, according to new research. Incidents include shunning, slurs and physical attacks.
The research released by "Stop AAPI Hate," a reporting centre that tracks incidents of hate crimes against Asian Americans and Pacific Islanders in the U.S., compiled 3,795 incidents from March 2020 to this past February. The report also found that women reported 2.3 times more often than men.
"We know that there are so many Asian Canadian women who have experienced hatred or violence in their daily life. That is why there was no sense of shock. It was as if we knew this was coming … it just happened to be in Atlanta," Go added.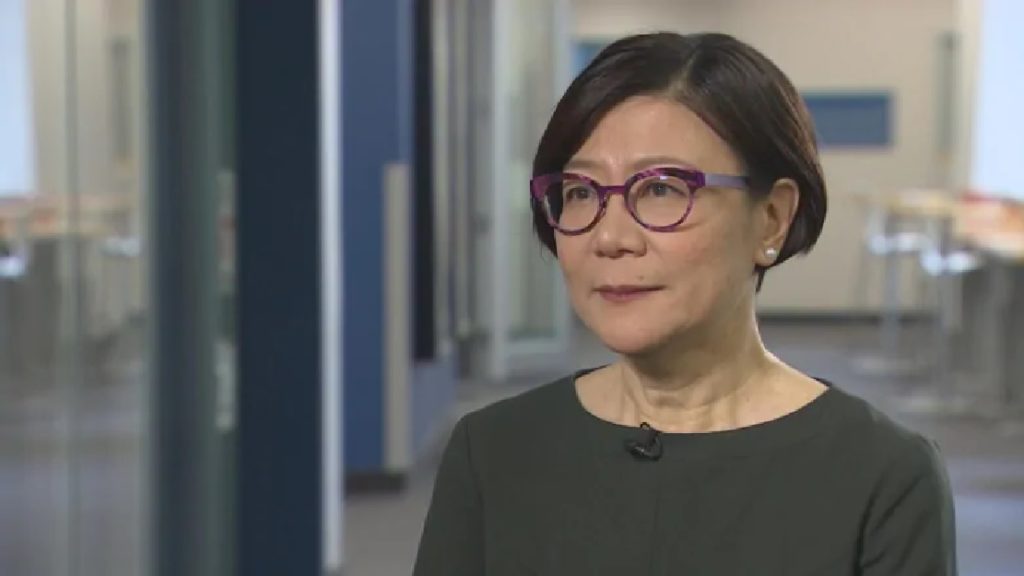 Go says there are actually more attacks – on a per capita basis – in Canada than there are in the U.S.
Live data from Fight COVID Racism shows 969 reported incidents of anti-Asian hate crimes across Canada as of March 23, 2021.
In Vancouver, a report released by the Vancouver Police Department showed that anti-Asian hate crimes rose from a dozen in 2019 to 98 in 2020 — an increase of more than 700 per cent.
The Ottawa Police Service reported that in 2020 hate crimes went up 57 per cent and hate crimes against East Asian and Southeast Asian people were up 600 per cent from 2019.
In Toronto, research shows that Toronto has the second-highest number of cases involving anti-Asian hate crimes, following Vancouver.
"I have heard so many friends and family members telling me about the xenophobia they've experienced because misinformation and stereotypes run rampant during the pandemic," said Go.
Go said one friend recently boarded a bus and the people around her immediately moved away. She said another friend witnessed a white woman asking two East Asian men wearing masks if they "have the Chinese disease?"
Go's niece, Stephanie Go, is a doctor who has been working on the front line since the beginning of the pandemic. She said she has frequently experienced microaggressions, such as racist comments, slurs and shunning while working at the hospital.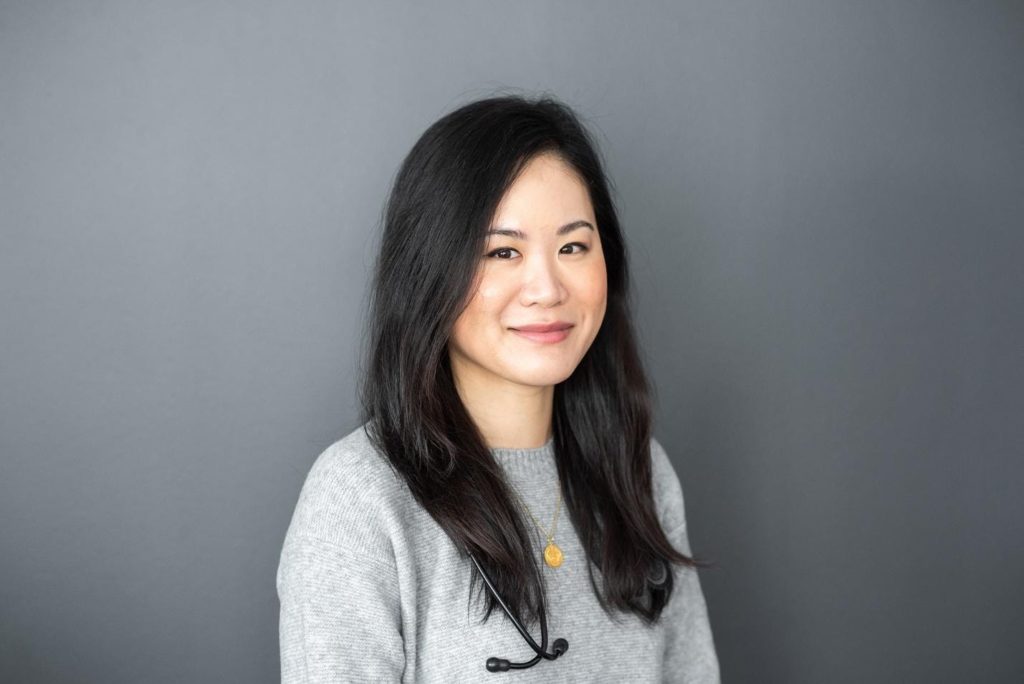 "There was a patient that I was treating," said Stephanie. "(The patient said), you know, this problem with the pandemic is all caused by you. Chinese people. Because you eat everything, it is so dirty. That is why we had SARS, and now we have COVID-19, because of you! Chinese people."
She said it was particularly hurtful because she was insulted while working on the front lines to treat patients.
"It's very upsetting and especially difficult (when I am dealing) with COVID-19 … because you are fighting the pandemic for them, but on the other hand, they are also blaming you for the pandemic," Stephanie said.
Sandra Hyde, an associate professor in the Department of Anthropology at McGill University, has been researching the correlation between pandemics and how different cultures get targeted during health scares.
"I think infectious diseases always have what I call a parallel epidemic — which is an epidemic of blame and shame," said Hyde. "When a new disease is highly contagious — where we have no cure and no vaccine — people are afraid. They want to place blame and it's easier to place blame on someone different from you."
Hyde said that the former U.S. president Donald Trump, repeatedly referred to COVID-19 as the "China Virus," and that normalized racism towards the Asian-American community.
Trump tweeted last March, referring to COVID-19 as "the Chinese Virus," causing anti-Asian hashtags on Twitter to rise steeply, according to a new study done by the University of California.
The study found that the number of daily users of the hashtag #covid19 rose by 379 per cent, while those using #chinesevirus to describe the pandemic increased by a staggering 8,351 per cent. The study results were published just after the shooting rampage in Atlanta.
White House press secretary Jen Psaki indicated that Trump's repeated descriptions of COVID-19 as the "Chinese Virus" and "Kung Flu" helped foster an environment in which hate crimes against Asians increased.
As hate crimes continue to rise, there is growing concern about the threat to both Asian children and elders — who are also being targeted.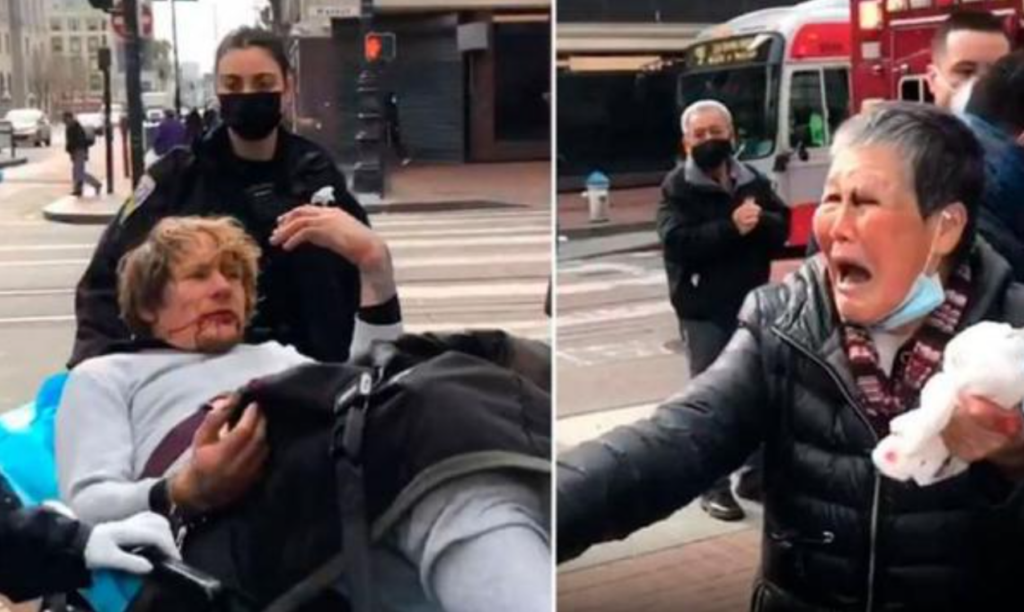 Xiao Zhen Xie is a 76-year-old Asian woman who was attacked by a white man in San Francisco. She retaliated by beating her attacker with a stick and has since has attracted a lot of online attention and praise.
People expressed admiration for her bravery on social media. A GoFundme page, to support her, was started which has seen over $850,000 raised.
But she says she has been severely affected mentally, physically and emotionally.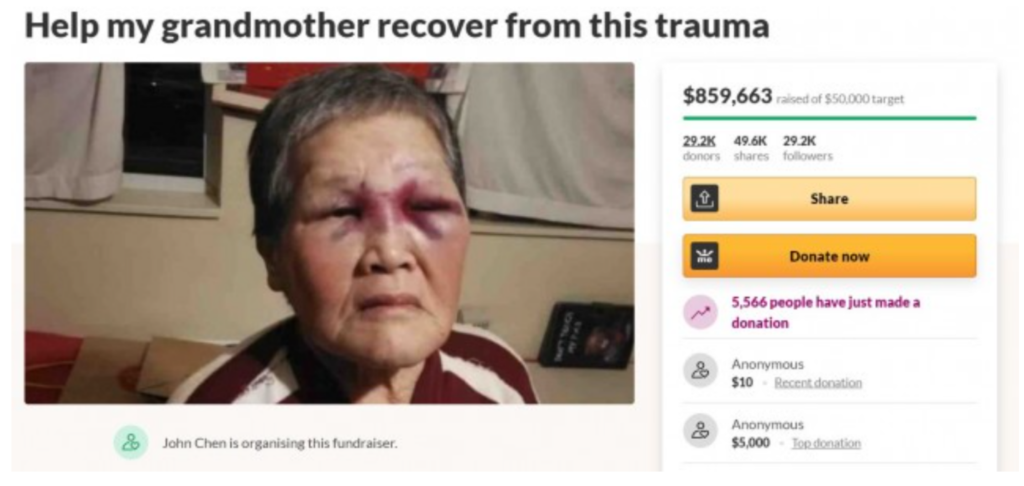 "I am very traumatized, very scared and this eye is still bleeding. The right eye still cannot see anything," she said in an interview with Oxygen, a U.S. news website.
King Fai Lee, the co-chair of the National Congress of Chinese Canadians (NCCC), Ontario chapter, who immigrated to Canada 33 years ago, said he is particularly heartbroken to see so many of his compatriots being targeted.
"There has been a long history of anti-Asian racism in this country," said Lee. "From the head tax to many other laws and incidents along the course of history — the pandemic is just an intensification of anti-Asian racism."
Lee said there is a lot of hidden anti-Asian racism that isn't addressed in mainstream society and combating racism requires collective efforts and community solidarity.
"We call on every Asian in Canada who has been discriminated against to stand up and make their voices heard. We want the issue out there, so the federal government and other levels of governments can move to address anti-Asian racism. The hate crime(s) and racism have no place in our society," Lee added.
Last October, the city of Toronto launched a social media anti-racism campaign aimed at combating prejudice against people of East Asian descent.
Kristyn Wong-Tam, councillor for Ward 13 and the former president of the Chinese Canadian National Council Toronto Chapter that successfully lobbied the federal government for the head tax apology, is actively involved with the campaign.
"We are calling on everyone to speak up instead of standing in silence and complicity," said Wong-Tam. "We also encourage Torontonians to learn about the diversity and culture of countries like China, Japan, Korea, Hong Kong and Taiwan."
The federal government is also taking action. NDP leader Jagmeet Singh introduced a motion in the House of Commons to condemn the rise of anti-Asian racism and racist attacks in North America. MPs passed it without opposition on March 22. The motion also urges the government to take further action to tackle hate crimes.
NCCC (Ontario) has a hotline — 416-971-7883 — that will help any Asian in Canada who has experienced racism.