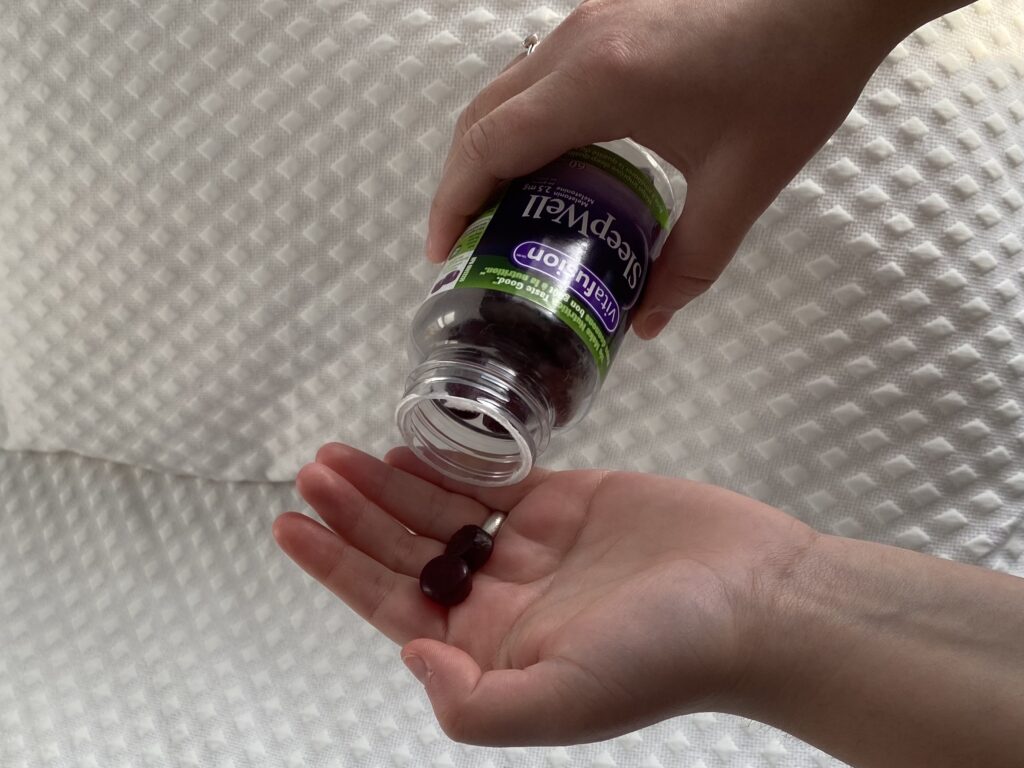 Ryerson student Brandon Gangaram says he'll remember the pandemic for a lot, but specifically as a time when he couldn't fall asleep.
The fourth-year Ryerson biology student says all the disruptions, including being cooped up inside and having to take classes online, left him lying awake at night. His sleep schedule was totally altered.
"The depths of the pandemic got to me. It was just really hard for me to fall asleep."
He says that when he occasionally used cannabis before bedtime, it helped him fall asleep faster. However, he soon replaced this with melatonin supplements. 
A 2019 study by Syracuse University indicates that substances are widely used among U.S. undergraduate students for sleep aid. Patricia Goodhines, a behavioural medicine resident who contributed to the study, says that the pandemic may cause worsening sleep quality among students.
"Emerging evidence suggests that college student sleep has become more dysregulated and less efficient during the pandemic," Goodhines said. (Dysregulation, also known as emotional dysregulation, refers to a person's inability to manage emotional responses properly.) "This may be exacerbated by increasingly varying daily schedules given the shift to online/hybrid learning and working from home. Sleep problems can also be exacerbated by depression or anxiety, such as pandemic-related worry."
Experts say that undergraduate students are more likely to have sleeping issues due to certain behavioural tendencies. Irregular schedules and long hours spent in front of a screen can affect sleep quality.
"Even before the pandemic, college students were not getting enough sleep," said Michael Cardinal-Aucoin, a professor of physiology and cell biology at Lakehead University. "This is largely due to being forced to fight against their internal clock to wake up early for school, combined with the pressure they experience as students and in their lives."
Undergraduate students face the unique challenge of becoming self-sufficient after high school, said Harvey Moldofsky, founding director of the University of Toronto Centre for Sleep and Chronobiology. He said certain habits may not come easily to freshly independent students.

"Students are now thrust into a situation where they are considered to be independent, they're adults, and they have to be self-determined. That's tough when you've lived a life usually at home," said Moldofsky.
A York University student, who has asked to remain anonymous due to their possible future employment as an elementary school teacher, says she often uses cannabis to fall asleep.
"During the pandemic, I found it very difficult to fall asleep because of how anxious I was feeling. The two main sources of stress come from work and school. Working throughout the pandemic is very stressful and smoking at the end of a stressful day is a great way for me to feel calm," the student said.
The student explains that since the beginning of the pandemic, they have been dependent on smoking. "I forced myself to cut down because it was beginning to interfere with my daily activities," they said.
Goodhines says while cannabis can induce sleep it can be addicting for those who use it frequently.
"When someone uses cannabis to sleep every single day, there is a possibility that they may become habituated or tolerant to the sleep-promoting effects. That is, they might need to use more and more in order to get the same desired effect over time," said Goodhines.
Sandy George, a communications and media studies major at York University, said she turned to melatonin because of the pandemic. Without it, she found it hard to relax.
"Ever since the pandemic and online school, my sleep schedule has been totally messed up. Melatonin supplements have been helpful to me in the past as I've taken them as early as 7 a.m. after finishing my readings or completing a last-minute assignment. It helps me catch up on sleep and stay well rested," said George.
George says that when she uses melatonin, she sometimes suffers from headaches and nausea. She isn't worried about the long-term effects of melatonin as she has reduced her usage.
"Melatonin is a hormone produced naturally in our brains according to the 24-hour light cycle, and it helps regulate our internal clock so that our bodies know when it's nighttime," said Goodhines.
The lack of research into long-term effects of melatonin supplements means there are conflicting opinions on its use.
Richard Horner, University of Toronto professor for the Faculty of Medicine, says that, although melatonin supplements may help you fall asleep faster, they don't improve the quality of sleep.
"Melatonin is no substitute for having healthy sleep habits, however it makes it easier for people to fall asleep at times deemed more appropriate by the user," explained Horner. "I'm not saying it's a totally negative thing. It can help synchronize our body pumps and help promote sleep but, by itself, it's not the solution."
Moldofsky says that our bodies are supposed to function like a clock. There are times when you are supposed to be more alert and times for rest. He says that students should avoid the use of melatonin supplements and cannabis products to fall asleep.
"The amount of melatonin that people are taking is way more than what is physically (or) physiologically required," he said. "Chemicals are not helping you. If you're going to use them, get some advice from your doctor."
Moldofsky suggests students should implement an exercise schedule, take a warm shower or bath, or read a chapter of a book to help improve the quality of their sleep.
May 18, 2022. 3:30 p.m. An earlier version of this story quoted Brandon Gangaram as saying he felt he was becoming dependent on cannabis products as a sleep aid. In fact he was referring to what he understood to be the potential effects of cannabis use as a sleep aid. The story has been changed to clarify that.