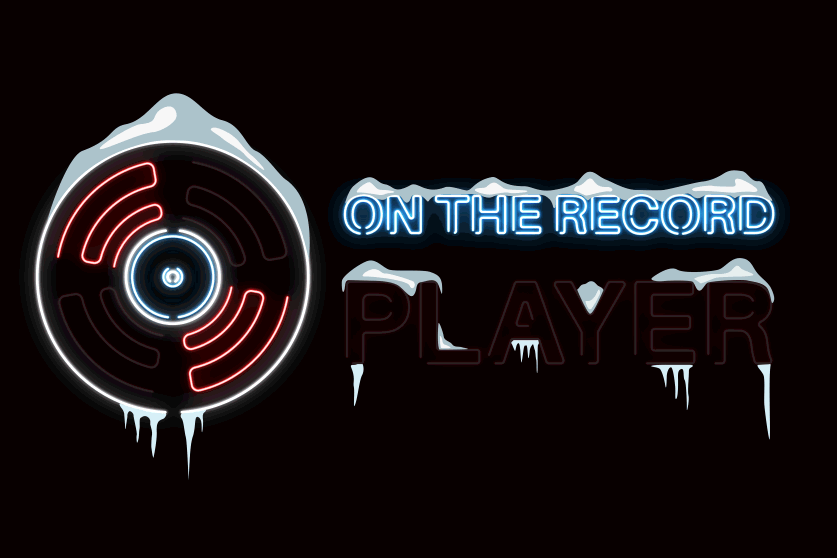 With each winter comes the annual struggle: bracing ourselves against an onslaught of holiday music.
At their worst, the songs follow us no matter where we go, digging into our brains with no respite. But they can also help us reflect on the joy the season brings. For some, it means nestling into the nostalgia of the warm crooners of the '40s and '50s, like Bing Crosby and Frank Sinatra. For others, it means a non-stop serenade by the octave-shattering range of Mariah Carey with a modern classic.
But creating a new staple is no easy feat. Try as they might, most artists don't end up making a hit that sticks. For every "Last Christmas," there's a countless number of other tracks getting buried under the snow.
If you're looking for some new material to add to your annual rotation, On The Record has you covered. Put another log on the fire and cozy into this collection of alternative holiday songs.
---
"Christmas Will Break Your Heart" by LCD Soundsystem
In 2011, LCD Soundsystem played their final show at Madison Square Garden to a sold-out crowd of melancholic fans. The entire production was immortalized in a feature-length documentary called Shut Up and Play the Hits, along with The Long Goodbye, a three-hour live album spanning the entirety of the show. As hard as it was to say goodbye to the band, seemingly at the top of their game, it seemed like a fitting send-off.
In the years that followed, the band remained silent, with no indication they would return. That was until fans were surprised with the abrupt release of a new Christmas song in 2015. It was a head-scratching entry into the band's catalogue, but one that left fans scrambling to hear.
Frontman James Murphy takes the inward, analytical cynicism that ran through the band's previous work and applies it to the holidays, in what he describes as a "depressing Christmas song." Despite this, the track manages to be a triumphant ballad led by crisp drums, a soothing piano and a smooth bassline. By the end of the track, the encompassing crescendo of violins and Murphy's powerful shouts carry you off into sonic bliss.
"We're Goin' to the Country!" by Sufjan Stevens
Sufjan Stevens is no stranger to Christmas music. With two extensive holiday compilations totalling 100 songs, the eclectic singer has enough material for a list of his own.
Released in 2006, Stevens' album Songs for Christmas collected unique arrangements of classic compositions alongside 17 originals. The tracks ranged from a soothing guitar-led instrumental rendition of "Silent Night" to a banjo-strummed duet of "Amazing Grace." Stevens' prowess for emotionally raw, compelling lyrics is on full display throughout as he plays through songs like the head-bopping "Come on! Let's Boogey to the Elf Dance!" or the sombre folk track "That Was the Worst Christmas Ever!"
On the affable "We're Goin' to the Country!," Stevens' vocals take a back seat, allowing collaborator Matt Morgan to shine. Led by banjos, the track is full of the childlike wonder that comes with the holiday season. It's short and sweet, but man is it sweet.
"Every Day is Christmas" by Alec Duffy
To promote the release of Songs for Christmas, Sufjan Stevens held a contest called The Great Sufjan Song Xmas Xchange!, asking fans to submit their original Christmas songs. Stevens and the winner would exchange the complete rights to each other's song "in the spirit of Christmas."
The winner of the contest was Alec Duffy, with his song "Every Day is Christmas." Consisting of only a lush piano and Duffy's vocals, he highlights the little things that help define the season — from the smell of fresh pine needles to watching Charlie Brown on TV. But more important than any of the holiday charms is the "perfect present, one not wrapped up in a bow": spending time with the ones we love.
Duffy's track is sincere and heartwarming, with an infectious melody. It's a celebratory song about everything that makes the holiday season special and a well-deserved addition to the annual festivities.
"Christmas Treat" by Julian Casablancas
Stemming from a classic Saturday Night Live (SNL) sketch, The Strokes' frontman Julian Casablancas brings a raucous track to your speakers this holiday. Propelled by energetic, distorted guitars and the singer's signature screams, it's a rare but successful entry into the canon of Christmas rock songs.
Originally released as a limited single under the name "I Wish It Was Christmas Today," and also as a bonus track to some editions of Casablancas's debut solo album, Phrazes for the Young, the New York City native brings a joyful nod to the classic sketch show from his home turf. The laughably simple lyrics of the original SNL version haven't been changed all that much, but they're goofy and lighthearted enough for everything to work.
It may not be the most eloquent Christmas song, but the bombastic track is perfect for spreading some holiday cheer.
"Listening to Otis Redding at Home During Christmas" by Okkervil River
With their debut album, Don't Fall in Love with Everyone You See, Okkervil River earned a place right beside their contemporaries, like Bright Eyes and Iron & Wine. Frontman Will Sheff demonstrated a keen sense of storytelling rooted in the folk tradition, sung with a powerfully emotive voice.
"Listening to Otis Redding at Home During Christmas" places the singer back at his childhood home during Christmas, a place where "beds are made and butter is added to toast." A sleepy bassline supports the delicately fingerpicked acoustic guitar and sparse drums.
The song exists in the nebulous space between home and what comes after — a place that feels intimately familiar but just out of reach. Sheff is constantly at odds with his past, grappling with regrets and a sense of aimlessness.
Sheff's time at home comes to a dramatic climax when he visits his childhood bedroom and recalls Sara, with whom he used to be romantically involved. The song builds in intensity, thanks in part to the introduction of beautifully orchestrated violins. But no matter how painful the memories get, it's Otis Redding that puts Sheff back on track, as he repeats, "I've got dreams to remember."
"White Winter Hymnal" by Fleet Foxes
The indie-folk revival of the late 2000s saw a wealth of talent, but perhaps the most notable contribution came from Fleet Foxes. The band's self-titled debut album shifted away from the contemporary leanings of bands like Okkervil River, instead returning to more traditional songwriting. Songs like the classical-guitar-laden "Tiger Mountain Peasant Song" make you feel like you should be strolling in the English countryside instead of along a suburban-American sidewalk.
The album's first single, "White Winter Hymnal," is a reverb-laden track marked by beautifully arranged harmonies from singer and artistic mastermind Robin Pecknold. The steady guitar and thumping drum beat propel the listener through a jovial story about a stroll through the snow, although keen listeners might also read into some subtle nods to Brothers Grimm-esque fairy tale imagery.
This lighthearted track is perfect for the holidays, especially during a snowfall. Its holiday clout was previously established when it was covered by Pentatonix on their Christmas album, That's Christmas to Me.