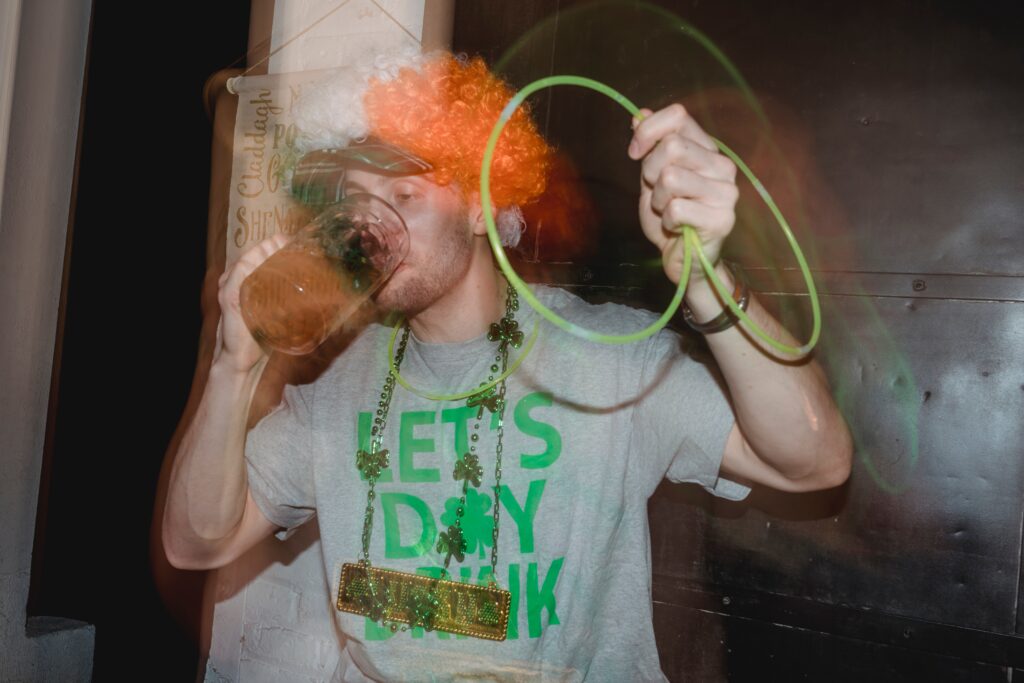 Listen to the story here:
St. Patrick's Day, which is this Friday, is traditionally a cultural and religious celebration which commemorates the death date of Saint Patrick, the patron saint of Ireland.
Nowadays, university and college students, Irish and non-Irish alike, use the holiday as an excuse to party and drink copious amounts of alcohol — usually in the form of green beer.
In the past few years it has become more socially acceptable to choose not to drink, with the rise of mocktail menus and new alcohol guidelines. Many Toronto Metropolitan University (TMU) students, at least, are not as eager to get drunk. 
Andrea Chang, a second-year early childhood studies student, isn't going out on Friday. She says she will have the occasional drink at a restaurant, but has no interest in the party scene especially on a day like St. Paddy's.
"A part of the reason why I'm not participating is because it's so heavily associated with drinking," she said. "I would definitely be interested in going if there were more events happening that weren't as alcohol focused."
A fellow light drinker, fifth-year creative industries student Aimee Bernardo says TMU has never been known to be a big drinking school because of how diverse the students are.
"It's always been the norm to accept people's drinking preferences here because of religious reasons, just because TMU is so diverse. People tend to respect that," she said.
Bernardo is not the only person at TMU who thinks so.
Crystal Pettman is the restaurant manager for The Met Campus Pub (previously known as The Ram in the Rye) and says there are plenty of students who come into the pub and choose to not order alcohol.
She says The Met has always offered all of its house cocktails without alcohol and also has a selection of mocktails created by the bar team. This semester they released a new menu with even more non-alcoholic options.
"When creating the menu it was important for us to have cocktails that could also be delicious mocktails," she said. "We've noticed drinking culture has changed quite a bit with this generation and we want the pub to reflect that."
Pubs like The Met and bars across Toronto have been adopting larger and more intricate alcohol-free menus in light of the changing drinking culture.
Global News reported that generation Z drinks 20 per cent less per capita than millennials and that each generation is drinking less than the one before it. CBC News reported that alcohol consumption goes down slightly every year in P.E.I. — a place known for its pubs — and City News reported that the demand for non-alcoholic drinks is growing in Vancouver.
Across the country, drinking is on the decline.
Gail Lynch is 10 years sober and opened Toronto's first sober bar experience, Zero Cocktail Bar, in 2021. Zero Cocktail Bar is a mobile bar that can be booked for events and also hosts mixology workshops. Lynch has plans to open a brick and mortar location this year.
"I'm thinking outside of pop or juice. Now you can get non-alcoholic ciders and spritzes. So instead of ginger ale, I can get a lemon and cucumber spritz. There's been that evolution," she said.
Lynch says holidays like St. Patrick's Day can be triggering for those in recovery or even for those who are trying to just cut back on their alcohol consumption and that having easily accessible non-alcoholic options is helpful.
"If you're going to the St. Patrick's Day parade, there must be preparation," she warned. "Do you have a sober social circle that you are connecting with before? Are you going through your steps, or talking to your coach?"
Planning a night out to factor in non-alcoholic beverages is great advice says Professor Sarah Dermody, the director of the Clinical Addictions Research and Equity (CARE) Lab at TMU. Her research investigates the risk factors and treatments for substance use and addiction in youth and adults.
Professor Dermody says having a specific plan about how much and what they will drink would help prevent students from heavy episodic drinking — or binge drinking — this Friday.
"Let's say you've put a limit that you're going to have two drinks. You say you're going to drink two pints of beer and you expect that you're going to be going to a couple of different settings with friends," she said.
"Make a plan for that. I'll have one drink at the first bar and I'll have a second drink at the second bar. And then if we go to a third place, what am I going to drink instead? Because probably I'm going to want to have something in my hand. So will it be water? Will it be a mocktail?"