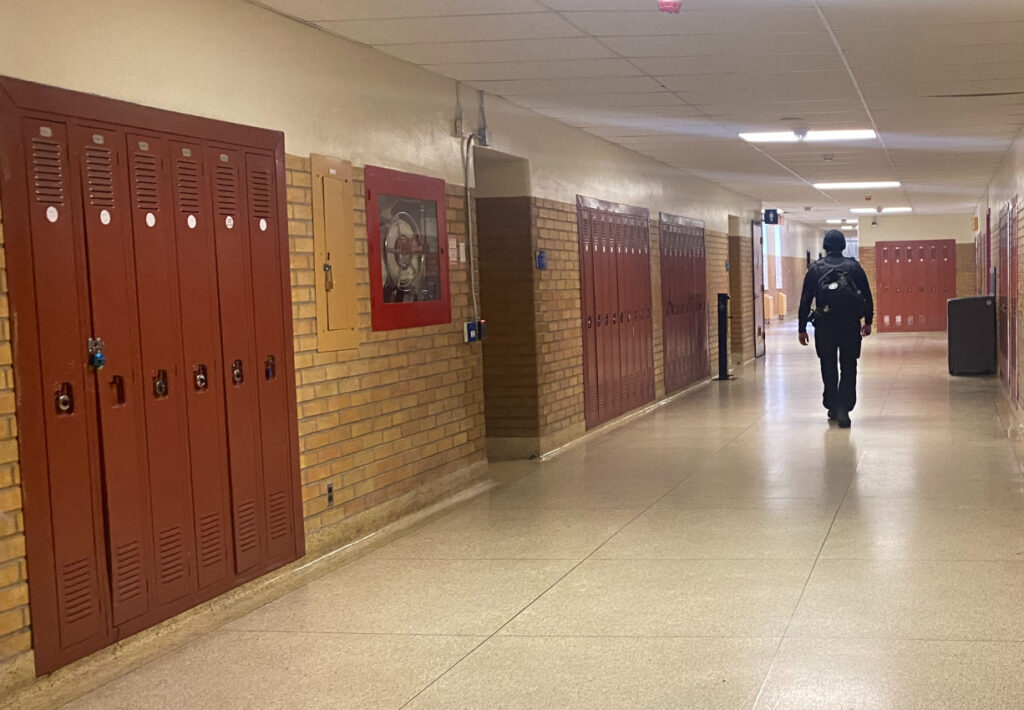 Listen to the story here:
Toronto Metropolitan University (TMU) will not share the findings of the safety audit conducted in Kerr Hall out of respect for the privacy of those consulted, according to president Mohamed Lachemi.
According to an emailed statement from the university, the months-long safety audit began late last March, after a community member was sexually assaulted in Kerr Hall. Another sexual assault in Kerr Hall occurred a few months ago, in October.
"The audit includes information from personal briefings and consultations that took place with many people here at TMU in Kerr Hall to get a better understanding of their sense of safety and what additional support could be provided," Lachemi said. "We must respect their privacy."
These incidents led TMU to implement enhanced safety measures on campus, including an increase in security guards and crime prevention specialists in Kerr Hall. Sixteen new CCTV cameras and two intercoms were also installed across campus, according to TMU.
A Jan. 10 announcement from the university stated that the additional security measures also include "partnering with Toronto Police Service (TPS)," but when asked, Lachemi said the university does not have a formal partnership with TPS.
"In cases where incidents on campus exceed the ability and authority of TMU security staff, TMU relies on and calls Toronto Police Service to intervene when it would be unsafe for security to do so," Lachemi said.
"If you have somebody that is under threat, our security officers have no power," he said. "If somebody is in danger, then the action from them is to call police services to act."
While the university won't make the audit public, Lachemi said it included consultation with community members from a diverse range of backgrounds. The new security measures were implemented while the audit was still underway; Lachemi said those measures came as a result of community members' lived experiences, as well as petitions and letters calling for more security.
Tarah Hodgkinson, an assistant professor in the department of criminology at Wilfrid Laurier University, has conducted safety audits across North America in partnership with communities and neighbourhoods. Since the data from the audits is collected within the community, she said it should be shared with members. "The whole point of a safety audit is that it provides information back to the community," she said.
"That data gets reported back to the neighbourhood and it becomes theirs. The fact that this isn't occurring here, I think, is concerning," Hodgkinson said.
The university's lack of transparency regarding the audit could damage the trust between TMU and its community, said Steph Rychlo, president of the Toronto Metropolitan Association of Part-time Students (TMAPS).
"There's quite a bit of distrust that's already been established by students against the university and also faculty who have in the past, pitched alternatives to increased security," they said.
While disclosures of victimization should be protected, Hodgkinson said the methodology and tools used in the audit should be made public.
"Those findings could be summarized into a report," she said. "The fact that they're not is weird."
The right approach?

While Rychlo said they believe the university should be more transparent, there should also be alternative options to ensuring campus safety without enhancing security measures.
"You can increase the transparency about what these security officers are trained on," Rychlo said. "But that isn't going to change the fact that students…are still not going to feel safe around those security officers."
Lachemi said an equity, diversity and inclusion training program has been implemented for the community safety and security team, as well as the GardaWorld security guards. 
"While some people feel safer in (the) company of uniform security, others feel unsafe," Lachemi said. "A key challenge for the university as we work to continually improve safety and security on campus is taking both of these realities into account."
On The Record has submitted an access to information request seeking a copy of the audit.
What does a security audit look like?
In a typical safety audit, an external security expert is brought in to take stock of a space's security features, according to Hodgkinson.
Hodgkinson said the expert will look at the access points to a space, at whether those access points have locks or other safeguards, at surveillance of a space — by both community members and technologies like CCTV cameras — as well as who has access to the space and how it's taken care of.
Good safety audits also include consultation with a representative, diverse array of community members, said Hodgkinson, as they provide context about how a space is used. For example, if community members don't walk through a high-crime alleyway very often, adding lights to the area won't, on its own, help keep people safe.
According to Lachemi, the Kerr Hall security audit was conducted internally by the university's community safety and security team.
"The community safety and security team conducted briefings and consultations with approximately 150 people that work in Kerr Hall to get a better understanding of their sense of safety, and what additional support could be provided," he said.
How does TMU compare to other schools?
TMU publishes a list of security incidents that occur on campus as they are reported — online, via emails, and through the TMUSafe app. The web archive of incident reports dates back to July 6, 2018.
However, TMU does not provide reports that summarize and analyze the security situation, beyond the simple list of incidents, as other Toronto-area universities do.
Since 2010, U of T's special constable service has been submitting annual reports to the TPS Board and the U of T Affairs Board. These reports include information about how many officers are patrolling campuses, the number of incidents that occurred, instances that involved the use of force, as well as the training constables receive.
York University publishes a weekly security incident log that includes detailed descriptions of each incident that occurs on school grounds and the total number of incidents per week. The school also releases an annual report that compares security incidents on campus from the last five years.

Correction: An earlier version of this story incorrectly stated that equity, diversity and inclusion training would be implemented for the community safety and security team. In fact, it has been implemented. On The Record regrets the error.