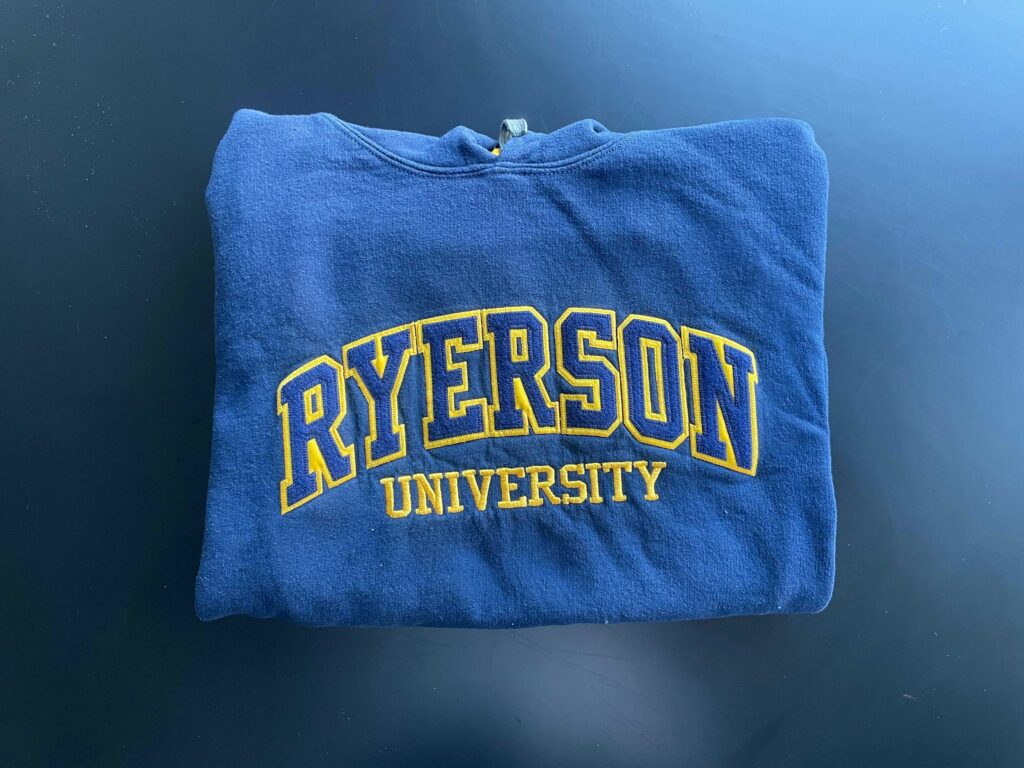 Listen to the article here:
Last September, TMU launched the Branded Materials Transition Project (BMTP), encouraging students to donate and upcycle Ryerson-branded merchandise. A year later, however, the project has not gone as planned—and it's not unusual to see Ryerson-branded gear on campus.
Led by Narish Maraj, a project administrator and fashion designer at TMU, and Gina Vaccaro, manager of finance and strategic operations, BMTP offered a sustainable way to shed Ryerson clothes after the school changed its name in 2022.
"Everyone had a whole bunch of apparel they didn't know what to do with and there was just so much stuff—so let's do the most environmental thing," said Vaccaro, reflecting on the thought process behind the project. "The clothes could be donated to communities where the name might not mean the same thing."
But the project did not go as planned. According to Maraj and Vaccaro, there were close to zero donations from students and the few items that did come in were in very poor shape.
Later, the project coordinators saw some success among faculty members when they launched an initiative to patch rather than recycle Ryerson clothes. "Narish thought of all the ways to patch something, a duffle bag was patched with uniform materials for example—it was really popular among faculty," said Vaccaro.
But interest from the student community never materialized. A year later, scrolling through the Toronto Metropolitan University (TMU) subreddit, you might come across an exchange that goes something like this: "I inherited an AMAZING vintage Ryerson jacket—I really want to wear it but am worried it is not socially acceptable. Thoughts (P.S., I am totally behind the name change)?" writes 'thegreen_owl.' "Rock that jacket," says one comment. "Nobody cares. I see tons of people wearing Ryerson merch on campus."
"The fact that these discussions are happening, clearly it shows that people are trying to navigate something that's quite prickly," says Henry Navarro, associate professor at TMU's Fashion Design School. "That logo is violent to a lot of people."
Students like Ragulan Sriskantharajah, a first-year business management student, are looking to Reddit and online resellers to find vintage Ryerson sweaters.
"I wanted to buy a hoodie to represent my school," said Sriskantharajah who quickly lost interest in the clothes at the campus store due to price and quality. "I was disappointed to find out the new TMU clothing looked bland and lazily-made—I was shocked by the pricing; a department hoodie for $89.95!"
Sriskantharajah decided to post on the TorontoMetU subreddit asking if anyone was selling their old Ryerson hoodie or sweater, going as far as to search eBay and Kijiji. "The Ryerson designs appealed to me more—those hoodies had a lot of unique designs," said Sriskantharajah.
When asked how he felt wearing a Ryerson sweater on campus, Sriskantharajah had mixed feelings. "I always asked myself that question [of] what would my professors or the new people I meet think," he said. "Although Mr. Egerton has had a shady history his name is still [a part] of the school's history—at the end of the day, it is only a hoodie."
Brian Norton, a program manager at TMU's Indigenous Student Services, disagrees. "The previous name was a trigger that negatively impacted our community relationships and engagement," he said in an emailed statement.
"We cannot separate politics and cultural context from fashion," said Navarro, whose research focuses on the intersection of fashion and social empowerment. "Fashion is not just clothing, it's a social contract."
But some designers are seeing an opportunity to reclaim what the name symbolizes. These include Riley Kucheran, who cut, cropped, and re-styled his Ryerson shirt before wearing it. For him, it was reimagining what the name means.
"There's an act of reclamation happening when I'm taking that [Ryerson] shirt and repurposing it for myself," said Kucheran, an Indigenous fashion researcher, designer, and academic in TMU's Fashion Design School. "It's almost a challenge to the university to do the necessary work, to live up to the name change—I never want there to be historical amnesia."
Today, the Branded Materials Transition Project is no longer operating. But students who still have Ryerson clothes and aren't sure how to deal with it, have plenty of options to repurpose or revamp. "You can silk screen or patch the name on top," said Navarro. "It's a printing method that's very simple and you can find people who do this."
But Navarro also says the question of wearing Ryerson-branded clothes is not as simple as right or wrong. "That misses the point," he says. "We as a community decide what is in fashion or out—Ryerson apparel is part of a legacy, the question is what do we do with that legacy."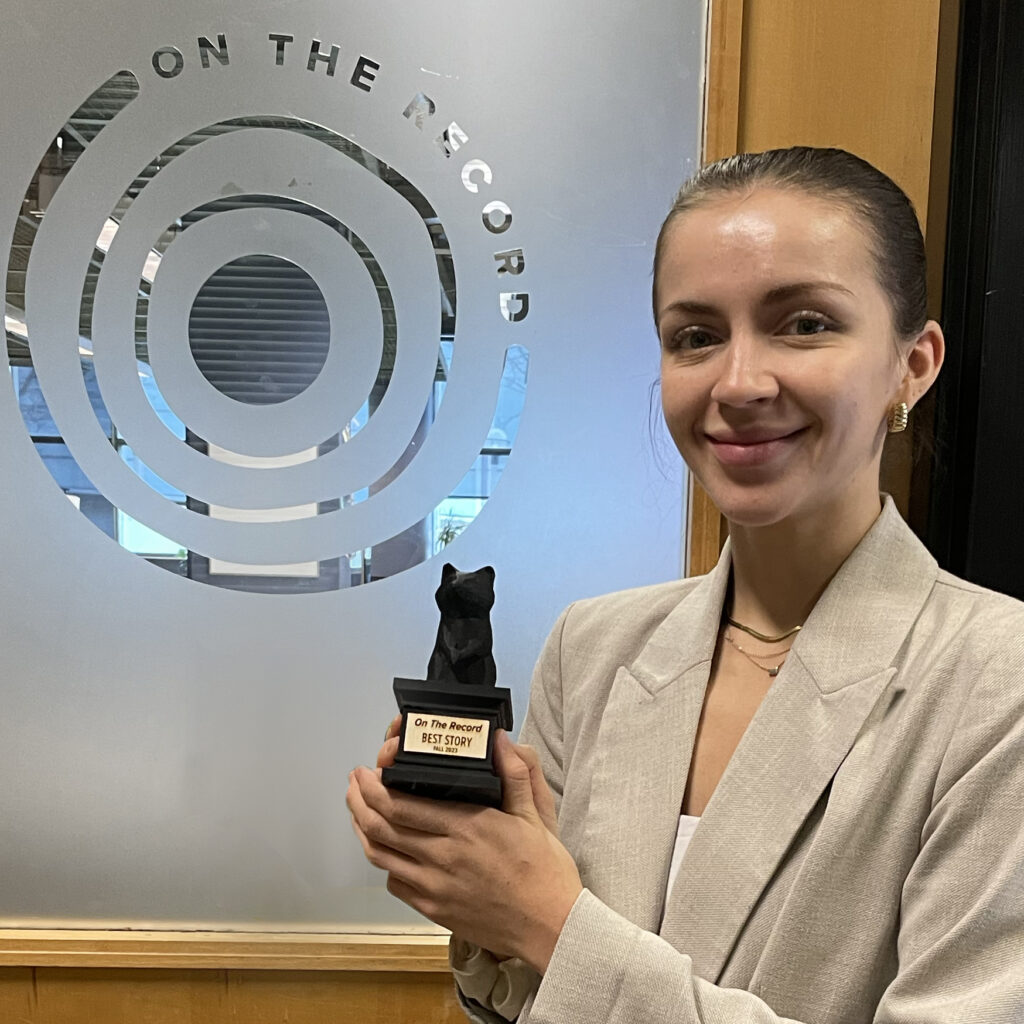 Congratulations to Mariya for winning the inaugural TKTK award for 'Best story: fall 2023' for this piece.
I'm a second-year master of journalism student at Toronto Metropolitan University and an associate producer with CBC's The National. During the COVID-19 lockdown, I started freelance writing and have since reported on everything from immigration and education to technology and finance. You can find me venting about Gen Z money struggles on a bi-weekly basis for the Globe and Mail.