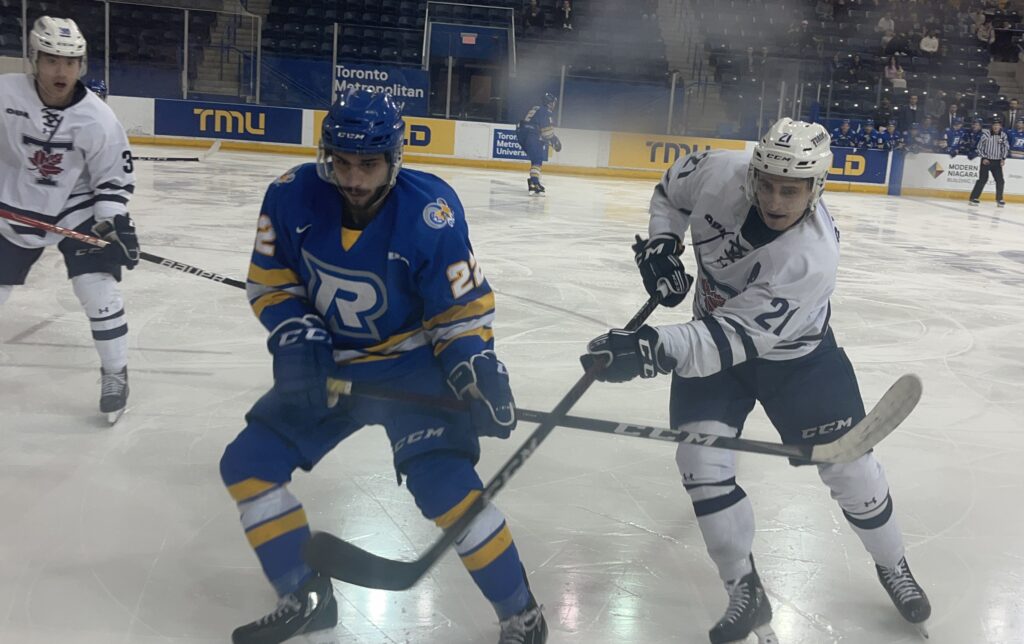 The Toronto Metropolitan University (TMU) men's hockey team lost 4-1 to the University of Toronto (U of T)  in game one of the OUA Playoffs on Thursday evening.

The first round of OUA postseason action is decided by a best of three series, which means the Bold are one loss away from their season ending. Unfortunately for TMU, the teams' leading scorer, Kyle Bollers — who sustained an injury at the 2023 FISU World University games in late January — will likely be unavailable for the remainder of the Bolds' series against the Varsity Blues, according to an interview with coach Johnny Duco after the game. Life without Bollers has not been smooth sailing for the Bold and game one was a testament to that.
"We need everybody going and we had far too many guys not going tonight," Duco said.

Duco was happy with his teams' play through what was a first period that featured zero goals, yet plenty of hits from both teams. TMU outshot the U of T 13-2 through the first 20 minutes of the game.
"If we can harness that (effort in the first period) and bring that for 60 minutes, we feel we can beat anybody in the country," Duco said.
But the team's play trailed off in the second. It started when Varsity forward Peyton Reeves opened the scoring two minutes into the second period, followed by a power play goal from his teammate Cole Purboo a hair under five minutes later to put the visitors up by two goals not even halfway through the second period. Bold forward Connor Bowie scored at the 10:24 mark of the period, narrowing the deficit to one, courtesy of a gritty rebound goal. Bowie said the goal was aligned with the teams' game plan of crashing the net hard against Varsity Blues goaltender Jett Alexander — one of the best netminders in the country. 
"Obviously a bit of a crazy bounce, but that's the way you score goals in the playoffs," Bowie said. "Especially against a goalie like that."
While TMU outshot the U of T 42-21, but it wasn't enough to turn the course of the game. Despite outshooting U of T 12-9 in the third period, TMU looked without a pulse through the final frame.
"Forty-two shots is good but the message in the room was that [the shots] were from the outside and we prefer them to be in between the dots and more grade A chances," Bowie said.
Game two of this first round of playoffs is tomorrow at Varsity Stadium.