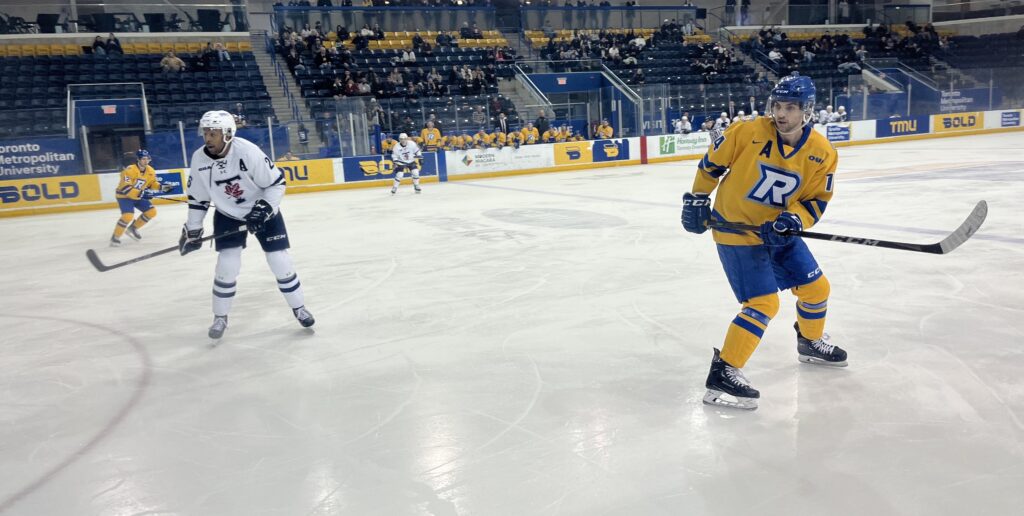 Listen to the story here:
The Toronto Metropolitan University men's hockey team lost 3-2 to their crosstown rivals, the University of Toronto, on "Senior Night" at the Mattamy Athletic Centre.
Bold head coach Johnny Duco said he was not pleased with his team's top players. U of T was dialled in and, as a result, wore the Bold down. While TMU lost by just one goal and outshot U of T 34-24, Duco said TMU was outplayed. 
"They were scrappy. They were gritty. They were winning races. They were blocking shots. They were taking hits to make plays," Duco said. "When you're doing all those things and (TMU) isn't, you can usually tilt the ice."
The Bold were handed a golden opportunity when they received a four-minute power play at the 18:41 mark of the first period. But U of T forward Billy Moskal scored shorthanded after being sprung free on a breakaway, deflating TMU's momentum.
TMU struggled on power plays — despite ranking second among Ontario University Athletics (OUA) ahead of the game with a 24.4 percentage — failing to score on all three of their opportunities. Duco says he thought the team's first power play unit was underwhelming, there wasn't "enough urgency. 
"You know, thinking it's going to be easy," Duco said, noting that team was "being lackadaisical, thinking you have more time and space." TMU was without star forward Kyle Bollers, who Duco says will be sidelined due to an injury for the next couple of weeks. Bollers' 1.67 points per game is tied for the most in the OUA.
At the 13:33 mark of the first period, senior forward Jakob Kamps went end-to-end and scored to tie the game at 1-1. But a double minor from defenceman Zach Shankar at 3:41 proved costly, as U of T scored in the final five seconds of the first period to give them the lead.
The second period was a mess for the Bold.
Toronto forward Owen Guy scored at the 18:52 mark to make it a two-goal deficit for the Bold, who registered just one shot through the first half of the second period. TMU looked out of sync, struggling to complete simple passes and create quality scoring chances.
While TMU displayed a higher intensity in the third period, which started with forward Connor Bowie scoring at the 18:33 mark to bring the Bold within one, it was too little too late.
As a result, captain Jesse Barwell says frustration is at its peak with his team.
"We're just gripping (our sticks) tight right now," said Barwell. "I can kind of see some of the joy out of hockey with some of the guys. We're just not getting our bounces. Guys are snake bit. Having trouble scoring."