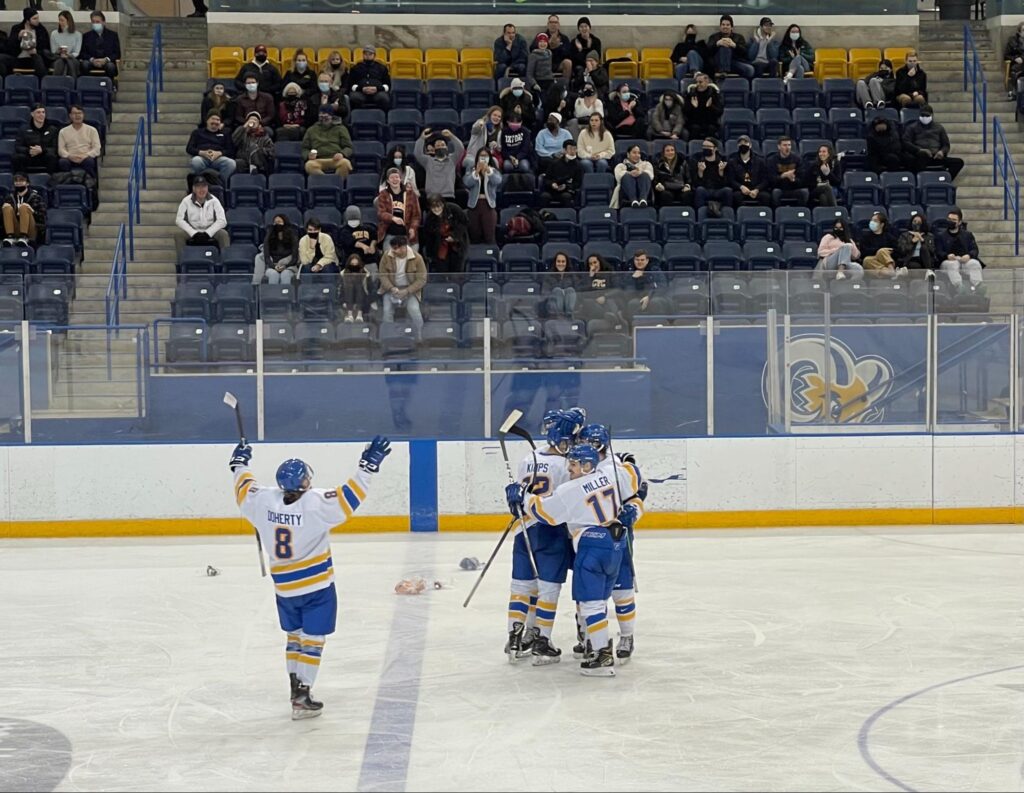 The Toronto Metropolitan University (TMU) Bold men's hockey team has developed a knack for graduating players to top-tier professional leagues over the past half decade.
According to research conducted by On The Record News, TMU has graduated 19 players to top tier professional leagues over the last five years — the most of any program in the OUA West. TMU is leading the charge at a time where U-Sports hockey has started to develop considerably more street credibility.
"For years U-Sports was the best-kept secret in the hockey world," said coach Johnny Duco. "And I now think the secrets out."  
Duco pointed out that once more and more U-Sports alumni started succeeding at the pro level, it caught pro teams' attention, as U-Sports athletes are older and more mature than players coming straight from the amateur ranks. In the American Hockey League (AHL) and the East Coast Hockey League (ECHL), the minor league affiliate leagues of the National Hockey League (NHL), teams may dress only five "veterans" — a.k.a players who have played more than 275 professional hockey games. U-Sports athletes are typically in their mid-20's when they turn pro and their games start counting toward the veteran rule.
The majority of U-Sports men's hockey athletes come from the Canadian Hockey League (CHL) — the highest level of Major Junior hockey in North America — who compensates players' Canadian university expenses as part of the CHL Education Package. For each year a player plays in the CHL, they receive a year's worth of university education paid for. 
Bold alumni Matthew Santos — who currently plays for the Nashville Predators' minor league affiliate, the Milwaukee Admirals — believes the perception around U-Sports has drastically changed among the CHL ranks.
"A lot of people saw it as a place where you go to basically finish your career. Get your degree, enjoy your university experience and then move on professionally in a (non-hockey) career," Santos said. But now more view it as a stepping stone to professional leagues and a long career.
Vegas Golden Knights goaltender Logan Thompson played one year at Brock University before turning pro and rapidly climbing the professional hockey ladder afterward. While TMU has yet to have an alumni reach the NHL, the program has seen alumni such as Santos, Alex Basso and Luke Perresini reach the American Hockey League (AHL) — one level below the NHL.
The consensus among past and present Bold personnel is that TMU's ability to churn out an abundance of pro players boils down to three key things: an excellent player development program, state-of-the-art facilities and the leadership of coach Johnny Duco. 
Duco believes the teams' player development program is what separates them from other U-Sports teams.
"We've created kind of a holistic environment where you're supported in all areas," Duco says.
The program is armed with a full-fledged hockey operations staff that has played a big role in Duco's ability to recruit players. In addition to Duco, assistant coaches Michael Fine and Matt Mistele — two former Bold players who rank among the programs all-time leading scorers — and goaltender coach Chris Beckford-Tseu, the program also boasts specialty coaches. The team has director of player development Dennis Treacy, sports performance coach Kevin Chapman who oversees players' off-ice training, and hockey analytics coordinator Larkin Lee — whose statistical insights are not only tailored for coaches, but are also made available to players, if requested. (The NHL has taken notice of this program: ahead of the 2022-23 season, Nathaniel Brooks — a TMU associate coach, with a background in skill development — was hired by the Arizona Coyotes as a skill development coach.)
Fine says the entire coaching staff takes a lot of pride in their players' development.
"Something I tell recruits now is that, you're gonna leave a lot better hockey player than when you first got here," Fine said.
The Mattamy Athletic Centre (MAC) is also a highly regarded entity amongst the U Sports ranks.
"We got the hands down best facility in the country, we really truly believe that," Fine said.
With an arena that seats up to 2,600 fans, the MAC boasts a quality of venue similar to what many U-Sports players were used to playing in during their junior days. There's a pro-style feeling to the Mattamy Athletic Centre, where the home team dressing room resembles a makeshift locker room and daytime availability for the rink is quite open — giving players plenty of options to go out and refine their skills, or just shoot pucks for fun, in their off time.
The teams' track record of developing players speaks for itself, with Santos and Kyle Bollers, the teams' current leading scorer, serving as prime examples.
Santos initially turned pro during the 2016-17 season, signing with the Toledo Walleye of the East Coast Hockey League (ECHL), the league below the AHL, after wrapping up four years of junior hockey. But after recording 12 points in 49 games, Santos opted to put pro on pause and go the U-Sports route. Since returning to the pros at the start of the 2021-22 season after four years at TMU, Santos has accumulated 103 points in 91 ECHL contests and spent time with three different AHL clubs; the Springfield Thunderbirds, Laval Rocket and Milwaukee Admirals.
Bollers, on the other hand, was not a decorated major junior player. Despite having 168 CHL career games under his belt, Bollers was cut from his CHL club in his final year of junior eligibility, forcing him to play Junior 'A' hockey. However, since joining TMU at the start of the 2020-21 season, Bollers' has progressed rapidly — ascending into one of the best scorers in the country.
"We're firm believers that all that adds up and it pays off in the end," Duco said. "Hopefully it pays off with putting up a couple of banners and winning some championships and then seeing those people get rewarded with professional contracts."