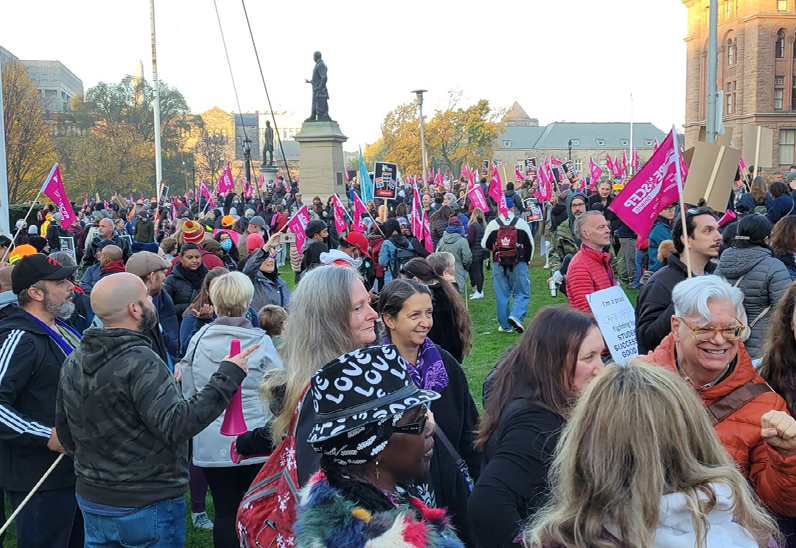 Listen to the story here:
Toronto Metropolitan University (TMU) President Mohamed Lachemi says students are expected to attend classes and exams later this month even if the union representing the university's custodians, groundskeepers and maintenance workers goes on strike later this month.
Canadian Union of Public Employees (CUPE) Local 233 will be in a legal strike position on April 13. Ontario Public Service Employee Union (OPSEU) Local 596, which represents academic and support staff, along with research assistants, was slated to enter a legal strike position on April 22 before reaching a tentative agreement with the university on Thursday afternoon.
"It's important that students meet their academic deadlines without any unexpected consequences," Lachemi told On The Record News.
In an email to faculty and staff, TMU's office of vice-president administration and operations said that contingency planning is underway for a potential strike, which would fall during the winter semester examination period. If a strike occurs, senior administration employees will be redeployed to support the "continuation of core activities," and the university has implemented a moratorium on vacations from April 17 to May 2 for senior administration employees in cases where the time off has not already been approved, according to the email.
TMU and CUPE 233 have been negotiating since September. In a statement released by CUPE 233 on March 28th, vice president Jason Vigilante said issues related to wage increases and pension contributions remain unresolved and are at the centre of negotiations.
In 2021, TMU unilaterally increased the pension contribution rate for all members of the Ryerson Retirement Pension Plan (RRPP). An arbitrator subsequently reversed TMU's decision for faculty, but not for other workers.
"What TMU has done is create an inequitable situation, where custodial and maintenance workers contribute more than faculty," Vigilante said in the statement. "This is patently unfair and should have been resolved before bargaining even commenced. Instead, it looks like the university will force us to take job action."
Lachemi declined to comment on the state of negotiations.
"Students Services and Support, as well as classes and exams, are planned to take place as scheduled," Lachemi said. "Our students' academic success is very important to us. And we'll continue to support them as they finish their term and throughout the examination period."
Attempts to reach a CUPE 233 representative were unsuccessful.