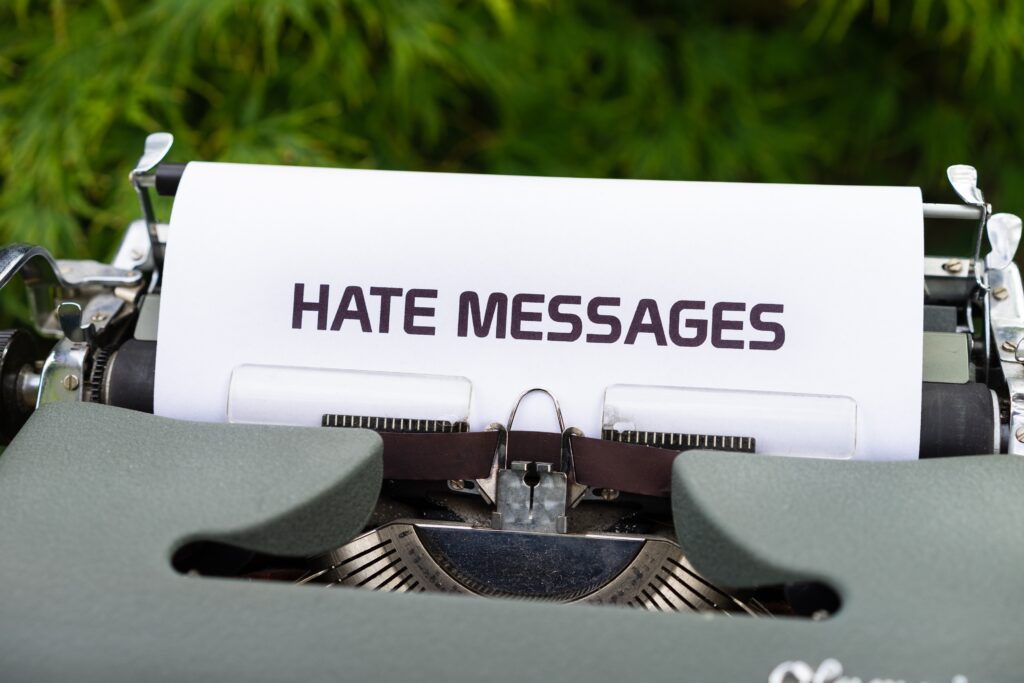 In September, People's Party of Canada leader Maxime Bernier ordered his supporters to "play dirty" with journalists.
The populist leader did it following journalists' inquiries about his party's far-right ties.
The wannabe prime minister threw a Twitter tantrum: Calling the journalists idiots and sharing their email addresses with his 160,000 followers.
Soon, many female reporters who identify as Black, Indigenous or a person of colour (BIPOC), received an onslaught of obscene, racist and misogynistic emails and direct messages on Twitter.
While the tweet has since been taken down, many BIPOC journalists have shared screenshots of grotesque racist messages. 
Shortly after the descent of the far-right digital lynch mob, 19 prominent Canadian media outlets issued a joint statement condemning online hate.
However, it's been almost two months since, and all I see are events and conversations about online hate. 
This isn't a criticism of panel discussions, which allow for an ongoing conversation about racism and press freedom in Canada, but when has mere talking thwarted online trolls and harassment?
For some journalists, the barrage of disparaging messages meant getting the legal authorities involved, and rightfully so. Many others unleashed their fury through columns and op-eds.
But are those the only viable options that our "civil" and digitally equipped newsrooms have to offer? 
Zena Salem, a reporter with the Toronto Star, feels the same way I do.
"Unions need to take a stronger stance when it comes to online hate and violence," she said. 
While the joint statement is a well-meaning effort prompting solidarity, Salem said adding mental health resources that deal with online trauma and harassment should be possible for journalists everywhere.
Being a woman journalist in the current Canadian news media landscape is hazardous because of unbridled online abuse.
The data from The Coalition for Women in Journalism has already clearly established that.
The consequences, however, are far more serious when harassers' targets are BIPOC and non-binary journalists.
Twitter is a space where violence against women flourishes without much accountability, suggests another study, Toxic Twitter, by Amnesty International. 
In early November, an Ipsos poll revealed more than 70 per cent of media workers have reported experiencing harassment.
Ipsos surveyed 1,093 journalists and media workers across 12 news organizations and learned that 65 per cent of journalists said they've dealt with online abuse in the past year.
Followed by the 38 per cent who cited in-person threats and harassment, 28 per cent said they received threatening phone calls, and in severe cases, nine per cent of journalists said they've been physically attacked.
The poll also echoed a uniform pattern that women, Black, Indigenous, people of colour and the LGBTQ2S+ community face more frequent and severe harassment.
It's evident that cyberbullying and sexual violence aimed at women journalists is a) not a new event and b) rampant.
So I fail to understand the reluctance of Canadian newsrooms to establish concrete policies or have an internal ombudsperson to deal with online harassment.
Prominent journalism voices like Supriya Dwivedi and Davide Mastracci have highlighted the growing need for reforms within the Canadian journalism industry.
In Dwivedi's column for the Toronto Star, she underlined the need for online harassment policies.
In Mastracci's piece, he pointed out, "the police are not on the side of journalists."
He mentions the RCMP has arrested reporters as the reason why he doesn't think police are a sound solution.
However, some journalists took his words—beckoning the entire journalism collective to make effective changes—personally.
Looking at the recent arrests of journalist Amber Bracken, documentary filmmaker Michael Toledano and 12 land defenders on unceded Wet'suwet'en territory in B.C.
I think Mastracci has a point.
The arrests felt punitive and unnecessary, especially because both Bracken and Tolendo identified as media but were still arrested. 
For months now, many early-career reporters and student journalists have watched prominent journalists share accounts of misogyny they've experienced and vitriol they've received for doing their jobs.
As a BIPOC woman, and a freelance journalist, it felt like a premonition — a sordid glimpse into the potential future awaiting me and everyone like me.
Racial discrimination poured in every time reporter Paula Tran wrote about trans rights at Xtra magazine.
Tran, who now works with the Kelowna Capital News, said she would brace herself for backlash from many anti-trans individuals on Twitter, especially after one particular instance. 
"After Jonathan Kay retweeted one of my articles, his lackeys latched on to my profile and commented the vilest things. It got to a point where people would try to dox me, and I had to privatize my account," Tran said.
Tran's colleagues at Xtra were supportive, she said, but it was still an unpleasant experience.
"I know that I was doing good work. But, no matter how thick of a skin I grow, it still hurts," she said. 
It's time for employers to recognize the "real impact" of online harassment, says Farrah Khan, a manager at Consent Comes First at Ryerson University.
"Often people tend to treat online harassment as if it is not real life," said Khan.
She thinks myths related to digital abuse — including the notion that online harassment does not have any real effects — should be the first thing we unpack as an industry.
If employers require journalists to have a social platform, they must also ensure their safety online, said Khan, highlighting the need for newsrooms to create safe spaces.
Online harassment "can wear down people's mental health, cause anxiety, depression, trauma and panic attacks," she said.
"Add in the shame and fear related to online harassment… it makes people feel insecure talking about things they love and cherish." 
The Ipsos poll's findings also confirmed that after journalists' brush with online trolls, one-third of media workers reported feelings of fear, shame and anger, whereas slightly more than a third contemplated leaving journalism altogether.
Yet we get solidarity statements that amass a few hundred likes on Twitter instead of concrete, protective newsroom policies, as people — many egged on by politicians — continue to target journalists.
Tran says newsrooms must establish more reliable support systems for journalists who regularly receive hate mail.
"The reality is that many Canadian newsrooms don't have those policies," she said. "So, it falls to BIPOC journalists to figure out what to do and that's a lot."
It would help, Tran said, to have access to better resources in times of poor mental health. It's not an impossible ask.
As Dwivedi noted: If Defector Media, an American startup, can offer paid time off, legal help, and access to a proxy who can manage a journalist's social media accounts when they're targeted, then Canadian newsrooms certainly can.
Newsrooms need to put more action than patting their backs over grand statements, and until then, they should stop requiring budding reporters to grow a thick skin as a way to endure the shit-storm.