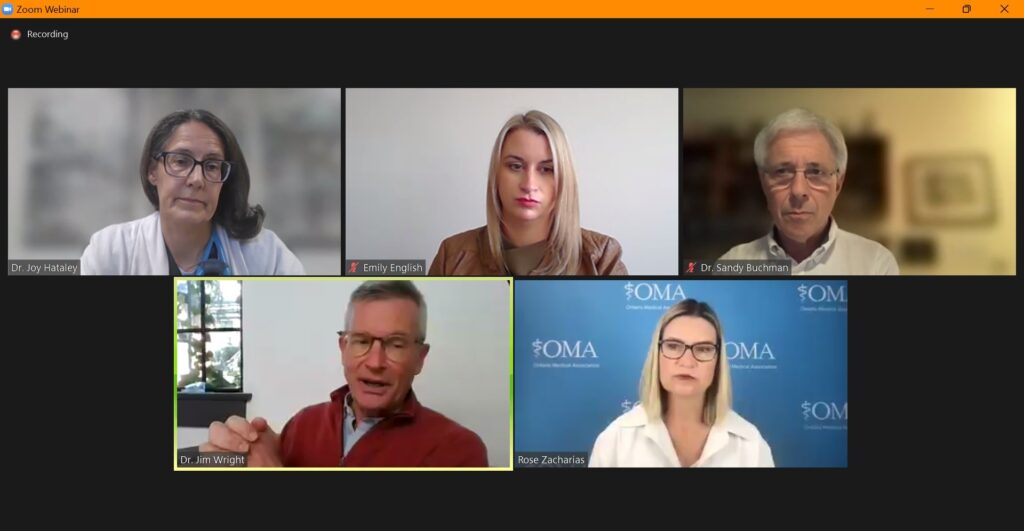 Listen to the audio version of this story:
Ontario hospitals overwhelmed by wait times and poor staff-to-patient ratios as a result of successive COVID-19 waves are taking desperate measures in a bid to stay afloat and meet patient needs.
For months now, doctors and nurses have warned about the collapse of the province's healthcare system as various emergency rooms have been forced to temporarily shut down. At the same time, the pandemic has created a backlog of almost 20 million patient services, per the OHIP claims database.
While a systematic makeover will not happen overnight, the Ontario Medical Association (OMA) says there are immediate steps the province can take to combat physician and bed shortages, increased wait times, service backlogs, and palliative care in the province.
In an expert panel earlier this week, OMA leaders recommended the province move quickly to license and recruit foreign-trained physicians in Canada, build integrated ambulatory centres to reduce wait times, and create more hospice beds and palliative care services.
"These are solutions that can be implemented now and will have system-wide impact and improve patient care," said OMA CEO Allan O'Dette in a news release. "Bigger reforms are needed [but] we have to start somewhere."
Ontario doesn't have enough doctors
Dr. Joy Hataley, a family physician and OMA District 7 chair, said that as of 2020 there were close to two million Ontarians without a family physician. By 2025, that number will be closer to three million.
Recruitment efforts should first look at integrating skilled, landed immigrants into the healthcare system, said Hataley.
"It's a win-win," she said. "Many physicians want to come here and we need more physicians."
In an interview, OMA president Dr. Rose Zacharias said increased residency and medical school spots would help address the doctor shortage as well as equipping medical students to meet the demands of their practice.
Dr. Andrew Padmos, head of Toronto Metropolitan University's establishment of medical school, told On The Record that to reduce risk of burnout and increase the likelihood of students going into – and staying in – family medicine, TMU's medical school proposed a number of team-based clinical operations to begin in 2024 aimed at supporting future family doctors.
"We want to create a working environment so those family physicians can stay, teach, and grow, rather than leaving the profession," said Padmos.
However, staff shortages aren't exclusive to physicians. "You can't have a bed without a nurse," said Susan Bookey-Bassett, assistant professor at TMU's nursing school and co-director of research and education at the Nursing Leadership Network of Ontario. "If we're running with short staff that means beds close and we can't open them because it's not safe."
Ontario should build more centres for outpatient surgery, OMA says
OMA said it's ready to work with the provincial government to build freestanding ambulatory centres that would divert less complicated outpatient surgeries and procedures, such as hernia repairs or cataract surgeries, so hospitals can focus on acute care.
OMA executive vice president Dr. James Wright says that such centres in other jurisdictions, including Saskatchewan, are linked with faster recovery times and lower infection rates. If new legislation moves quickly, Ontario could see the first of these centres open in the next year or two.
While the government hasn't said whether it intends to build those centres, it did say last month Ontarians can expect a shift away from the status quo.
OMA says Ontario short on hospice beds to the tune of nearly 1,000
The OMA is also recommending Ontario create more hospice beds and expand palliative care services. Ontario has 271 palliative care beds, per the organization's count, but it should have somewhere between 945 and 1,350.
The province spends more than $208 million a year on dying hospitalized patients waiting for a more appropriate care setting. "This money could be better spent on beds and resources these individuals were waiting for," the OMA said in its news release.
To free up beds, Ontario's contentious Bill 7 now allows hospitals to temporarily assign elderly patients a long-term care home they did not choose, while charging those who refuse to leave $400 a day. The OMA said it understands difficult decisions need to be made, but it hopes these regulations will also consider patients' language and faith preferences.
Dr. Sandy Buchman, medical director of North York General Hospital's Freeman Centre for the Advancement of Palliative Care, said a majority of palliative care can be delivered in a primary care setting supported by specialists. It also costs less than half the amount to keep a patient in a hospice residence than a hospital.
"We need more money and people in home care [too]," said Bookey-Bassett.
Still, Bookey-Bassett said it's going to take more than a plan to address systemic shortcomings. "The willingness to act needs to be there too," she said.