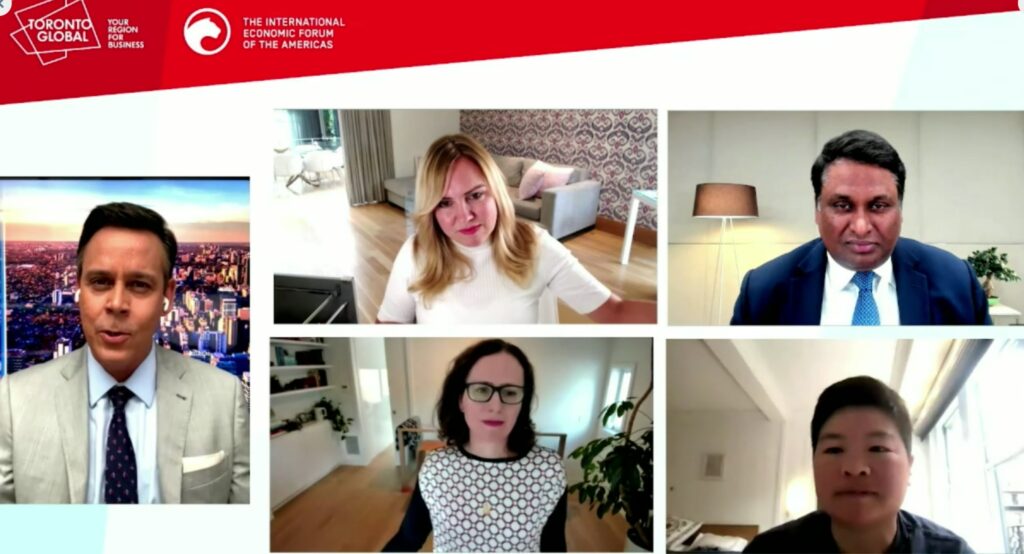 A panel on tech changes following the pandemic, hosted by Toronto Global and the International Economic Forum of the Americas (IEFA), attributed Toronto's prominent tech market to its existing ecosystem and talent pool.
Toronto Global is a non-profit investment attraction agency, while the IEFA is an organization working to promote an exchange of views on economic issues among world leaders.
The panel was part of an event named Stronger than Ever, which was livestreamed from Billy Bishop Airport Thursday. Titled, "How Will Tech Change After the Pandemic?" the panel was moderated by Greg Bonnell, an anchor at BNN Bloomberg and host of the show The Real Economy. Speakers on the panel included Erin Elofson, head of Pinterest Canada; Sabrina Geremia, vice-president and country director at Google; Jen Wong, chief operating officer at Reddit; and C VIjayakumar, chief executive officer and managing director at HCL Technologies.
"What we're witnessing is probably the most intense proliferation of technology into the business world," said VIjayakumar during the panel discussion. "Everyone is really focused on how they can reimagine their business in a completely virtual world."
VIjayakumar went on to say that the Toronto region has the third-largest tech talent pool in North America and is also one of the fastest-growing talent pools.
"So clearly, Toronto's calling card is talent for global tech companies like us."
Equally important to talent, said VIjayakumar, is the technology ecosystem in the city. Individual success and innovation are good, but sustainable success comes from institutional collaboration.
The innovation hubs and accelerators really help in scaling incubation and innovation, said VIjayakumar.
Favourable sentiments towards Toronto's tech talent pool were shared by Wong, who pointed to Toronto's diverse and talented technology workforce.
Geremia also said density in the ecosystem is beneficial to the industry.
"You want to be in a tech ecosystem that has density," said Geremia. "And I think Toronto does have density. We have anchor tenants like Google, like Microsoft; and we have emerging scaleups, we have startups, we have an amazing incubator support ecosystem for tech in Canada."
Geremia said she is bullish on Toronto, partially because the tech industry is collaborative. Collaboration makes it distinct from other ecosystems.
Elofson was in agreement with other panel members about the city's talent pool, but added that she is particularly excited about the work being done with machine learning.
Contributing to Toronto's tech ecosystem and talent pool is the DMZ. The DMZ has accumulated over 10 years in the industry while helping to grow over 617 startups. To date, the DMZ has raised around $1.4 billion in funding, while playing a key role in Toronto's tech scene.
Shane Flynn, the incubator director at the DMZ, said providing a support system for startups is part of the organization's role. Promoting global awareness of the city's tech industry is also a significant part of what the DMZ does, said Flynn.
As part of this global awareness, the DMZ currently has 70 international incubator partners in 20 partner countries.
A large part of developing the talent pool at the DMZ — and Toronto as a whole — comes from access to Ryerson students interested in entrepreneurship, said Flynn.
The DMZ also emphasizes diversity in tech.
Startups with at least one founder self-identifying as either a woman or Black receive another layer of support and benefits upon joining the incubator.
The DMZ has also had its Black Innovation Programs in place since 2019, said Flynn.
Curated programming for women founders has been available at the DMZ since 2018, the DMZ said in an email, but it launched a new formalized structure this year. The new structure offers enhanced programming for women across four different programs, including Launchpad, Bootcamp, Fast Track and the Incubator.
"We saw a huge gap in the market, just with all these applications and so that really caused us to double down. Not only on supporting earlier stage founders but also founders who more commonly come from underrepresented communities," said Flynn. "At least half, if not more, of our founders that we work with in our programs now come from these under-represented communities."
The Black Innovation Programs were the first of their kind in Canada when they launched. The programs provide additional programming, mentorship, events, capital, an alumni network and connections to the industry to startups led by Black entrepreneurs in order to support their growth.
The Women Founders Incubator provides woman-identifying founders with benefits in addition to standard DMZ programming. These benefits include peer support groups with women tech founders and mentors, introductions to funders dedicated to women-led ventures, partnerships and pilot opportunities, PR and marketing opportunities, access to exclusive cutting-edge content, workshops, discounts and more.
The Black Innovation Fellowship provides Black-identifying founders with additional benefits and support. This includes dedicated support from the DMZ BIP team, curated connections, exclusive programming, peer-to-peer sessions with fellow Black founders, and exclusive workshops and mentorship sessions from Black leaders in Canada.
While Ryerson's DMZ influences Toronto's tech industry, tech also affects the student experience at Ryerson University.
"The pandemic has accelerated the use of technology to expand the possibilities for flexible and accessible learning and teaching opportunities," said Mohamed Lachemi, the president of Ryerson.
In an interview with On The Record, Lachemi pointed to four elements that allowed the university to pivot quickly during the pandemic. These elements include recorded lectures, teaching tools, open education resources and technology facilitating online student discussions.
"As we contemplate the post-pandemic campus, the flexibility and accessibility afforded by technology opens up exciting possibilities that I believe are here to stay," said Lachemi. "But we are hearing from other students that their presence on campus and in-person interactions with others are important, and we're taking that into consideration."