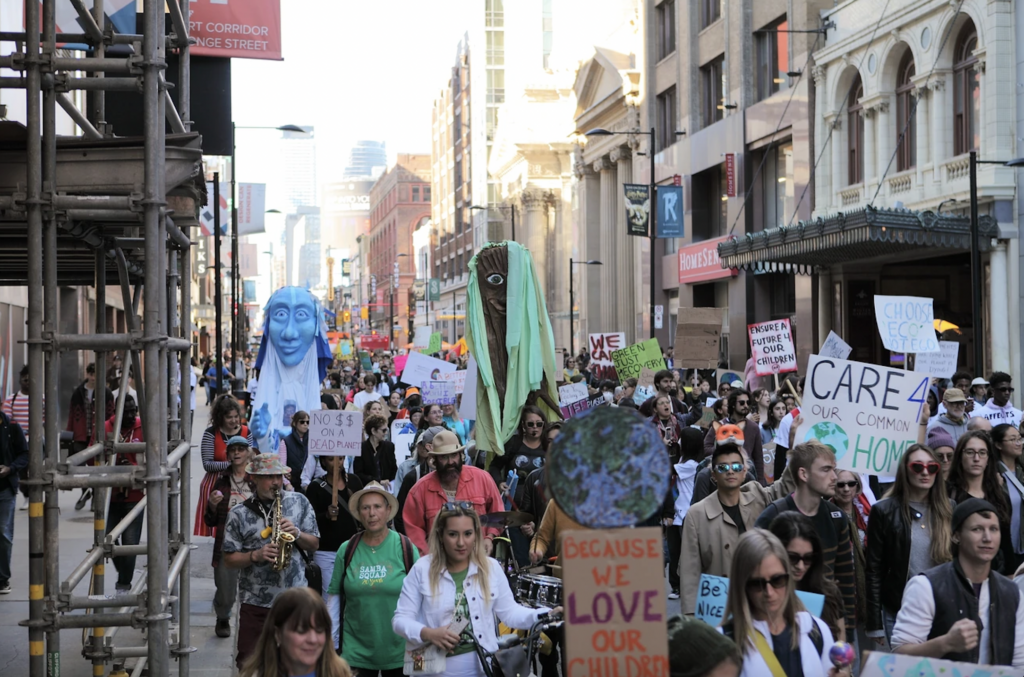 Listen to the story here:
Protesters from around the world will gather this weekend to rally against investors in the fossil fuel industry – which includes investments from Toronto Metropolitan University's assets.
The Fridays for Future Global Climate Strike, kickstarted by activist Greta Thunberg in 2018, advocates for ending any current or future financial support of the oil, gas and coal industries, commonly referred to as divestment.
"More than a century of burning fossil fuels as well as unequal and unsustainable energy and land use has led to global warming of 1.1°C above pre-industrial levels," reads the International Panel on Climate Change's press release on their most recent synthesis report, published in March 2023. "This has resulted in more frequent and more intense extreme weather events that have caused increasingly dangerous impacts on nature and people in every region of the world."
According to the United Nations, fossil fuels remain the largest perpetrator of climate change, contributing 75 per cent of greenhouse gas emissions and 90 per cent of carbon dioxide emissions.
"While information about TMU's current total assets under management are confidential, we can confirm less than 7% is invested in the fossil fuel industry," TMU's Financial Services Office told On The Record.
In 2021, the Eyeopener reported that the University's investment portfolio included Suncor Energy Inc. and Pembina Pipelines. The Financial Services Office did not mention plans to divest from fossil fuels in their email, but said that the University is "continuously taking steps, along with [the] Investment Advisory Committee, to responsibly address the climate change challenge through active discussions with our investment managers."
Just a few blocks west, the University of Toronto and its three federated colleges have all announced their commitment to divesting from fossil fuels by 2030. These announcements came after years of UofT student organizers pushing for divestment. Their mission began in 2012 with the founding of UofT350.org before being taken over by Climate Justice UofT – then called LeapUofT – in the fall of 2016. Leading up to UofT's pledge to divest, the organization published op-eds and open letters, circulated petitions, hosted public actions and events, and attended consultations.
"The overwhelming majority of university divestment commitments are the direct result of the tireless planning and execution of student organizers," wrote Fossil Free Research co-founder and executive director Jake Lowe in an email to On The Record. "Without this pressure, business as usual would continue."
TMU does not currently have an official student group dedicated to the climate crisis. The Eyeopener reported that the Toronto Metropolitan Students' Union (TMSU) did lead a contingent of students to Fridays for Future in 2022, but they are not scheduled to attend this Saturday's march at Queen's Park.
While TMSU's Good Food Coordinator Lauren Barch emphasized environmental efforts to reduce waste and increase composting on campus, she wrote that she has "no idea" what the union has done for divestment. In a statement to On The Record, TMSU's Vice-President of Equity Ra'eesa Baksh wrote that "in the past we've done work around divestments and this year we continue to host our social justice and sustainability committee to address and advocate on students behalf what is needed most [sic]." She joined Barch in highlighting TMSU's recent composting campaign.
Lita Ngure, a UofT student and organizer at Climate Justice UofT, explained that while it can take years for student movements to gain momentum, there are benefits to focused climate activism on campus. "Having a singular independent group allows for one place where people can invest their time and resources instead of having multiple smaller organizations with support coming from all over the place," she said in an email to On The Record. Student divestment groups are also active at the University of British Columbia, McGill University, University of Ottawa, University of Alberta, McMaster University and more.
However, divestment is not universally regarded as a solution to climate change issues. "Selling a publicly traded stock does not have any impact on the company, and it certainly does not reduce emissions," explained Dustyn Lanz, a senior advisor at ESG Global Advisors Inc. "So there is a reasonable case to be made for holding fossil fuel assets and being a responsible owner while the world is still dependent on them, for example by holding companies accountable to climate goals."
According to the Financial Services Office, Toronto Metropolitan University joined the University Network for Investor Engagement in November 2022 and staff recently attended their annual summit. "This is a climate-aligned portfolio investor engagement program for university plans," she explained, "which aims to use universities' power as institutional investors to address the drivers of climate change in their portfolios."
Lowe told On The Record that divestment should be viewed as a commitment within the context of a broader movement rather than in isolation. "When hundreds of universities, alongside countless other social institutions, divest, the fossil fuel industry's social license to operate is undermined," he wrote.
Student activism can play an important role in either approach.
"Going to university is a privilege only given to some and I believe we have a duty to use that privilege for the greater good," wrote Ngure. "Not engaging in student action would be doing a disservice to our fellow students and those who come after us."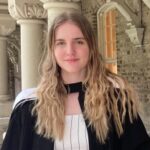 Drew-Anne, or Drew, is a Master of Journalism student at Toronto Metropolitan University. She previously received an Honours BA in International Relations and Peace, Conflict, and Justice Studies. Her freelance work can be found in Ottawa Magazine and Spacing. She previously served as editorial fellow for This Magazine and is now the Head of Research at The Otter.