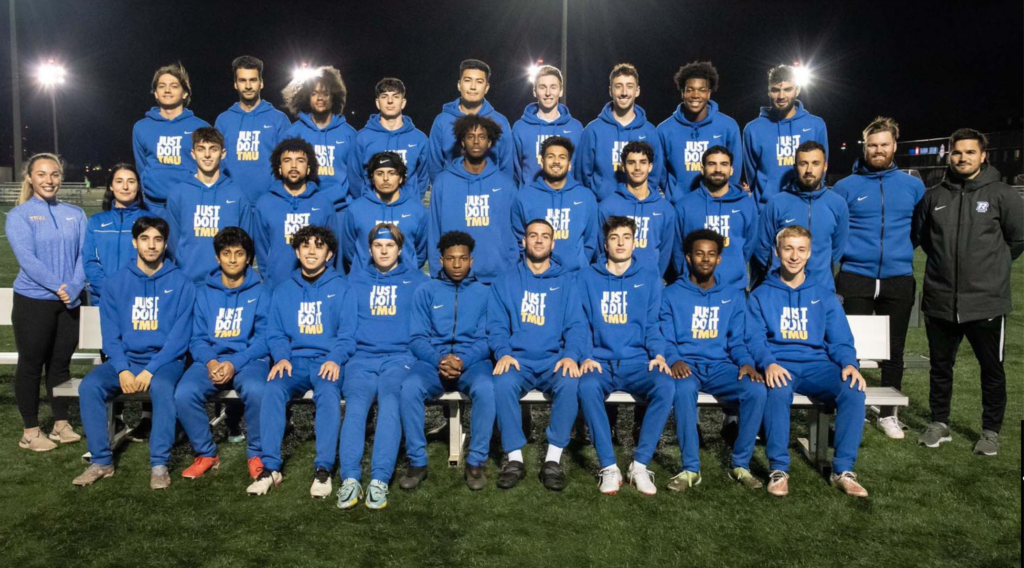 Listen to the audio version of this story:
The Toronto Metropolitan University (TMU) Bold men's soccer team clinched a spot at Nationals for the first time since 2013 after defeating the Waterloo Warriors on Nov. 2, propelling them to the OUA championship.
"The feeling was crazy. It didn't really hit us," said Mario Mclennon, a Bold defender. "We were tunnel-visioned this year, so we didn't really notice that we made history or anything like that, and it's been so long."
For Olly Wales, a fifth-year midfielder on the TMU Bold, it means closing out his five-year tenure with a trip to Nationals. "It means a lot to the players, alumni, and coaching staff," he said. "We have worked hard all year so it's a great feeling to go to Nationals. Especially as a senior in my fifth year. It's going to be really special. I can't wait."
Teams across Canada face off at the U Sports National tournament. Typically, there are representatives from each region of Canada: two from the Atlantic University Sport, two from Ontario University Athletics (OUA), two from Réseau du sport étudiant du Québec, one from Canada West, and the team from the host university.
For the championship matches, the four conference champions are ranked in the top four based on their final ranking of the year. The remaining four teams are selectively placed against a top four team that is not in their conference to avoid intraconference matchups. An example of this would be champion versus finalist and host team playing the top ranked in the first round.
"It's been a tough journey these past five years. We've had some amazing seasons and we've always fallen short at the final four," said Sean Fafinski, TMU Bold midfielder. In his five years on the team, they have fallen short of qualifying for Nationals losing by penalty kicks, extra time, and a one-point difference.
The TMU men's soccer program is one of the most successful programs at the university. Every season, the club finishes high in ranking for their OUA division. They have competed for the OUA championship multiple times, placing as semi-finalist four out of six times since Filip Prostran became head coach.
In 2013, the Bold had their best finish including an undefeated regular season and a second-place finish at the OUA championship. This success throughout the season led them to Fredericton, New Brunswick for the National championship.
On Saturday, TMU Bold took on the McMaster Marauders for the Ontario University Athletics (OUA) championship match. Despite losing 1-0, the Bold hopes to remain focused as they head to Kamloops, B.C.
"I think that this team is mature and experienced enough to not overreact," said Prostran, head coach for the TMU Bold men's soccer team. "You got to move on and not dwell on it either way, just focus on Thursday and try to be in our best possible position to perform."
This season, TMU Bold ended with an 11-4 record. The team ended its last season with a 9-2-1 record and won the OUA central division to make it their 14th consecutive postseason. In 2019, the Bold earned a 10-3-2 record and made their 13th postseason appearance. In 2018, the Bold had a nearly perfect performance in the regular season, going 14-1-1 before making their sixth consecutive appearance in the OUA Final Four provincial championship. In 2017, the team received an OUA bronze medal, their first medal since 2013.
"I think what makes this team so special is the chemistry we have on and off the field. From the number 1 roster spot to 25, people who aren't dressing, people who are injured, everyone is locked in for the same goal," said McLennon. "They really know that we are on the road to something special and there is always a greater good."
The 2022-23 team hopes to go out there relying on their skill, practice, and hard work to make history at Nationals. Prostran says that they will be using momentum from the last four or five years to propel the team to success at the National championship.
"We have grit and determination. We just want to go out there and win football matches. That's it. We don't do anything pretty. We put the ball down and we play. Everybody is close and nobody thinks they are better than one another. We all have the same mentality," said Wales "We come to work, grind out whatever we have to do to find a way to win. We stick together because we are a family."
Thompson Rivers University is hosting this year's U Sports National championship at Hillside Stadium. Nationals will take place over the course of three days, from November 10-13. TMU Bold are seeding sixth in the OUA Nationals ranking. They will play the University of British Columbia Thunderbirds Thursday, Nov. 10 at 4:30 p.m. EST.
As TMU heads to B.C., Prostran has a word of advice for all players, "Really really enjoy it. These seasons and moments in your lives flash by in an instant."