The city is taking a closer look at the controversial name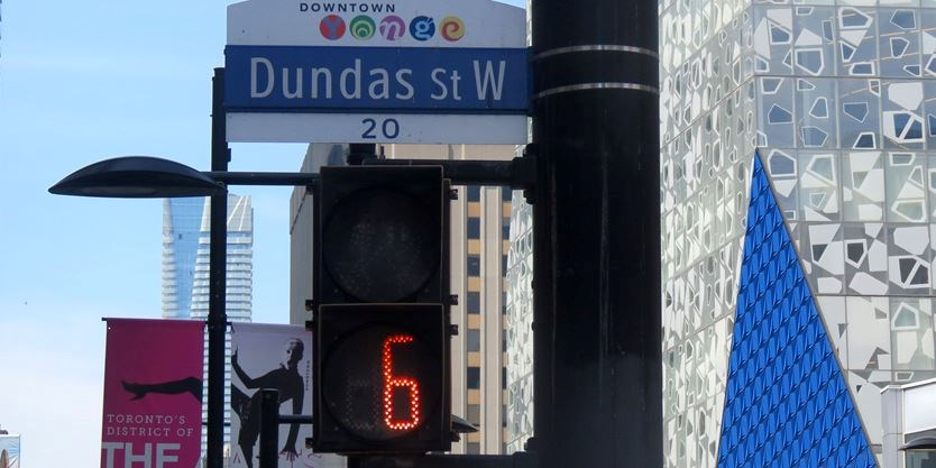 This story is part of Monumental Challenges, a series looking at Ryerson, reconciliation, and the issues surrounding replacing names and monuments.
A recent online petition calls for Toronto city council to rename Dundas Street in light of Henry Dundas's "highly problematic" past.
Dundas, the man the street is named after, was a Scottish politician who has been accused of playing an important role in delaying the abolition of the trans-Atlantic slave trade. Some experts claim that Dundas's actions allowed for the enslavement of more than 500,000 Black people by the British Empire.
The petition has received over 14,000 signatures since its launch more than three months ago. Its author calls for Toronto to "take a constructive and symbolic step toward disavowing its historic associations with persons who have actively worked toward preserving systems of racial inequality and exploitation."
While this cause is admirable, there are also significant financial and logistical consequences associated with changing the name of the street.
According to a report issued by the City of Toronto in early September, the change could cost $3.02 million, leaving taxpayers to cover a $980,000 bill. The process of renaming Dundas Street would require replacing two streetcar routes, two subway stations and 730 street signs. It would also affect 685 bike share stations, three parks and 13 park facility signs, among many other changes.
Andrew Lochhead, the local activist who started the petition, says that Toronto politicians need to step up to the plate to combat systemic racism.
"Whilst the challenges facing the city during the global COVID-19 pandemic are substantial, we also cannot afford to defer action on other pressing issues," said Lochhead. "The Black Lives Matter protests and continuing calls for reconciliation and justice from Indigenous communities have made this abundantly clear."
Lochhead also notes that the projected $3.02-million cost of the change represents approximately 0.0002 per cent of last year's municipal budget, which totalled $13.47 billion.
"If we are a city that truly values diversity and inclusion and is committed, as our elected officials have said, to combatting and dismantling systemic racism, then it is time to pay more than lip service to these important issues," said Lochhead.
Ron Stagg, a history professor at Ryerson for over 30 years, says it's important to maintain statues of controversial historical figures who did both great and unpleasant things for Canada to keep those issues alive and teach future generations. Stagg says that Dundas does not fit either category — he had no connection to Canada.
"His name was attached to a road and a village because John Graves Simcoe, first lieutenant-governor of what is now Ontario, was a friend," said Stagg. "The only possible reasons to keep the name on the street are that people are used to it, and it would cost a lot of public and private money to change signs, documents, etc."
As of Oct. 1, Toronto city council has agreed to spend $255,000 in consultation fees to discuss the renaming of Dundas Street. Following these consultations, the city manager is expected by council to report back in the first quarter of 2021 with possible recommendations and estimated costs.
"This is a fairly new exercise—they're not just trying to ask, for example, one neighbourhood, 'What do you think?,'" said Coun. Kristyn Wong-Tam. "I think they're trying to engage residents in a much more robust fashion, providing greater historical documentation and will want to generate a written report on all the pros and cons of doing it."