In 2016, Hillary Clinton was predicted to win by a landslide over Donald Trump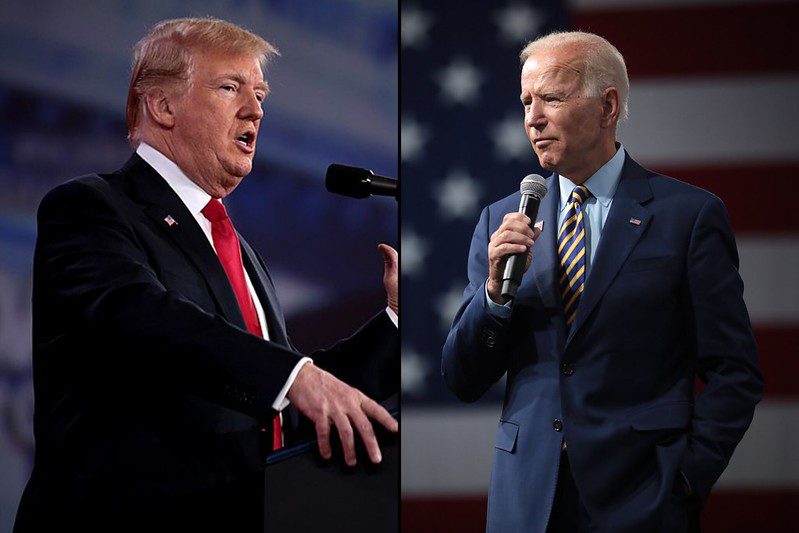 Despite the polls unanimously predicting former vice-president Joe Biden will win this year's presidential election, many are still hesitant to trust the pre-vote polling numbers after Hillary Clinton's defeat in 2016. 
According to FiveThirty Eight, Biden has a 89 per cent chance of winning the 2020 presidential election as of Nov. 2, based on the most recent average pre-vote national polls. 
Clinton was predicted to win by a landslide against Donald Trump, who had no former political experience, but she lost — despite winning the popular vote by a margin of just over two percentage points. 
Robert Bothwell, a politics professor at the University of Toronto, says the results will never be perfect, even if pollsters have been trying to correct errors that were made in 2016.
"Though they correctly point out the national poll results for 2016 were correct — they just didn't, and maybe couldn't, predict less than a one per cent difference in crucial states: (Pennsylvania), Wisconsin and Michigan, plus Florida — all right around one per cent or less," said Bothwell. "No poll ever devised can account for or predict 25,000 votes here, 30,000 votes there, or the 77,000 in the three 'Blue Wall' states." 
Daniel Rubenson, a politics professor at Ryerson and polling expert, believes that Joe Biden will win this year's election.
"If I were to bet, I would put money on Biden winning," said Rubenson. "Many things are similar to 2016 but more things set this year apart. The massive economic upheaval as a result of the pandemic is a huge factor in how the election will go and incumbent presidents simply do not do well when the economy does anywhere near this badly." 
Approximately two-thirds of the states have voted exactly the same way for the past five presidential elections, according to Rubenson. As a result, tons of money and attention get poured into the swing states — Florida, Georgia, Arizona, Michigan, Minnesota, North Carolina, Pennsylvania and Wisconsin.
Rubenson claims data is not generally deceptive in polls and people tend to focus too much on who is ahead in the race.
 "What should matter is the policies and platforms of the candidates," said Rubenson. "This focus on who is ahead leads to another problem, that people (including journalists) tend to think that any difference shown in a poll is real. It is not. There is error in every poll." 
On a recent episode of Don Lemon's podcast on CNN, "Silence is Not an Option," voter prediction specialist Josh Levin spoke about voter suppression and the barriers presented to people of colour in Texas. 
"What's really been on everybody's mind, especially in the last few weeks, is, 'Are there people intimidating or harassing voters outside of the polling location?' And in Texas this is really tricky because we allow people to carry guns," said Levin. "People of colour who are in these lines for hours on end understand that this is voter suppression. This is the system the way it's intended to exist — to try to intimidate people from voting." 
According to WTTW News, Felicia Davis, president and CEO of Chicago Foundation for Women, believes that misinformation campaigns will be some of the biggest voter suppression techniques used this year. 
"The misinformation around how one can safely vote in the era of COVID and around vote-by-mail, I think those tactics to suppress votes are the No. 1 threat right now," said Davis.
This year marks the first presidential election where Black women, often considered the backbone of the Democratic party, have the opportunity to vote in a Black woman as vice-president. 
"Black women have historically gone to the polls in the highest numbers, and they bring with them their family members and their communities," said Davis. "To have on the ticket a Black woman with her intersectional self in the second highest office in the country is really monumental, and you can feel it."