Second change in 3 months to distance itself from British slave owner Benjamin Vaughan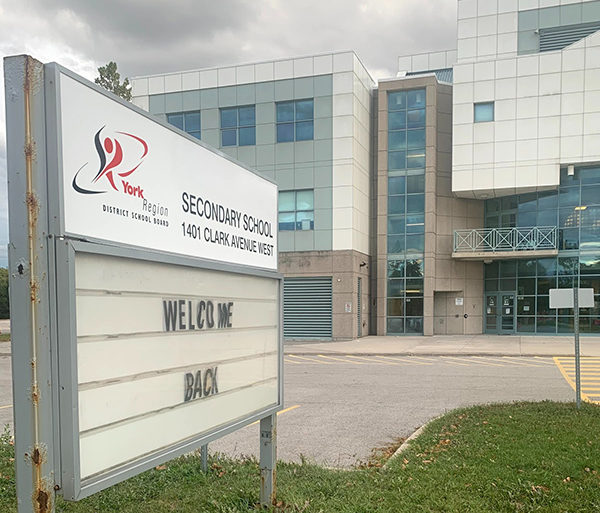 This story is part of Monumental Challenges, a series looking at Ryerson, reconciliation, and the issues surrounding replacing names and monuments.
A secondary school in Vaughan is removing that name from its institution in an effort to distance itself from the city's slave-owning namesake, Benjamin Vaughan.
Vaughan, a British parliamentarian in the 19th century, owned Black slaves in Jamaica and was staunchly opposed to the abolition of slavery.
The school's name change follows the removal of Benjamin Vaughan's civic holiday in August. It was replaced with John Graves Simcoe day. Simcoe was the first Lieutenant-Governor of Upper Canada from 1791 to 1796 and passed the 1793 Act Against Slavery midway into his term.
David Sherman, a York Region district school board trustee whose jurisdiction includes the secondary school, said the motion to change the name was put forward on Sept. 15, with the board unanimously approving.
A new name for the school has not yet been chosen.
"It is important that all of our students feel safe, welcome, valued and respected in our schools," said Sherman. "We recognized that the association with Benjamin Vaughan, a historical figure with associations with slavery, caused hurt and harm to members of our school community, particularly our Black students, staff members and families."
Further, Sherman said that "curriculum supports" were placed in the school and that information was shared with students, their families, and staff members about Benjamin Vaughan's history.
Other support services offered to school students and staff include identity-specific mental health supports for Black students from Black mental health professionals, according to Sherman.
"Over the last several months, many students and community members have come forward and expressed feelings of hurt regarding Vaughan Secondary School's association with Benjamin Vaughan," said Juanita Nathan, director of the York Region District School Board.
"We know change can be difficult and uncomfortable," Nathan said. "But this is a positive change that will make our school community a more safe and welcoming environment."
Sherman and Nathan both said that the decision to table the motion for the name change was supported by Black community groups, such as Parents of Black Children.
Former student reflects on the change
Manesh Divedia is a former student who attended the secondary school from 2013 to 2017. While Divedia said it was a positive move for the board to make the change, he feels there are other ways to raise awareness and that the city and board of trustees should have enacted change years ago.
Divedia said he doesn't recall hearing any mention of the school name's origin or Benjamin Vaughan's history during his high school years. He said that looking back, he finds the lack of awareness and resources surprising because Black students make up a large part of the community.
Divedia believes in a more grassroots approach to education and attending to the large Black community. He said these steps should include a change in curriculum to educate students on racism and slavery in Canada. He also agreed with Sherman's implementation of increased mental health services in the school.
The former student now lives in Orlando, Fla., and said he is accustomed to hearing about the removal of statues and calls to change place names around him. But Divedia said the City of Vaughan shouldn't change its name. "The name of the city has been established for so long," he said. "It would erase the history that should be used to teach students and the community."
Vaughan's mayor speaks out
On Oct. 2, the office of Vaughan mayor Maurizio Bevilacqua released a statement announcing a special committee to address racism and raise awareness about the city's "diversity, inclusion and anti-racism efforts."
"We remain dedicated to doing our part to stand up and take meaningful action against injustice and inequality," Bevilacqua said in the statement. "While we have achieved much, we recognize there is still more to do."
Asked to comment on efforts being made by groups calling for the city to change its name, Bevilacqua's office said by email that they would only reply next week, as they will have "more information on this in the coming days."
In June, when Bevilacqua introduced the motion to change the civic holiday from honouring Vaughan to honouring Simcoe, he said that he didn't "stand for changing the name of the City of Vaughan because of Benjamin Vaughan," but added that Vaughan "never stepped foot" in the city.
Other areas that still bear Benjamin Vaughan's name include the Vaughan Public Library and Benjamin Vaughan District Park in Thornhill.