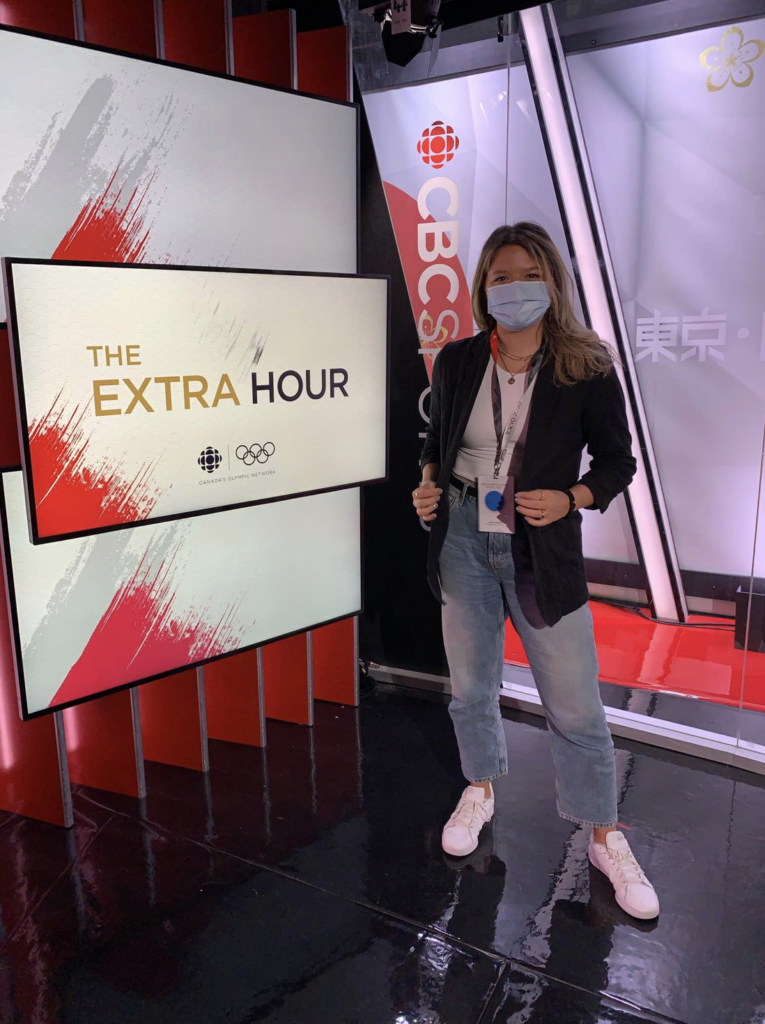 Growing up, Sarah Jenkins loved playing hockey and dreamed of competing at the Olympic Games. After years of watching the Olympics and developing a love for sports, media and working in the industry, Jenkins found her way to CBC as a sports content producer. This year, she'll be covering her fourth Olympic Games.
Jenkins always knew that Ryerson University's Creative School (formerly known as the Faculty of Communication and Design) was the school for her.
The sport media program wasn't Jenkins' first choice, but instead a case of being in the right place at the right time. "The RTA school of media was always my number one choice," said Jenkins. But as she was preparing to send out her application, the sport media program was announced as a new addition within the school. 
"When I saw the sport media program, I thought it was a really good opportunity to be part of the first of something, I was going to be part of the first graduating class," adds Jenkins.
Fast forward almost four years later, and Jenkins is now a digital studio producer for CBC Sports overseeing all production of the digital content studio and on her way to covering her fourth Olympic games. Her journey to getting to where she is now wasn't always easy. 
Securing her full-time position with CBC
During her time as a student, Jenkins worked at CBC for one of her former professors and loved her time in the studio.
For the first couple of years following graduation, Jenkins worked as a freelance producer for Yahoo News, Sportsnet and WAVE.tv., but she ultimately wanted to make her way back to CBC.
Breaking into the industry was difficult, especially as a female-identifying content producer. A 2017 study by the Women's Media Center found that women contribute to about 11 per cent of the sports content produced in the industry. Whereas men contribute to the remaining 89 per cent.
When Jenkins heard that CBC was building a digital studio, she jumped at the chance to be part of the first of something again. "I pitched myself and I was hired full-time but I was the only person in the studio," recalls Jenkins. She was offered the position in July 2020 and for nearly the entire pandemic, she produced all of the content on her own.
Because this was a new role in a new stream of media, there was no one Jenkins could really lean on, and in most cases, she found that she had to have all the answers. "It was exhausting, it was kind of like I was thrown into the deep end," she said.
She was often working 14 hour days trying to create content that was different from any other pieces that were being released by other sports networks.
"I was able to build the studio how I wanted which was really exciting but also a lot of work," said Jenkins.
As time went on and the studio began to grow, Jenkins expanded her team and began hiring former classmates and acquaintances. "I always joke that my team is like a little Ryerson cult," she said. 
Beijing Olympic Games
On Feb. 4, Jenkins and her team will be producing content for the 2022 Beijing Olympic Games but the preparation and filming has already begun.
"On most days, I'm heading to the studio at 5 a.m. and we're shooting 12 hours a day, which during the last Olympic games, we were shooting about three hours," said Jenkins.
Jenkins has now shifted to a managerial position, which means her role consists of scheduling the studio time, assisting with any technical difficulties and pitching the content that's produced.
During her long days, Jenkins says she's still committed to posting content on her TikTok account which now has over 100,000 followers. "I'm going to continue vlogging and showing my daily routine like waking up at 4 a.m. and what's going on around the studio."
As excited as she is to cover another Olympic Games with a full team this time, Jenkins still reflects on the time she spent alone in the studio during the pandemic. "I always remind myself of those days that I was by myself, just sitting in this studio thinking about what video I'm going to make that day when no one else works here," said Jenkins.
No matter what, she would do it all over again and believes her younger self would be so proud of her. "All I ever wanted to do was work on the Olympics, I thought I'd be able to go to an Olympic game but there was a global pandemic, so that's okay."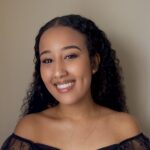 Ruby Asgedome was a General Assignment Reporter and Social Media Producer for On the Record for the Winter 2022 semester.