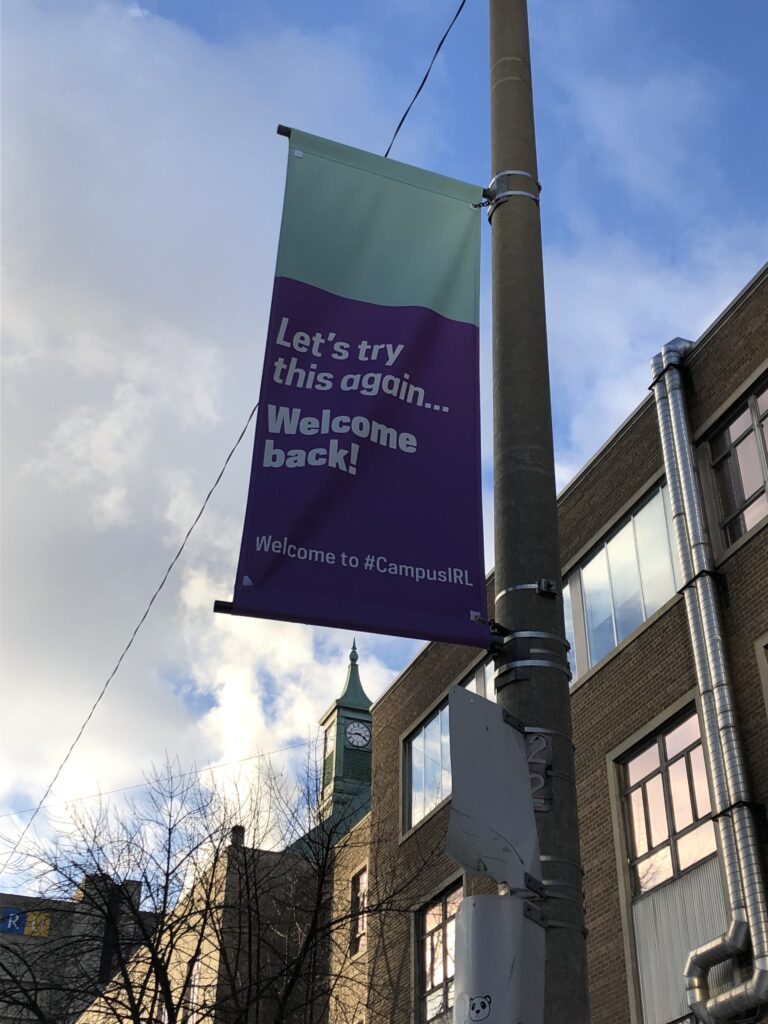 All members of the Ryerson community are encouraged, but not yet obligated, to get their third dose of the COVID-19 vaccine, according to a statement from the university.
The suggestion comes in the wake of president Mohamed Lachemi's confirmation that the school will be returning to in-person learning this semester. The campus will begin a gradual reopening on Jan. 31, while a full return is expected by Feb. 28.
Ryerson tells On The Record it will continue to monitor and follow local public health guidelines, while encouraging community members to "pursue all doses they're eligible to receive to help keep themselves and each other safe."
Currently, Ryerson students, staff and faculty are required to have two doses of an approved COVID-19 vaccine to return to campus. However, some experts are saying this isn't enough protection.
"From my perspective, it really should be that everyone has a booster," said Thomas Tenkate, a professor at Ryerson's School of Occupational and Public Health and an expert on communicable diseases. "The evidence is pretty clear that just two doses is not providing sufficient protection against the Omicron variant."
According to a recent study by the Journal of the American Medical Association, three shots of either Pfizer or Moderna vaccines provides 67 per cent protection against the Omicron variant, compared to an unvaccinated person. Researchers also found that three shots provide 66 per cent protection against Omicron when compared to someone who received two doses, suggesting that the original two shots taken six months or more ago provide little protection against becoming infected with this more transmissible variant.
The head of Ontario's science table, Peter Jüni, has also said the definition of "fully vaccinated" should change from two doses to three, although the provincial government has not yet provided any indication that it will make the alteration.
Though the effectiveness of the booster shot has been proven, universities have been slow to mandate the third dose. Only the University of Saskatchewan and the Canadian Mennonite University have made a third vaccine obligatory.
Timothy Sly, a professor emeritus at Ryerson's School of Occupational and Public Health, sees balance in the school's reopening. "Because of the nature of the beast, since the very beginning, nothing has been 100 per cent," Sly said. "Every decision is a compromise, you're not going to get anyone saying this is the only possible way to go."
Sly believes two doses is the absolute minimum protection students should have for the return to campus and he wouldn't be surprised if many institutions opt to mandate a third dose if cases begin to rise again.
Aside from the lack of a mandate for a third dose, Tenkate identified some other potential issues with the school's return to in-person learning. "Over 90 per cent of people come to campus using public transportation," said Tenkate. "Public transport is a big way to get infected."
Tenkate went on to say Ryerson's return to campus could affect the parents and grandparents of students who live at home. "If you're expecting students to travel on public transport and then go back to those extended family situations, that for me is a big concern," he said.
The issue of getting to and from campus was echoed by Alicia Ali, a student in Ryerson's biomedical science program. "Commuting is the first concern I have," she said, "because I actively avoid being in crowded spaces now."
Ali also raised issues about the lack of access to reliable testing. "I don't feel comfortable knowing that we don't have free access to PCR testing," she said. "If a student starts showing signs of symptoms and they want to get tested, it will be hard to do." Ryerson does provide free rapid tests, but they "aren't as accurate as laboratory tests" and "come with a high risk of giving a false negative result," according to Healthline.
Ryerson's downtown location also poses some added challenges in terms of keeping everybody safe. "There's the aspect of crowding in buildings, as well as the off-campus aspects of downtown being crowded," Tenkate said. "Combine that with weather conditions that are really going to drive people indoors and you know if it's indoors and crowded, those aren't good conditions."
One thing that students who want the third dose shouldn't have to worry about is timing. "If you look at most classes getting back at the end of February, that's about five and a half weeks and that will be a perfectly good time to (get your booster)," said Sly. "It will only take about 10 to 14 days to hit maximum effect, so you could do it the second week of February and you'd still be fine for the last week of February."
All Ontarians aged 18 and over are now eligible to receive their booster shot, as long as they are three months (84 days) removed from their last dose of the COVID-19 vaccine. Appointments can be booked through the Government of Ontario website. Alternatively, walk-in clinics are also now providing the booster. Canadians are also turning to the non-profit organization, Vaccine Hunters Canada, for help with finding and booking vaccines.