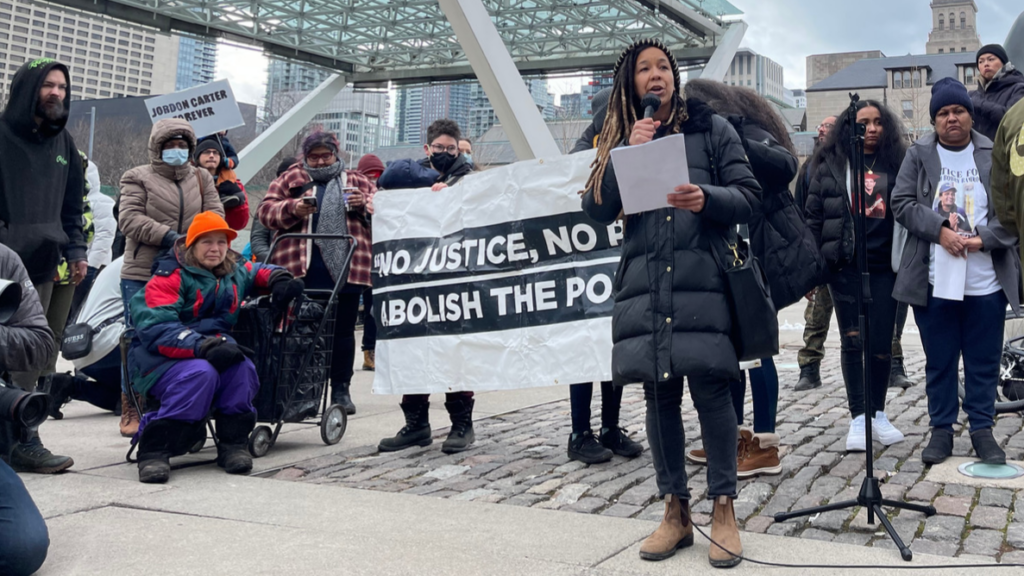 Listen to the audio version here:
Demonstrators gathered on Tuesday outside Toronto city hall, where a city budget committee meeting was in session, to protest the city's plan to increase the Toronto Police Service's (TPS) budget by nearly $50 million.
This was in response to Mayor John Tory's Jan. 3 announcement of plans to increase the police budget by $48.3 million in an effort to stop violent crime. According to the city's 2023 budget presentation, the money would be used to add 200 more uniformed front-line positions and 136 civilian officers, including 911 operators.
Protestors demanded that 50 per cent of the police budget be reallocated to community supports like housing, mental health, education and transit.
"To hear that they're increasing the police budget, knowing that people in the community are calling for less police and more social service funding, it just feels like a big slap in the face," said demonstrator Mojeane Sadr.
Audrey Huntley, a co-founder of the advocacy group No More Silence which raises awareness for missing and murdered Indigenous women and girls, pushed back on Tory's assertion, saying investing in community supports rather than policing would be more effective in combating violence.
"These are social problems that are bringing about the spate of violent incidents and they have to be addressed socially, not with more repression," said Huntley.
Robyn Maynard, a co-organizer of the protest with the No Pride In Policing Coalition said the new budget is "breaking the promises" Tory made to address racism in policing.
"(Tory) promised that racism would be a thing of the past. And here we are in a moment when there's more funding going towards an institution that we know is responsible for the mass scale surveillance, repression, and even sometimes harm and death of Black communities, of Indigenous communities and so many others," Maynard said.
"These are the people that are supposed to serve and protect us, not take our children from us," said Claudette Beals-Clayton, mother of Regis Korchinski-Paquet, who fell from a balcony to her death while police were conducting a wellness check in her home.
"We need to take back our communities, because the only people that take care of us are us," Beals-Clayton said.
Shelagh Pizey-Allen from TTC Riders said more of the city's budget should go towards transit funding to prevent service cuts, which were announced alongside the TTC's operating budget earlier this month.
"If we need a safer TTC, why is the mayor cutting service late at night? Why are there zero resources going towards mental health support (on transit)?" said Pizey-Allen.
The event is part of a month of action by community groups to oppose the increased police budget. TTC riders will hold another demonstration on Feb. 2 to protest the TTC budget.