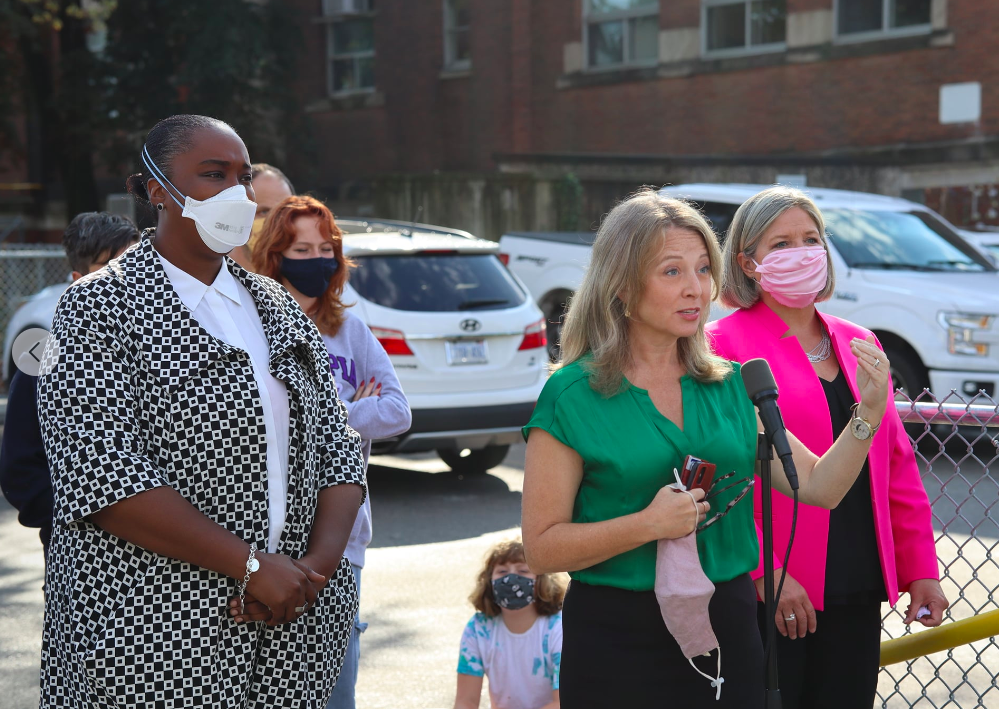 Listen to the full story here:
Marit Stiles says she doesn't care if you vote for her or not, she just wants to make sure you vote.
Voter turnout in Ontario hit a record low last year. In the June 2022 provincial election, just under 44 per cent of eligible voters cast a ballot, according to Elections Ontario — a 13 percent drop from the 2018 election.
That's a major issue for Stiles, the new leader of the provincial NDP. She took the helm earlier this month, after running unopposed. Stiles is replacing NDP leader Peter Tabuns who stepped into the position following Andrea Horwath's resignation last June. Stiles says she's "deeply concerned" by the lack of people at the polls.
As provincial NDP leader, Stiles says she's ready to push back against Premier Doug Ford's Progressive Conservative government to ensure that the people of Toronto — especially students and youth — are able to live in a community where their needs are both considered and met.
Education and housing expectations for youth and students
Stiles says students and young people have been taught to expect less from their government, and she wants them to know they should expect more.
"What we need to do is not only push back against the government's failure to adequately fund and support college and universities but also to push for some of these things while the government conservators are in power," she said."
Marina Gerges, the president of the Toronto Metropolitan Students' Union (TMSU), says she expects Stiles to fight for student rights. Gerges says that the union will "work with whoever our elected officials are to fight for what is best for students."
Stiles says she plans to advocate for ideas that will benefit students and young adults. She says she wants to make sure students are offered more grants than loans and graduate without debt.
She also says she wants to overhaul the entire provincial post-secondary system. "We need stable funding to secure good faculty and deliver quality education to students in Ontario," she said.
The average undergraduate tuition fee in Canada for the current academic year is roughly $6,800, with Toronto costs averaging $7,800, according to Statistics Canada.
Flashback to the late 1980s, when Canadian tuition rates were approximately $1,200. Remember the 1990s? Tuition would run you about $3,100. Gerges says this rise in tuition means students take out bigger loans and end up with higher interest rates and payments.
The NDP will help youth in Ontario and work to convert OSAP loans into grants, says Janelle Brady, associate professor of early childhood studies at Toronto Metropolitan University (TMU) and the president, party executive for the Ontario NDP.
She says they'll work to provide stable funding for [post-secondary education] and enshrine the right for students to have student unions.
Stiles also promises to address the issue of housing within the province because increasing rent is a recurring problem for students and communities across Ontario.
"What we really need is affordable housing and we need it now," she said. Stiles says the government needs to take a more proactive approach in building supportive housing and housing that's rent geared to income, like co-ops.
"We have to deal with rising rent. We need real rent control and we need laws that actually protect tenants," she said.
Labour expectations and action
Patty Coates, the president of the Ontario Federation of Labour, says Stiles has proven her ability to stand up for workers, especially young people, throughout Ontario.
Coates points to Stiles' record on pushing back against Bill 28, the Keeping Students in Class Act last fall. That bill would have enforced a four-year contract on 55,000 education workers across the province.
Not only did the act go against education workers' right to bargain and their Charter right to strike, but it also enforced low wage increases, minimal protection against job cuts and provided no paid prep time for education workers who are working with students directly, among other things, according to the Ontario Federation of Labour.
"She vocally opposed Bill 28. She amplified the voices of education workers at Queen's Park, ensuring the Ford government felt the pressure on all fronts to repeal the bill," said Coates.
The Bill was ultimately repealed in November, according to the Canadian Union of Public Employees (CUPE).
The future of politics
Stiles believes Ontarians have to work together to build a movement among students and unions. "We have to bring those ideas and visions back so we can organize to defeat this government in three and a half years," said Stiles. "I truly believe we can do it and will do it."
To meet young voters and work together with student communities, Stiles attends middle school, high school, university and college gatherings to connect with youth.
"I try to never turn down these opportunities because nothing beats having that real face-to-face contact and actually listening to the priorities of younger people," she said. "The responsibility of anybody in government is to create those opportunities to listen."
Through these talks, Stiles encourages everyone to advocate for what they believe in and exercise their voting rights.
"You're dealing with again the failure of, you know, many governments to adequately address the crisis in housing affordability," she said. "You're dealing with the crisis in mental health and the lack of mental health supports that exist out there. You're dealing with the underfunding of post-secondary and our publicly funded education system. You guys are dealing with that in a dramatic way right now and governments should be listening to you."
Whether you "vote for me or vote for someone else," Stiles is hoping you'll at least vote.