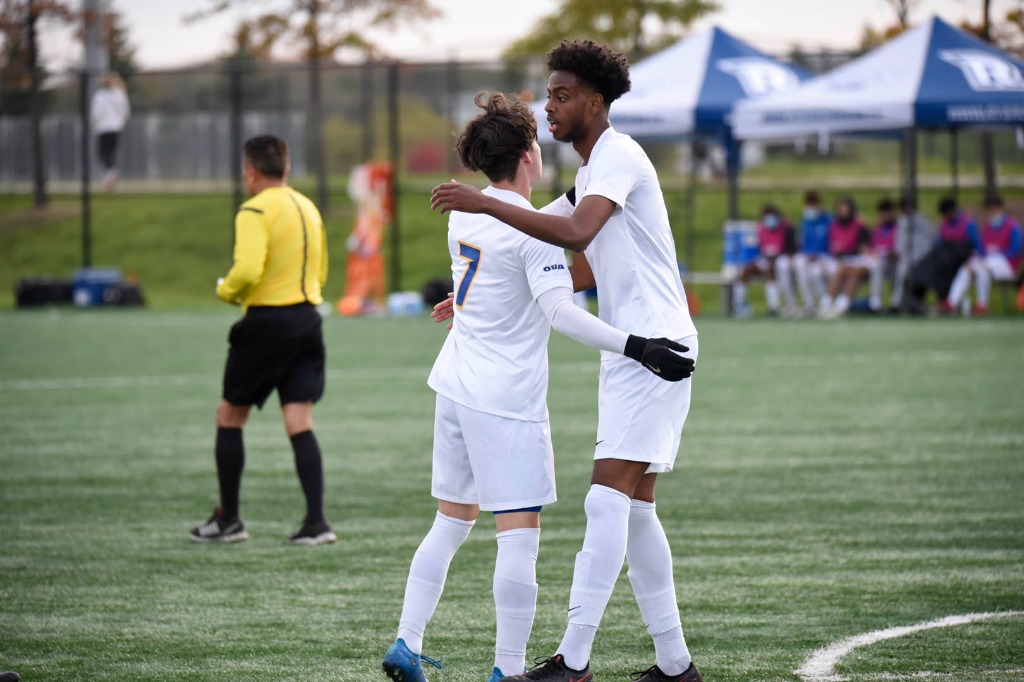 The Rams men's soccer team season came to an end after a 3-2 loss to the York University Lions on Nov. 6.
With a spot in the OUA finals on the line, the Rams came into the match at York Lions Stadium on a nine-game unbeaten streak.
However, despite dominating possession, they were unable to score in the first half. The Lions opened the scoring in the 11th minute with a header from fourth-year forward Omar Marzouk.
Chaos then broke out on the pitch in the 27th minute with an altercation leaving Rams second-year forward Luca Di Marco with a yellow card and the Lions with a straight red.
Seconds later, first-year forward Zakaria Abdi was also awarded a yellow card.
The Rams were on the attack for the next 15 minutes trying to take advantage of the Lions' 10 player squad, but could not execute.
Minutes before the end of the half, in the 43rd minute, fourth-year midfielder Soji Olatoye scored a second for the Lions.
The Rams started the second half up one man but down two goals, and finally got on the board in the 53rd minute.
A corner kick from fifth-year midfielder and captain Abdallah EL-Chanti, confusion in the box and miscommunication among the Lions led to an awkward but well-needed goal from Abdi.
This set the momentum for the rest of regulation and the Rams held onto possession against a defence-focused Lions team.
An equalizer finally came for the Rams in the 80th minute.
A header from second-year midfielder Brandon Barone brought the score to 2-2 and the Rams were able to hold on until the whistle, sending the match into 30 minutes of extra time.
Most of the action in extra time came from the referee, with notable calls including a yellow card to EL-Chanti, a yellow to Lions head coach Carmine Isacco and a red to their assistant coach.
However, that was not enough to dampen morale on the Lions' side, with first-year midfielder Niko Siguar scoring their crucial third goal in the 118th minute.
One last red card awarded to EL-Chanti sealed the Rams' fate, and the team bowed out after a well-fought match.
The Lions will face the Guelph Gryphons in the OUA finals on Saturday.