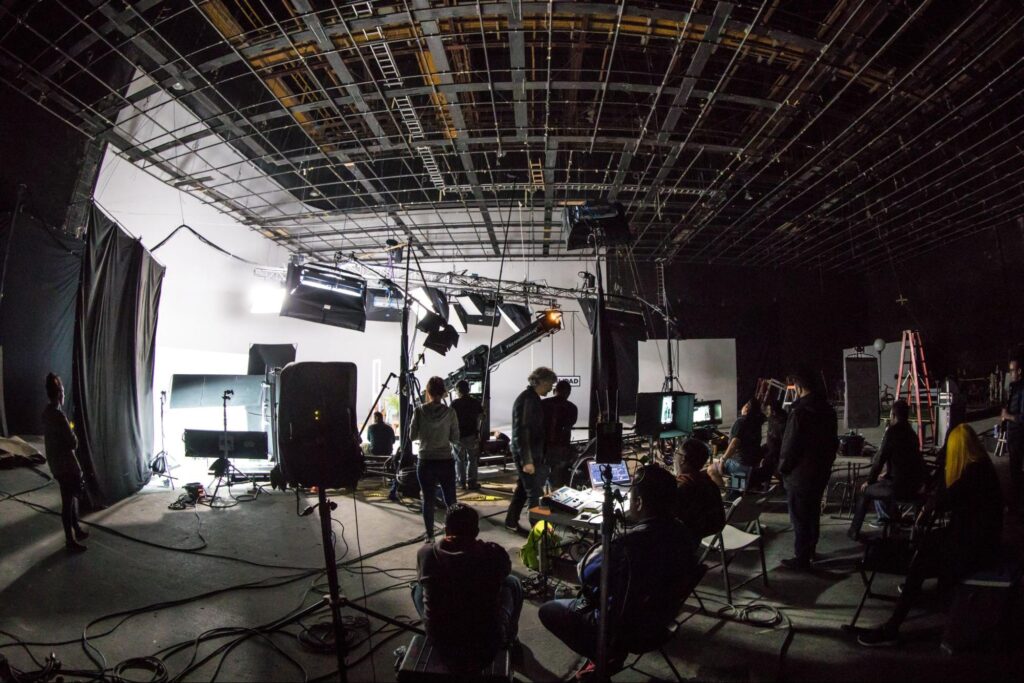 The recently announced Toronto Basin Media Hub aims to solidify the city's influence on the mainstream film industry.
The proposal for a state-of-the-art film, television and media hub on Basin Street first came in late 2020 by CreateTO, an agency established by the city of Toronto to manage the city's real estate assets.
A year later, the project was approved and on Nov. 16, Mayor John Tory officially announced Hackman Capital Partners and its affiliate, The MBS Group, as the developers and operators.
The proposed $250 million project aims to build an accessible, dedicated space for media creatives.
It will include eight sound stages, production office space and workshop and production support space, according to a news release. 
"The Basin Media Hub will be a vitally important, purpose-built asset in our rapidly growing inventory of space," said Marguerite Pigott, the city of Toronto's film commissioner and director of entertainment industries, in an email statement to On The Record.
Canada has become a top destination for filming, with cities like Vancouver, Montreal and Toronto becoming well-established production hubs.
According to Pigott, Toronto issues over 3,500 film permits per year for over 1,500 productions in the city.
For many American productions, the low value of the Canadian dollar makes the country an economical alternative shooting location.
Productions also choose to film in Canada because of the accessibility to a diverse spectrum of terrains, ranging from cities to mountains to oceans. 
"From a creative perspective, there's so much potential here," said Karen Harnisch, a producer in Toronto and assistant professor at the School of Image Arts.
With shooting space in high demand, Harnisch believes the Basin Media Hub will be an advancement in the city's film infrastructure, making more production activity possible within the Greater Toronto Area.
However, the increase in space comes with a question: who will be able to access it?
"The parties that end up being able to scoop up studio spaces are the streamers and studios that have deep pockets," said Harnisch, an alumna of Ryerson's film studies program. "Independent producers and filmmakers often do get squeezed out of those sorts of opportunities and it's quite likely that this new studio space will really be monopolized by those bigger players."
In that case, Harnisch believes looking at the big picture is important.
Even if studio spaces are dominated by big names, these productions require large crews and will often look to employ local, independent talent to fill these positions, which is a good starting point for these creatives.
There have been some Canadian productions that have managed to make a name for themselves in the mainstream.
Shows like Schitt's Creek and Workin' Moms have enjoyed international recognition thanks in part to the rise of streaming services, with Netflix even choosing Toronto as the location for its Canadian corporate office. 
On the other hand, Canadian films are still looking to achieve that breakthrough amongst international audiences, while also trying to contend with tent-pole films and well-established franchises.
"Canadian films have always had a really hard time getting a foothold in both international and domestic theatrical releases," said Harnisch.
"While we've had some really incredible creative and critical success in terms of domestic productions, we haven't seen that home run commercial success just yet," she said. "As a feature film producer, it's almost like a moment of reckoning for our domestic industry."
Although Toronto hosts a high number of productions every year, it's relevant to note how many of them are actually considered true Canadian content — being authored and produced by Canadian voices and featuring Canadian talent.
In a November news release, the city of Toronto announced a $1 million fund alongside the Basin Media Hub to "support and encourage Canadian content creation."
With Canadian creatives often finding it more feasible to join an American production, this fund hopes to keep local talent within the domestic industry.
"Generally speaking, when there are more jobs in Toronto, more creatives stay here. So growth of the industry generally supports talent retention," said Pigott.
For Marina Purdon, who works in various art department roles on sets, the hope is to stay in Canada for as long as she is able.
"​​I would love to be a part of the next great Canadian project and stay here as long as I choose to," said Purdon, a former student of The Chang School's certificate program in film studies.
She says that it is very encouraging to see Toronto's film industry grow with direct support from the city, like with the Basin Media Hub.
"I want to see more recognition from other countries, as well as Canadian voices and stories being heard and told," said Purdon. "We are a huge country with a minimal population, but the stories are rich and wonderful."
Experts believe it will be important for projects dedicated to amplifying Canadian stories to ensure they are accurately representing the country's diverse population.
Associations like the Indigenous Screen Office and Black Screen Office have been working for representation in Canadian film; carrying that work into the future will be the key to a successful domestic industry.
"I believe that our country is still working through a lot of issues and the way that we will tell stories about those issues is so much a part of our processing and healing," said Harnisch. "But as a Canadian producer, I have made a conscious choice to stay in the Toronto area and I believe in Canadian content."