Municipal planners and gardeners say more green spaces will improve the quality of life and citizens' health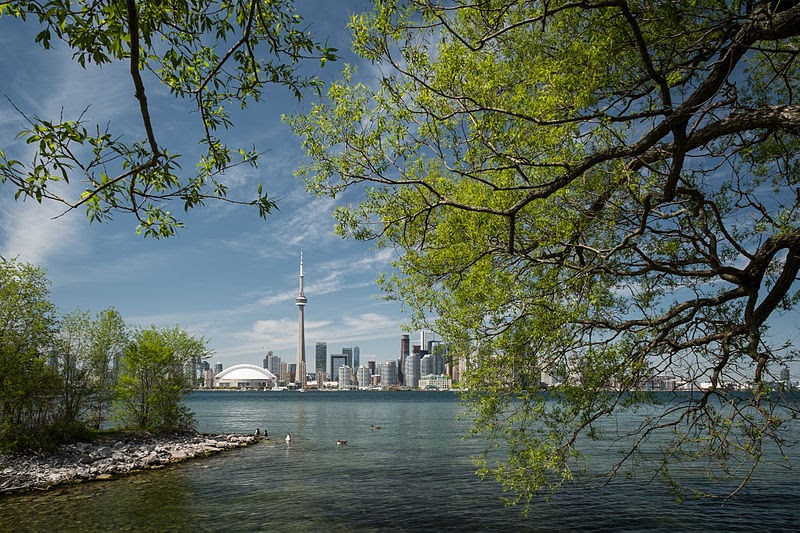 On a tiny plot of land in Toronto's Bracondale neighbourhood, a group of women are working to restore the land and soil to its natural state. They break from their labour to picnic on the scrubby grass beside St. Matthew's Church, where their garden is located.
Watching a red-tailed hawk dive into a group of pigeons, the women chuckle as the city birds scatter in alarm. The hawk misses his mark and makes a lazy circle back to the communications tower, which he has claimed as his perch.
Even among the skyscrapers and crowded streets of the biggest city in Canada, nature finds a way to assert herself. And it's a good thing too, because green spaces, and trees in particular, play a pivotal role in human health.
Beyond the environmental advantages of city trees, the urban forest has been proven to contribute greatly to mental health and physical well-being. Most people are aware that trees and plants suck in carbon dioxide and emit oxygen, cleaning the air and preventing the worst effects of city smog. They also cool the land around them and provide shelter for wildlife such as insects, birds and squirrels. What people may not know is that they also help promote human health on both a biological and an emotional level. 
The healing powers of nature are well understood by Elder Peduhbun Migizi Kwe, Robin Buyers and Jewel Gomer Gomez, who came together to create the Noojimo'iwewin Gitigaan, or the Healing Garden, on the corner of Rushton Road and St. Clair Avenue West. The idea for the garden was born at a meeting of the Indigenous People's Solidarity Group operating out of St. Matthew's United Church.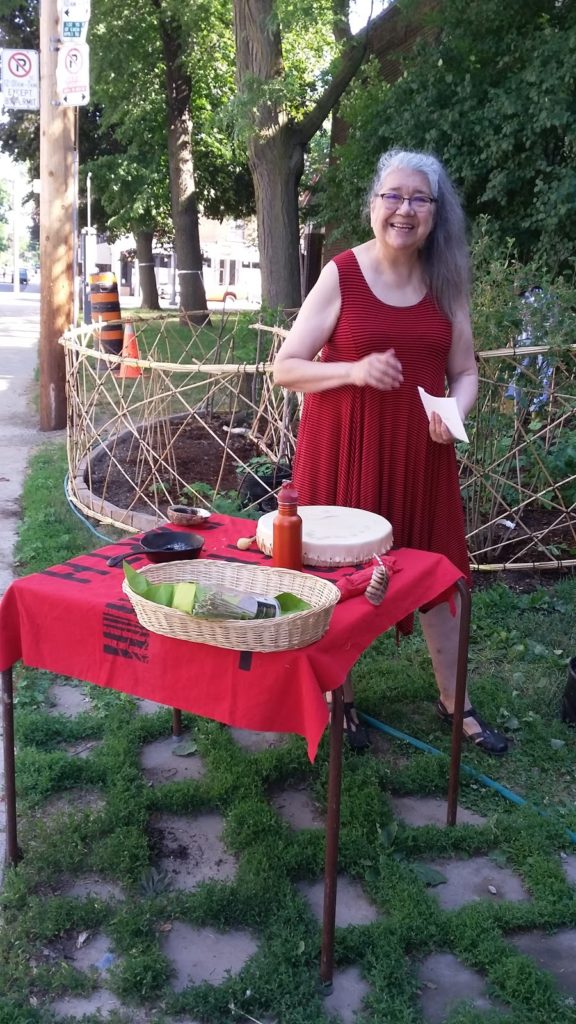 The group, which formed in response to the Truth and Reconciliation Commission from the federal government, felt that restoring the church yard to natural plant coverage would be a tangible way to rebuild the relationship between settlers and Indigenous Peoples.
Although the garden is small, they host healing ceremonies and grow food for the hungry, donating their yields to The Stop and other local food programs. More than that, at the garden they have learned the power of green spaces to create joy, to slow people down and to bring community together.
Plants "provide a wonderful, restorative and calming experience," said Elder Kwe, who also goes by her English name, Catherine Brooks. "Our land is our mother taking care of us and if you don't acknowledge that you're missing part of your normal existence as a human being, and that does have an impact on you."
When people enter the garden a calmness seems to fill them, they look around and engage with the natural world. "There's a certain reverence," said Brooks. "I think it's a really significant pause in day-to-day life, to reconnect with our relatives in nature and also with each other."
Journalist and forestry planner Peter Kuitenbrouwer writes about the relationships between green spaces and human health. Last year, he wrote an article in the Walrus about Sunnybrook Hospital, which was designed to allow recovering veterans access to trees in order to help speed recovery and boost morale.
More than 70 years after Sunnybrook was built, studies from the University of Toronto have shown that students living and working in neighbourhoods with more trees tend to perform better on standardized tests. Research from the United States and the U.K. have found that people living in areas with greater tree coverage are happier and healthier, with fewer cardio-metabolic health issues.
"For one thing," said Kuitenbrouwer. "trees emit essential oils to protect them from predators, and if we breathe in those essential oils we will boost our white blood cell count." The positive effects of forest bathing, he further explained, have been studied in Japan for many years.
Qi Ling, a researcher at Nippon Medical School in Tokyo, came to the same conclusion following a scientific study of 37 adults. The study found that human natural killer cells, a type of white blood cell which prevents tumours, increased after just a few nights among the trees, while stress hormone levels went down.
In a dense city such as Toronto, access to trees and green spaces can be difficult to come by. Over the years, development has slowly replaced forests in Toronto, according to a report from the city. "I'm noticing a lot of buildings going up lately where there are absolutely no trees in front of them," said Kuitenbrouwer.
But the City of Toronto has not ignored the importance of trees, and city council has laid out a goal to expand tree canopy coverage from approximately 28 to 40 per cent of the city.
Kim Statham, the director of Urban Forestry for the city, said that from 2008 to 2018 the city's urban forest has grown from 10.2 million trees to 11.5 million trees. She also said the health of the trees has also improved overall, due to regular maintenance work. Which is roughly a two per cent increase in the tree canopy.
"Some people are not very impressed with that," said Statham, "but considering that over this 10-year period we had ice storms, the worst years of our emerald ash borer infestation and the Asian long-horned beetle, we were actually quite pleased with that increase."
There are many other barriers that come with growing trees in a busy city. Some of the biggest challenges have to do with the level of impervious surfaces, such as concrete and asphalt. These surfaces make it difficult for trees to get enough water, and they also compact their roots.
"That's one of the hardest things with tree roots is if so many people are walking through the city, passing near the bases of trees. The weight of all of those pedestrians, it compacts the soil," said Kuitenbrouwer. The roots of trees need to breathe oxygen, and when the earth is too compressed they can't do that, he explained.
The city is currently working developing techniques for how to grow healthier trees on hard surface boulevards, said Statham. "So any time you walk downtown you would probably see any combination of trees in raised containers, in tiny little openings in the sidewalk, we're working on standards related to soil cells and improving the quality and quantity of earth that trees have access to."
At the Noojimo'iwewan Gitigaan, Buyers and Brooks are also thinking about the importance of healthy soil. "The remediation of the soil," said Buyers, is one way that Torontonians can work to decolonize the land.
"The land heals on so many levels, there's the physical labour, there's the emotional experience of working with soil and plants, having creatures around you," she said.
"If you think about the amount of quantifiable, financial benefits of having a healthy urban forest, it makes it very easy to make the argument that we need to spend more money (on green spaces in Toronto)," said Kuitenbrouwer.
Researchers at the University of Toronto are working on a tool to help quantify access to parks and green space across Canada. Organized by the Canadian Urban Environmental Health Research Consortium, GoodScore.City is an online platform that provides the public with information about their neighbourhood's overall health impact, based on factors such as parkland, green streets as well as air quality, transit and amenities.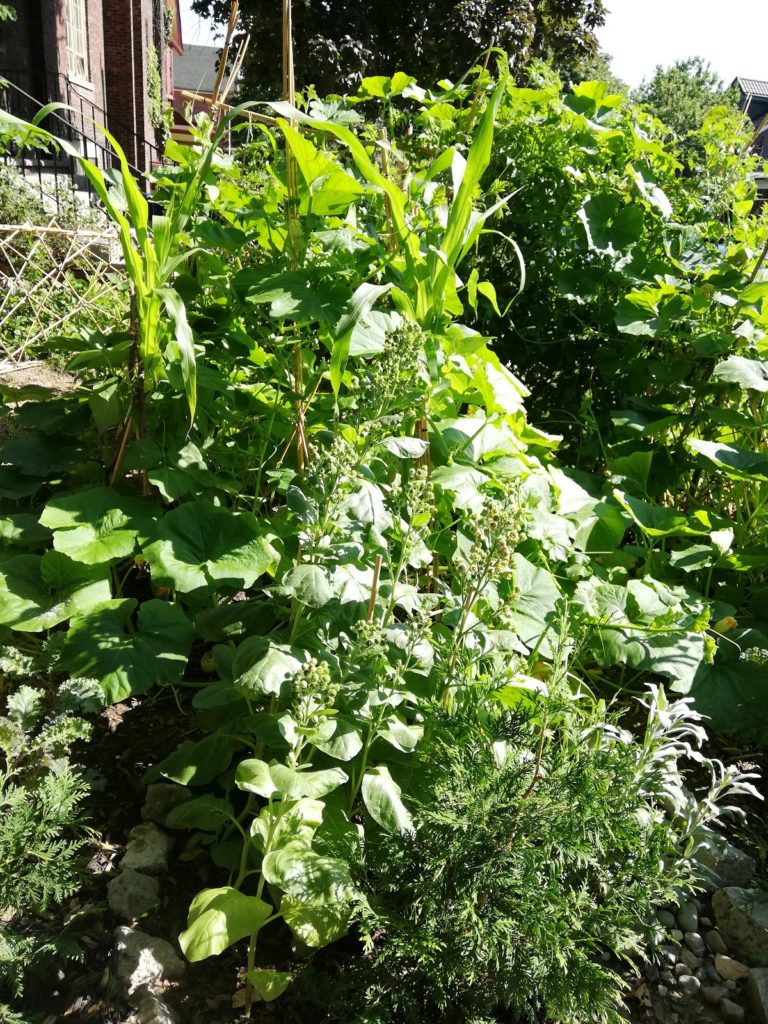 Umayangga Yogalingam is a member of the GoodScore.City advisory committee and also works at the charity The Sandbox Project, which studies the effects of built environments on children's health. "Green spaces have so many positive effects," said Yogalingam. "they allow individuals to move about and provide a place to socialize and take part in recreational activities." Being around nature reduces stress and promotes good mental health, as well as cleaning the air around us.
Yogalingam says she hopes that the GoodScore.City tool will help individuals engage more with their community and provide city planners and advocacy groups with critical data to improve policies and services across Toronto.
In the coming year, Toronto's urban forestry department is looking at how to bring access to green spaces to the most underserved areas in the city. While the Don Valley is lush and High Park is wonderful; in the downtown core, parks and trees can be hard to come by.
"Especially in areas where you find lower socio-economic status populations, there's a dearth of green spaces," said Yogalingam.
The Canopy Action Plans, said Statham, are neighbourhood specific plans on how to add trees and green space in areas with the least canopy coverage. This plan involves granting funds to local planting initiatives, looking at areas where the city has a right to plant and identifying plantable areas across the city.
"With everything going on in the world, we need places to kind of go and just be, and that's why we go to these lovely spots where there's a little bit of wilderness (and) cultivation. We're in harmony then with nature," said Brooks.