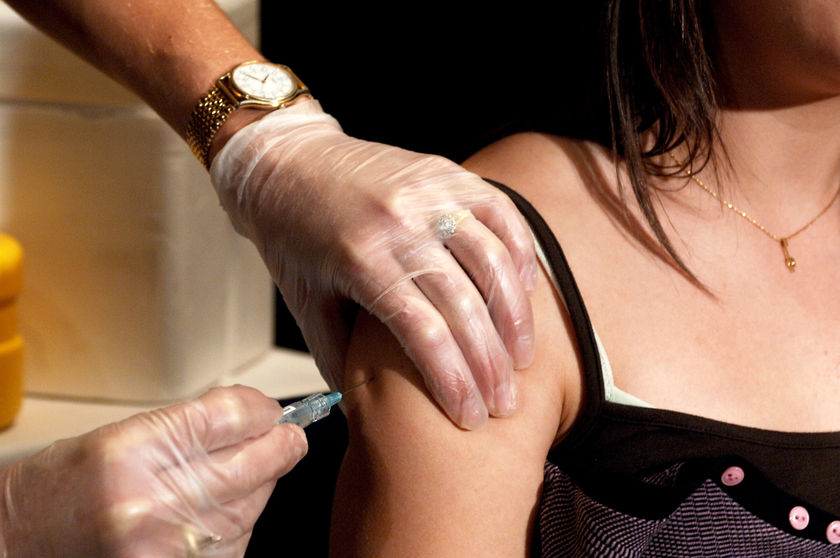 While COVID-19 has ravaged the health-care industry, a Ryerson nursing student says it has simultaneously created an opportunity to think differently about how to provide better care to diverse communities.
With visible minorities disproportionately affected by vaccine hesitation throughout the course of the pandemic, Octavia Bullen says more representative leadership in the nursing profession may help combat this effect.
"I feel if there were more Black nurses particularly in leadership positions, this would enable nurses to advocate for more health teaching and understanding about COVID-19 within Black communities," said Bullen, a fifth-year Ryerson nursing student and the official delegate for the Canadian Nursing Students' Association (CNSA).
"[This will] open a conversation about the need to get vaccinated in order to protect the ones they love, but others as well."
Bullen says this positive influence will not only inspire Black nurses to pursue leadership roles more frequently, but may create an opportunity to provide better relational care to Black communities.
Nancy Purdy, a Ryerson researcher and nursing expert, agrees that having more Black nurses in leadership can create better opportunities to understand their lived experiences and unique patient needs.
"Black nurses can help their colleagues understand the nuances of what it's like to be a Black patient, and they can help advocate for changes in practice that address Black-specific issues," she said.
This is reinforced by a study done by the Canadian Journal of Nursing Research, which revealed that marginalized communities are particularly under-represented in leadership roles. In the nursing labour force, eight per cent of managing positions were occupied by visible minorities, while nine per cent were head nurses. Peer-reviewed analysis of the study concluded that an increase in racial, ethnic and cultural representation is required in the Canadian nursing profession in order to provide "culturally appropriate" care to patients, families and communities.
Bullen says this is why there's a lack of trust in the health-care system amongst Black Canadians — they don't feel like their lived experiences are truly understood.
"It's hard to navigate when you don't see leaders like you," she explained.
A survey released on Nov. 2 by the Angus Reid Institute found that vaccine hesitation in Canada was highest amongst Indigenous communities and visible minorities.
86 per cent of participants agreed that "vaccine passports [are an] example of government overreach," with the largest portion of respondents citing both personal freedom and health concerns as the biggest reasons they were not getting vaccinated.
Experts say the lack of trust in health-care amongst these communities is born from generations of mistreatment at the hands of the government, such as displacement, colonization and slavery.
"People are being asked to trust government recommendations from a government that has not earned their trust in the past," said Shannon MacDonald, a vaccine and nursing expert. "For sure, there's going to be challenges."
A report released by Canada's chief public health officer detailing the public health approach to COVID-19 cited that health is inequitable amongst marginalized populations — specifically Black, African, Caribbean and Indigenous communities. It revealed that Canada's history of slavery, colonization and displacement has enforced discriminatory socio-economic structures, leaving people of colour at a higher risk of contracting COVID-19 due do their lack of trust in government policies.
Bullen, previously the director of diversity for the CNSA, says the government's involvement in the vaccine mandate is the reason why there has been a recent surge of pushback and protests outside hospitals. She says people are not protesting the vaccine, but rather, protesting government control, which has resulted in unfavourable outcomes for communities of colour throughout the pandemic.
"Vaccine hesitation led to a lot of Black patients being admitted into hospitals and not knowing how they got the virus, then regretting not getting vaccinated," Bullen said.
As of July 21, 2021, data collected for the City of Toronto revealed an overrepresentation of racialized groups in hospitals with COVID-19 (74 per cent), which included people who were Black, Arab, South Asian, southeast Asian, and Latin American.
Bullen and MacDonald both agree that this has highlighted the need for better communication techniques within our health-care system, specifically towards diverse communities.
"If there's anything we've learned from this pandemic, it's that one approach does not work for everybody," MacDonald said, noting that more effective leadership is necessary to advocate for these communities and address vaccine hesitation.
"For folks where trust is an issue, they need to hear the message from somebody they trust, so it's not just the government saying they should get vaccinated, it's leaders within their community."
Based on the research that's been done on vaccine hesitancy, MacDonald says the biggest influence on changing somebody's mind about a vaccine is a trusting relationship with their health-care provider.
"That's not something you get by telling somebody what to do, that's something that develops over time, and it involves listening, patience and compassion."
Patience, compassion and listening are characteristics of a nursing philosophy known as relational care — something experts say has been lacking throughout the pandemic.
"Relational care is one of the things that ensures quality of care," said Susan Bookey-Bassett, assistant professor and researcher at Ryerson's School of Nursing. She is currently leading new research into the role that equity, diversity, and relational care play in patient outcomes.
"You really get to know people more on an individual level, and you're able to provide more concentrated, individualized, patient-centred care which is based on relationships," she said. When there is trust between patients and care-givers, there will usually be better patient outcomes. "Patients will comply because they trust their health-care providers," she said.
MacDonald noted there may be barriers in addressing vaccine hesitation, since some nurses feel uneasy working with unvaccinated people, born from fears of catching the virus.
"Understandably, there's frustration amongst nurses who are upset with people who choose not to accept an effective, safe, necessary intervention to protect their health and other people's," she said.
This is something Bullen has noticed first-hand in her clinical placement. Bullen recounted a time when she overheard a frustrated nurse tell an unvaccinated patient in the ICU that they didn't deserve a bed, or care altogether.
"I was so shocked and lost for words when she said that," Bullen explained. "That's a lack of empathy right there."
According to MacDonald, what Bullen observed in her placement was not common, but certainly a red flag and problematic for the nursing profession. She says nurses have an ethical duty to take care of their patients regardless of the circumstances.
"We care for alcoholics with liver disease, we care for people with substance abuse problems — we don't refuse care for them because they've made a poor life choice," she said.
As a nursing student and member of the Black community, Bullen says many people in her life had vaccine hesitation and turned to her for advice because they trusted her. With time and education, they decided to get it on their own accord. This is why Bullen believes it's essential for nurses to work with diverse communities to provide them with the information they need to make an informed decision on their own; she believes this would be more effective than forcefully controlling them or suggesting they don't deserve the right to health-care if they don't otherwise conform, which directly plays into their insecurities and fears.
"If you're making ultimatums about what kinds of patients you're prepared to care for, then that's not a good fit for the nursing profession," MacDonald said.
While having more diverse representation in our health-care system may help provide better relational care to diverse communities, Bookey-Bassett and Purdy both warn about the implications of ultimatums in the nursing profession. They say the idea that only racialized nurses should care for racialized patients is potentially harmful, and defeats the purpose of relational care.
"What we're trying to do in the nursing profession is value everyone, it shouldn't matter what colour I am or what age or gender I am," Purdy explained.
"I should be able to use different communication techniques to really understand where a patient is coming from — and that's the holistic approach we've always subscribed to in nursing."