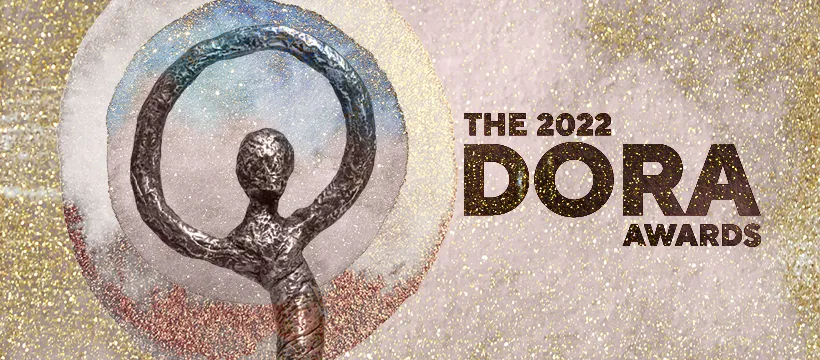 Listen to the audio version of this story:
The Dora Mavor Moore Awards returned Monday night for the first time since the COVID-19 pandemic shut down theatres across the country two years ago.
The 42nd annual Dora's were hosted by the Toronto Alliance for the Performing Arts (TAPA), with each category judged by a panel of Toronto artists.
While the ceremony usually takes place in June, it was rebooked for September to make up for lost time, according to TAPA board president Kelly Straughan.
"The performing arts industry has been suffering for so long under pandemic conditions that it [is] joyous to bring the community together under the same roof once more," said Straughan in a media release. "Shifting the ceremony to September as a one-time exception will enhance the feeling of rebirth and renewal, as it aligns with the beginning of the new 'theatre season.'"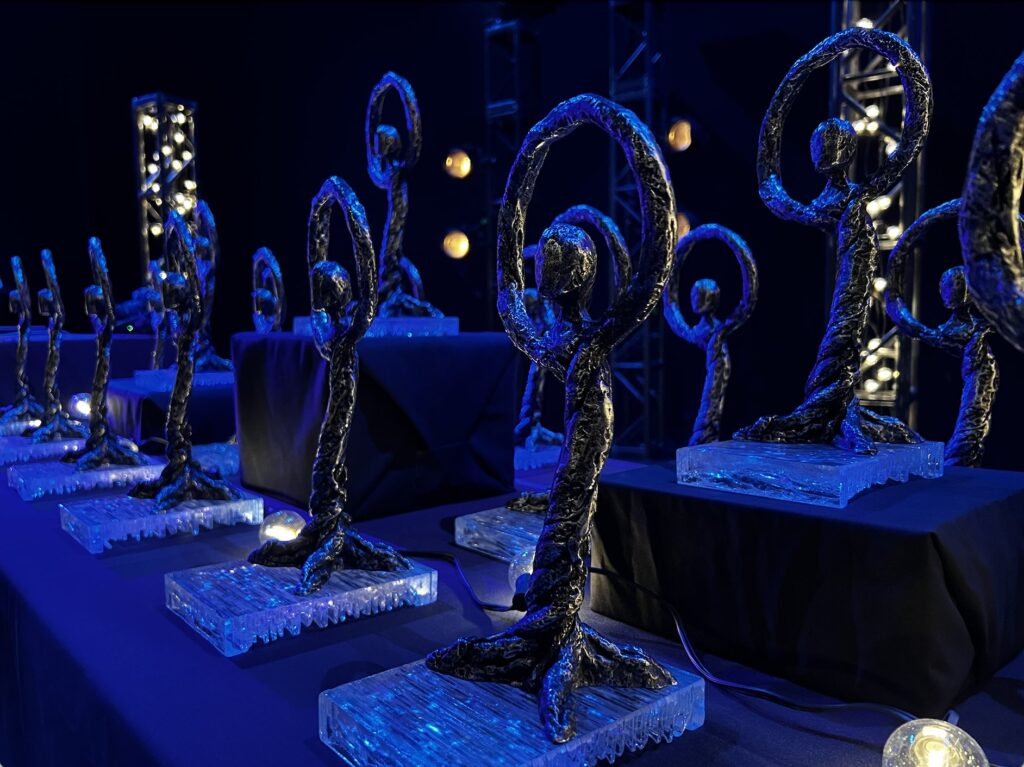 The Dora's are Canada's oldest and largest theatre, dance and opera awards program with 46 award categories.
The name honours Dora Mavor Moore, "a pioneer of Canadian theatre," said Allan Boss, author of Discovering Mavor Moore, a book about Dora and her son, also a thespian.
Born in 1888, Mavor Moore was an actor, director and teacher who devoted her life to theatre before her death in 1979 at the age of 91.
Among her many achievements in Canadian theatre, Mavor Moore started the first professional theatre company in the country in 1938.
Notable wins
R.U.R A Torrent of Light: The sci-fi robot opera took home six Dora's, the most wins by a production this year. The Tapestry Opera production was created in collaboration with OCAD University, which used wearable technology to create an immersive and unforgettable experience. Think Frankenstein, but with robots featuring an amazing 100-instrument orchestra that creates a synth-techno feel.
Sweeney Todd: The classic Sondheim musical won five Dora's, including multiple awards for outstanding performances by individual actors. The murderous tale of vengeance was reimagined by Talk Is Free Theatre as an immersive experience inside the Neighbourhood Food Hub at Glen Rhodes Campus. The compact space only seats 44, allowing audiences to experience the intimacy of seeing things up-close-and-personal. 
Italian Mime Suicide: Independent theatre production Italian Mime Suicide tied with Sweeney Todd for second-most Dora's awarded last night. The show, created by Bad New Days, is loosely based on the true story of a mime who committed suicide in 2003, claiming no one appreciated his art. An achingly funny, heartfelt story of failure and the brilliance of art, Italian Mime Suicide took home the Outstanding New Production award.
MOBY: A Whale of a Tale: A musical for young audiences, Pirate Life's adaptation of the classic novel swept up four Dora's. The creators took 800 pages of adult literature and morphed it into an hour of fun for the whole family. Plus, the show takes place on an actual dockside at Toronto Harbour. Pirate Life's reimagining is an easy-to-consume educational journey for young people to enjoy in a unique setting. The show also features a live-band from Ottawa, Moonfruits, which set the scene with beautiful folksy songs.
In My Body: The dance production headed by one of Canada's top street dancers, Crazy Smooth, nabbed four Dora's. The multi-generational performance explores the evolution of street dance and creates a dynamic, captivating experience. Bboyizm, Canada's premier street dance company, worked alongside Crazy Smooth to tell an authentic story of a unique community's Black roots and culture.
All Awards
Outstanding Production
Italian Mime Suicide (Independent Theatre)
Wildfire (General Theatre)
MOBY: A Whale of a Tale (Theatre for Young Audiences)
Sweeney Todd (Musical Theatre)
R.U.R. A Torrent of Light (Opera)
In My Body (Dance)
Outstanding New Play
Italian Mime Suicide (Independent Theatre)
Wildfire (General Theatre)
MOBY: A Whale of a Tale (Theatre for Young Audiences)
Outstanding New Musical
Dixon Road
Outstanding New Opera
R.U.R. A Torrent of Light
Jon Kaplan Audience Choice Award
Alice In Wonderland (Theatre for Young Audiences)
Outstanding Performance by an Ensemble
A Tonic for Desperate Times (Independent Theatre)
MOBY: A Whale of a Tale (Theatre for Young Audiences)
R.U.R. A Torrent of Light (Opera)
In My Body (Dance)
Outstanding Performance by an Individual
Layne Coleman, TRUE (Independent Theatre)
Kiana Woo, Alice In Wonderland (Theatre for Young Audiences)
Amina Edris, La Traviata (Opera)
Travis Knights, Legacy Tap Dance Concert (Dance)
Outstanding Performance in a Leading Role
Glynis Ranney, Sweeney Todd (Musical Theatre)
Alexis Gordon, Room (General Theatre)
Outstanding Performance in a Featured Role
Cyrus Lane, Sweeney Todd (Musical Theatre)
Sheldon Elter, Where the Blood Mixes (General Theatre)
Outstanding Direction
Italian Mime Suicide (Independent Theatre)
Wildfire (General Theatre)
Sweeney Todd (Musical Theatre)
MOBY: A Whale of a Tale (Theatre for Young Audiences)
R.U.R. A Torrent of Light (Opera)
Outstanding Musical Direction
& Juliet (Musical Theatre)
R.U.R. A Torrent of Light (Opera)
Outstanding Original Choreography
Sweeney Todd (Musical Theatre)
In My Body (Dance)
Outstanding Original Sound Composition
Sadhana/Tarana (Dance)
Outstanding Achievement in Design
& Juliet (Musical Theatre)
Spoiiiiiiiiing (Theatre for Young Audiences)
R.U.R. A Torrent of Light (Opera)
In My Body (Dance)
Outstanding Costume Design
Italian Mime Suicide (Independent Theatre)
Is God Is (General Theatre)
Outstanding Design/Composition
A Tonic for Desperate Times (Independent Theatre)
Is God Is (General Theatre)
Outstanding Scenic/Projection Design
A Tonic for Desperate Times (Independent Theatre)
Is God Is (General Theatre)
Outstanding Lighting Design
Italian Mime Suicide (Independent Theatre)
Harry Potter and the Cursed Child (General Theatre)