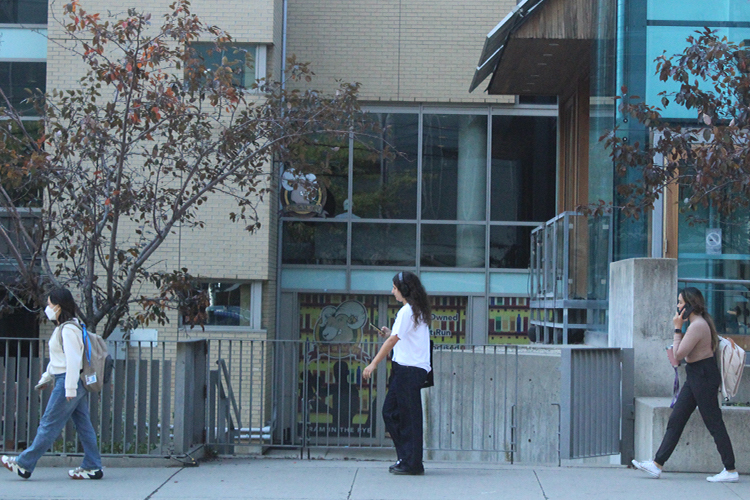 Listen to the audio version of this story:
Toronto Metropolitan University (TMU) students have until November to submit their ideas to the Ram in the Rye to help come up with a new name for the pub.
On Sept.12, the Ram posted a picture on Instagram "calling all TMU students" to send direct messages with their suggestions for the name. This announcement comes two weeks after the university revealed its new sports team, the TMU Bold, and mascot, the Falcon.
"We wanted to wait and see what the new mascot was going to be before announcing our plans to change the name of the Ram," said restaurant manager Crystal Pettman.
Third-year fashion student, Brian Schubert, said the new name should be something that flows and if it were up to him, the pub would be called 'Falcon in the Sky.'
"I think having a silly name for our school pub helps bring a more welcoming vibe to all students and encourages us to socialize and diminish the stereotype of just being a commuter school," said Schubert.
The importance of having TMU students involved with the renaming process of the Ram in the Rye is for new students to get more connected to the pub, Pettman explained.
"Since we were closed the last couple of years, there are so many new students who have never even heard of the Ram before," said Pettman. "This is why we wanted them to be a part of this new change and make it feel like their space."
The Ram re-opened their doors this year after deciding to remain closed for the Winter 2022 semester and focus more on Oakham cafe. Prior to this, the Ram had been shut down for the last two years due to COVID-19 restrictions that forced restaurants to close their doors to the public.
"Before COVID, the main reason I went to the pub was for events. Student groups would book the space to host trivia and pub nights, which I especially missed during Halloween," said fifth-year criminology student, Janojah Sivanesan.
Fourth-year business management student, Emily Walker had a similar reason why she missed the Ram, mentioning the lack of space TMU students have to connect conveniently.
"In Toronto, there is so much going on which at times does not leave a dedicated place for students to go, especially a place for just TMU students to connect with each other," said Walker.
Other students like Ashan Mahendran, in his fifth year of graphic communications management, said he missed the pub's good deals and cheap prices.
"The Ram has always been a much more affordable food option for students compared to some of the other restaurants around campus," said Mahendran. "I truly missed their Wednesday night wing specials."
Pettman, the manager of the restaurant says she would like the new name to be decided by year-end so the pub can go through a complete rebrand for the start of the Winter 2023 semester.