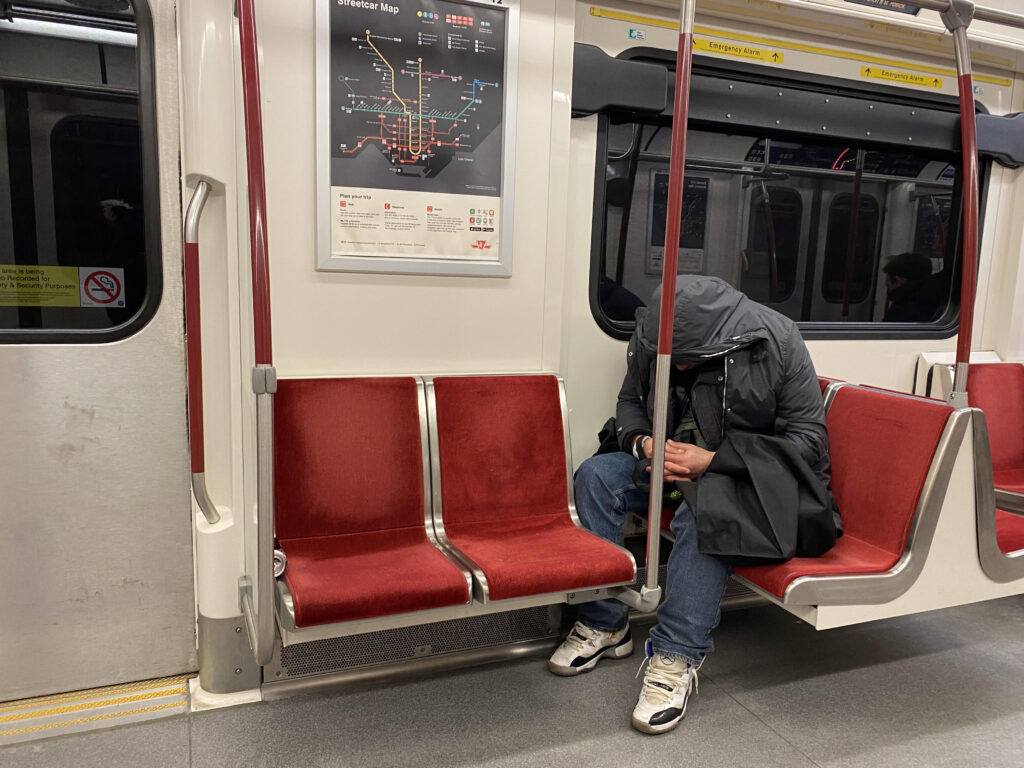 Listen to the full story here:
New measures by the City of Toronto and the Toronto Police Service to tackle recent violence on the TTC could further harm unhoused people who have resorted to sheltering on the TTC, experts say.
The TTC has seen a series of violent crime on transit in recent weeks. In response, on Jan. 26, Mayor John Tory and police chief Myron Demkiw announced a slate of changes, including adding 80 more officers to patrol the transit system. Two weeks later, on Feb. 8, city council rejected a recommendation by the Board of Health to expand warming centre hours and declare homelessness a public health crisis.
Joe Hermer, chair of the sociology department at the University of Toronto Scarborough, said increased interactions with police on transit could have adverse impacts on unhoused people, many of whom come from marginalized backgrounds and face disproportionate violence. Hermer said some also have a history of distrust with the police.
"A significant number of unhoused people are deeply traumatized. That's particularly true of Indigenous people who are completely right to be suspicious of law enforcement and white institutions," he said. "So the possibility of re-traumatizing these individuals in terms of their mental health is very serious."
Getting the police involved "tends to destroy efforts to build trust," Hermer added.
Not fully equipped to help
The increased police presence on transit is a collaborative partnership with Streets to Homes outreach workers, security guards, and Toronto Community Safety Ambassadors.
The security guards have advanced training in areas including mental health first aid, overdose prevention and response training and nonviolent crisis intervention, according to a Jan. 30 City of Toronto press release.
Community Safety Ambassadors work directly with people experiencing homelessness and liaise with the City's Streets to Homes workers to provide outreach services.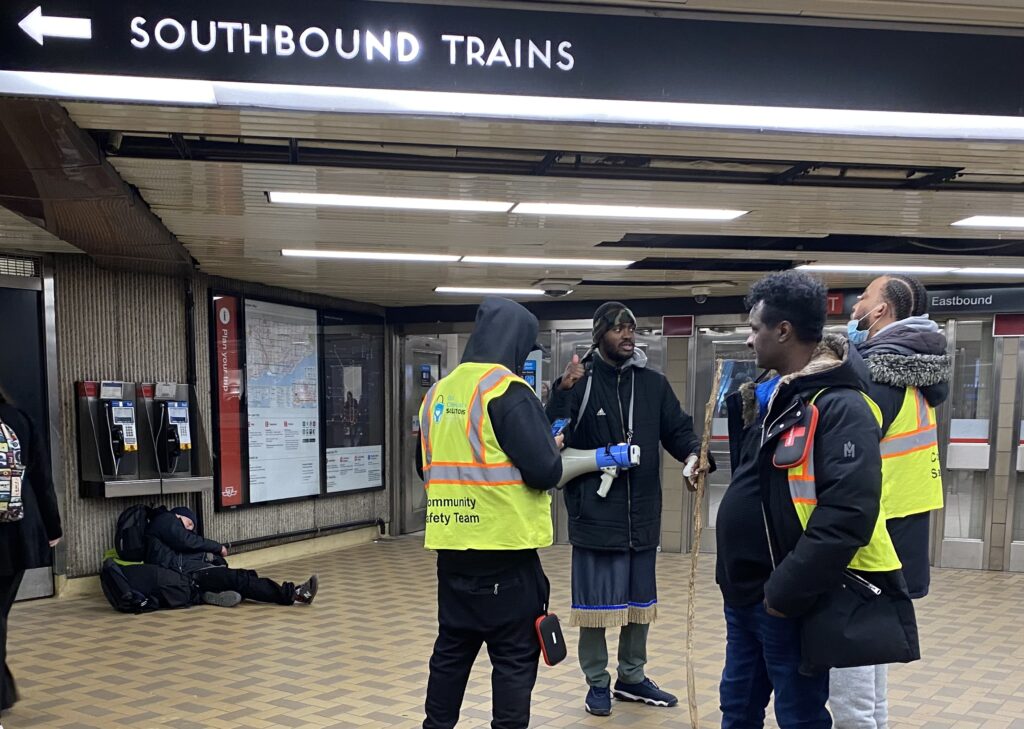 An email statement from Toronto Police said, "Beyond enforcement, officers on patrol are making referrals and providing vulnerable people with a bridge to support services – whether it be shelter, food, or mental health services. Plans moving forward will remain collaborative with the City, the TTC, and other agencies."
However, a 2021 study by the University of California Institute of Transportation Studies, which looked at a review of approaches across American transit agencies, suggests that those better able to separate law enforcement and outreach activities achieve better outcomes.
The study found that keeping law enforcement in the background or separate from routine homeless outreach was more effective at achieving successful outcomes and helped build trust between unhoused riders and outreach staff.
"Neither the police nor the TTC are responsible for or well positioned to address [housing and mental health issues]. Just as they can't address the fact that above all there are people who don't have a place to live," said Matthew Light, associate professor in criminology at the University of Toronto.
In 2021, TTC operators launched a petition demanding the government help unhoused people riding transit to stay warm during the COVID-19 pandemic.
"At the end of the day, we are not social workers, and we can not solve society's problems by ourselves alone. We demand that all levels of government mobilize the resources to solve this crisis immediately," the petition said.
TTC operators also called for harm reduction and overdose prevention response teams to visit streetcars to engage with those in need, street outreach workers to patrol public transit to make referrals to shelters and provide education, as well as teams of crisis workers to provide assistance or give advice to a driver about a particular person.
"Every winter we see more people seeking shelter on public transit," said TTC spokesperson Stuart Green. "It's not just the TTC going through this, it's right across Canada — across North America."
On Feb. 8, the Toronto city council rejected a request from the Board of Health to keep warming centres open 24/7 and to declare homelessness a public health crisis. It instead voted to ask the province and federal governments for more support.
Alternative approaches

While U.S. cities like New York, Chicago and Atlanta have also expanded police presence amidst increasing transit safety concerns, Los Angeles has taken a "community-centered approach."
Their pilot program uses transit ambassadors who ride trains and buses, de-escalating threats, alerting police when specifically needed, and connecting vulnerable riders with mental health and shelter services.
Shelagh Pizey-Allen, executive director of the advocacy group TTCriders, hopes to see the TTC take a similar approach. She points to the Toronto Community Crisis Service (TCCS) — an alternative to police enforcement which responds to people in crisis.
The service, which supports individuals 16 years of age and older, is a non-police response with multidisciplinary teams of trained crisis workers who respond to non-emergency calls from people experiencing a mental health crisis and requests for wellbeing checks.
The TCCS team consists of community health nurses, crisis counsellors, Indigenous crisis workers, youth crisis workers and harm reduction workers. A third-party report of the program suggests positive outcomes. It successfully diverted 78 per cent of mental health crisis calls received by 911 from a police response to a community-based response with no police involvement.