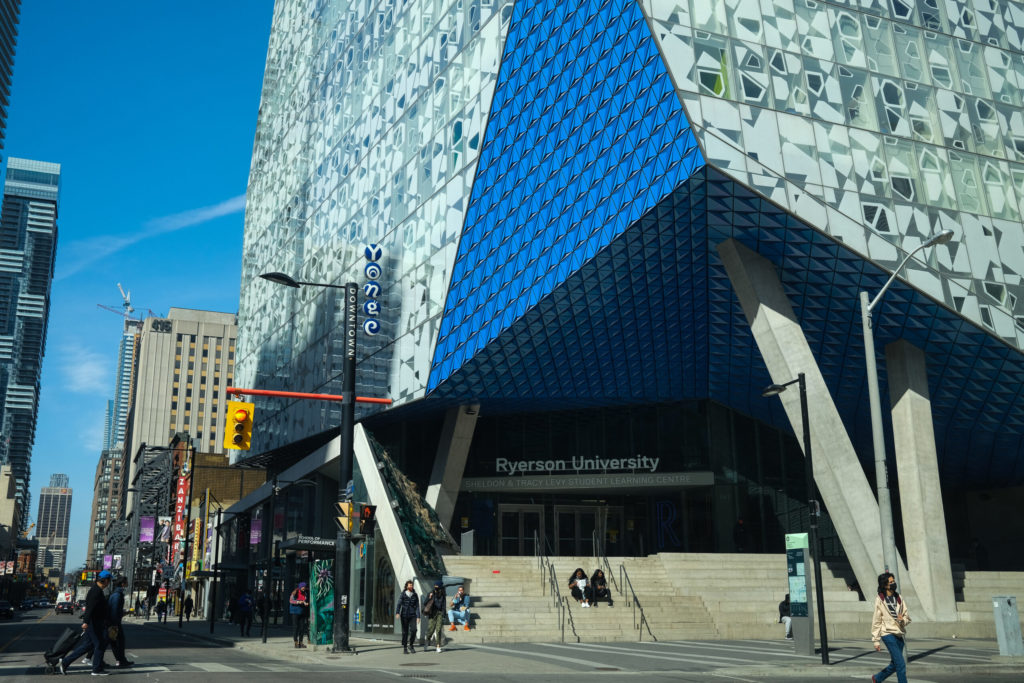 This story has been updated as of 6:47 p.m. ET, Oct. 14, to reflect new information.
Students and faculty will head back to the classroom full time this winter as Ryerson University plans to move its classes to in-person learning starting in January, On The Record has been told.
School of Journalism interim co-chair Gavin Adamson confirmed this information to On The Record, saying that this would be the plan for the journalism school.
In an email sent to journalism staff and faculty late Wednesday, Adamson said the administration is planning for a full return to classes because "that's how they've been directed by the province."
In a statement released late Thursday, a university spokesperson said Ryerson has been planning a full return to campus in January "for some time now." However, she said the university has not decided on its plans for the winter semester.
"While some faculties and programs are starting to identify their processes, the university is still working through the details and no official decision has been made about the winter term," said Karen Benner, Ryerson's associate director of communication.
In his email to faculty, Adamson said masking and vaccination requirements would remain in place next semester, but social distancing requirements would be dropped.
He added staff and faculty would not be responsible for "checking or policing" everyone's proof of vaccination.
Other changes would allow faculty to request to stay off campus, and breaks between classes would be extended by 10 minutes to allow time for the airflow in classrooms to be "flushed."
Adamson's email to faculty also states that students could lose a term if they stay off campus "for reasons not related to health" because there are no obligations to offer online versions of all courses.
However, programs will offer some online-only sections in bigger classes if there is a high enough student demand.
In another email, sent to journalism students on Thursday, Adamson said: "As a j-school, we plan to accommodate students, staff and faculty as much as possible. We're aiming to include online and hybrid options for those who require them."
Adamson said capacity limits for classes would rise, from the current restriction of 50 per cent to 100 per cent in the email sent to students Thursday.
Adamson said students, staff and faculty should expect more details and answers to their questions about this major change as soon as possible.
He added that the journalism school would be sending out FAQs soon and a survey to students, asking for their thoughts about returning to campus full time.
Benner said that future decisions about the return to campus would follow public health protocols and government directives.
"As we've seen, public health and government guidelines continue to change as the pandemic evolves. We will continue to keep the community informed and hope to have a more detailed update in the next few weeks," she said in her emailed statement.
Elena is an experienced journalist and was the fall 2021 editor-in-chief for On The Record (formerly known as the Ryersonian) in Toronto. In addition, she has done multimedia reporting for news organizations including the Canadian Press, the Globe and Mail, the Timmins Daily Press, the North Bay Nugget, 680 NEWS and Pressed News. She has also written freelance pieces for Maclean's, the Welland Tribune, the Niagara Independent and the Eyeopener. Elena is pursuing a Master of Journalism degree at Ryerson University and is bilingual in English and Italian. She is likewise deadline-oriented, efficient, passionate about journalism and a team player. Elena is also the author of a self-published book called Finding Elena.