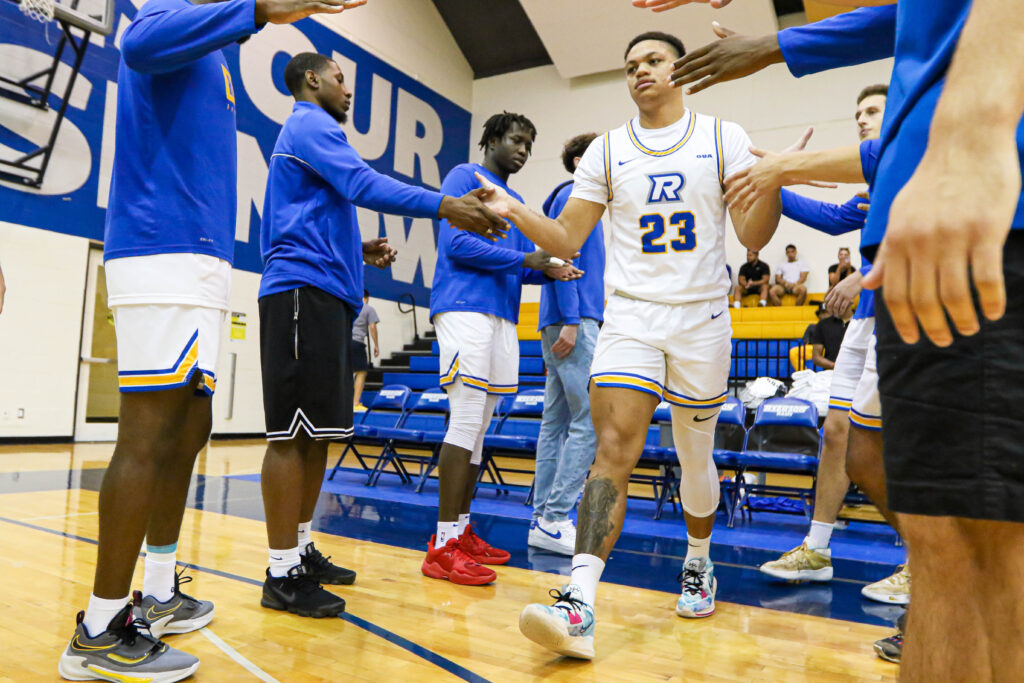 Listen to the story here:
Aaron Rhooms waited patiently in the gym of the Mattamy Athletic Centre, hoping for his name to be called. It was April 2022 and the Bold basketball forward and Ontario University Athletics Rookie of the Year had been working towards this moment for years. His composure paid off: the Scarborough Shooting Stars, a team in Canada's professional basketball league, drafted Rhooms onto their roster.
Rhooms spent the summer playing with the Shooting Stars, his first professional basketball opportunity, before rejoining the Bold for the varsity season. He found guidance in former Scarborough teammate and now NBA G-League guard Jalen Harris.
"Seeing [the] things that he does, his habits—because those are NBA habits, It's just good to see that," Rhooms said, "and try and implement that."
As a former winner of the Ontario University Athletics (OUA) and U SPORTS Rookie of the Year in 2022, Rhooms isn't new to earning recognition for his talent. In 2017, he was the recipient of the Region of Peel Secondary School Athletic Association Academic Award, while playing for St. Martin Catholic Secondary School.
Rhooms' love of basketball comes in large part from his father Ronald, who played basketball at Martin Grove Collegiate Institute in Etobicoke and was, at one time, Rhooms' coach.
"He was the one that got me into the game," he said. "We share that passion, and that's really what our relationship was built on. I feel like all this that I'm doing is just for our dream that we share."
TMU Bold men's basketball team manager Vincent Chu says that Rhooms is always looking for opportunities to grow, even if that means asking Chu for spontaneous extra workout sessions.
"He's a workhorse," said Chu. "He always asks me if I can put him through a workout. With guys like that who want to work, it's hard to say no."
He also describes Rhooms as a player who has shown real growth as a leader in his time with the Bold. "I remember last year when he got there, he was kind of quiet, kind of kept to himself," said Chu.
"This year, I've noticed he's become a lot more vocal, a lot more engaged. And he knows the responsibility that he has with this team. And he's taken advantage of it."
Rhooms' teammates agree. Bold point guard Ankit Choudhary said that he "admire[s] his calmness and his demeanour of 'everything's gonna be good.'"
Ozzy Ibhawoh shared similar thoughts: "He's someone you feel composed when he has the ball. There's a sense of calm when he has it, because you know he has so much basketball IQ, and so much experience. You trust him all the way."
Ibhawoh recalled a practice session in which head coach David DeAveiro matched him up with Rhooms — a long-awaited moment that played out in Rhooms' favour, as his defensive talents and physicality proved to be quite the counter to Ibhawoh's attempt at scoring. Ibhawoh described it as a moment where "iron sharpens iron," and said that their time together generated mutual progress in their abilities on the court.
Rhooms is striving to make even bigger strides in his basketball career with TMU this year, and ultimately in professional basketball. Along the way, he says he hopes to inspire others who are working to achieve a career like his.
"Just stay to the grind. I know it's harped on a lot by coaches and people, and I know it's not easy to work hard," he said.
"There's going to be days where you don't want to do anything. But at the end of the day, you've got to remember that you're doing it for a reason, all the work's for a purpose. I find the thing that works for me the most is just to believe in yourself, the dreams or goals aren't too far away. It may seem unattainable right now, but it's just step-by-step. Keep the faith."
Catch Rhooms and the TMU Bold men's basketball team tip-off against the Algoma Thunderbirds this Saturday, Nov. 19.