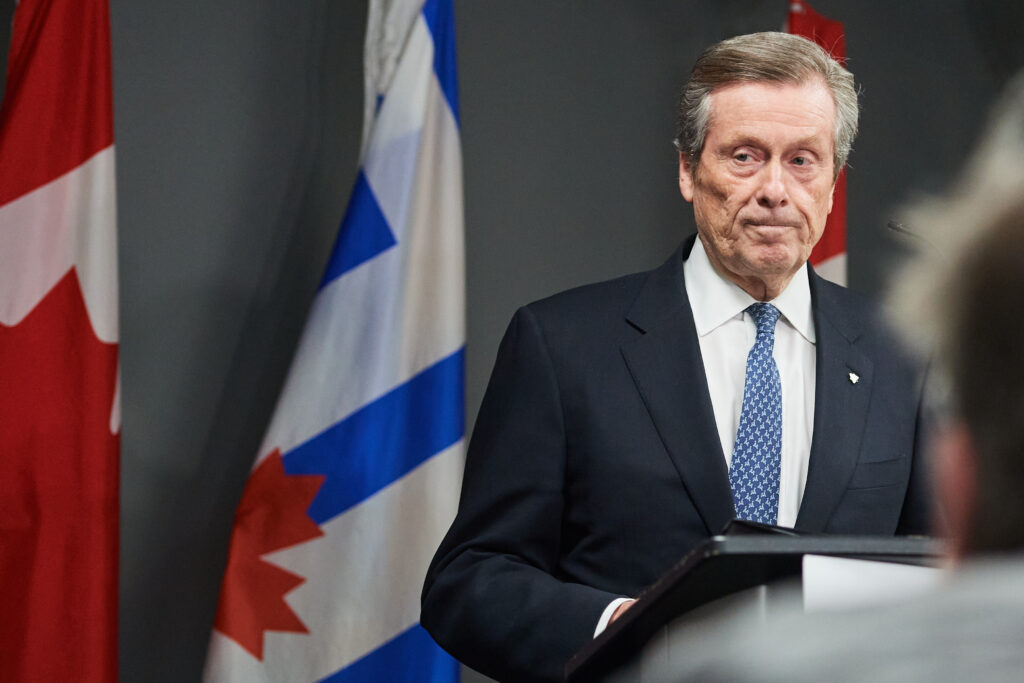 Listen to the full story here:
John Tory announced his plan to resign last Friday. Here's what has happened at City Hall in the week that followed.
OVER THE WEEKEND:
Discussions of 'who's next?' started immediately, with some looking to previous mayoral candidates and others looking at current council members.
Gil Penalosa and Blake Acton — who finished second and fourth to Tory, respectively, in last October's race — announced they would run again following Tory's departure.
Speculation surrounding other potential candidates continued but nothing was confirmed.
While Tory said he planned to resign, he didn't actually take steps to make it official.
MONDAY
Tory's not finished…yet. Tory said he'll remain in office until the 2023 budget is finalized — at least. It's the first budget since the Ontario government gave Tory strong mayor powers, which allow him to overrule council decisions with only one-third of council's support.
Councillors call for Tory to stay. At the same time, some city council members and Tory allies urged him to reconsider stepping down. Sources close to him told the Toronto Star that he was thinking about possibly rescinding his resignation.
TUESDAY
Should Tory stay or should he go? Torontonians and politicians across levels of government expressed mixed feelings regarding Tory's resignation. According to a poll conducted by Forum Research, 45 per cent of those surveyed did not think Tory should resign. A source told CityNews that the Toronto police union and deputy prime minister Chrystia Freeland all encouraged Tory to stay on. Freeland's office denied this claim late Tuesday evening.
WEDNESDAY
Eight hours later… the city budget gets approved. Wednesday's budget meeting had a rocky start in the morning as protesters inside city hall booed Tory when he got up to speak. City Hall had to be cleared twice by security. People could be heard chanting, "House the homeless, feed the poor, kick John Tory out the door."

The budget included a 5.5 per cent hike in property taxes for residential properties. This amounts to an extra $183 for the average value of a Toronto home.
One omnibus motion to change the budget was approved by city council. It designates $7 million to address homelessness, TTC safety, and the city's Rent Bank Program which helps Toronto residents with rental payments.

Tory hands in his resignation letter to the city clerk. Following the passing of the budget, Tory handed in his resignation letter to the city clerk, which signalled his official leave from his post. Tory's letter states that he will formally resign at 5 p.m. on Friday.
At a presser, Doug Ford voiced his support for Tory staying on as mayor.
THURSDAY
Who'll lead the city? In a statement released Thursday morning, deputy mayor Jennifer McKelvie said she "will not be seeking to run for Mayor in the upcoming byelection," but will instead oversee operations until a new mayor is elected. However, the strong mayor powers will not be transferred to her as the acting leader of Toronto — rather, they will be given to the next person elected into office.
Byelection date: TBA. Now that Tory has officially submitted his resignation, city council will declare the seat vacant and put forward a bylaw calling for a byelection at the next council meeting, which isn't scheduled until March 29. After the byelection is called, the city clerk determines the nomination period (between 30 and 60 days) and voting day 45 days later. Therefore, the byelection could take place as early as June.