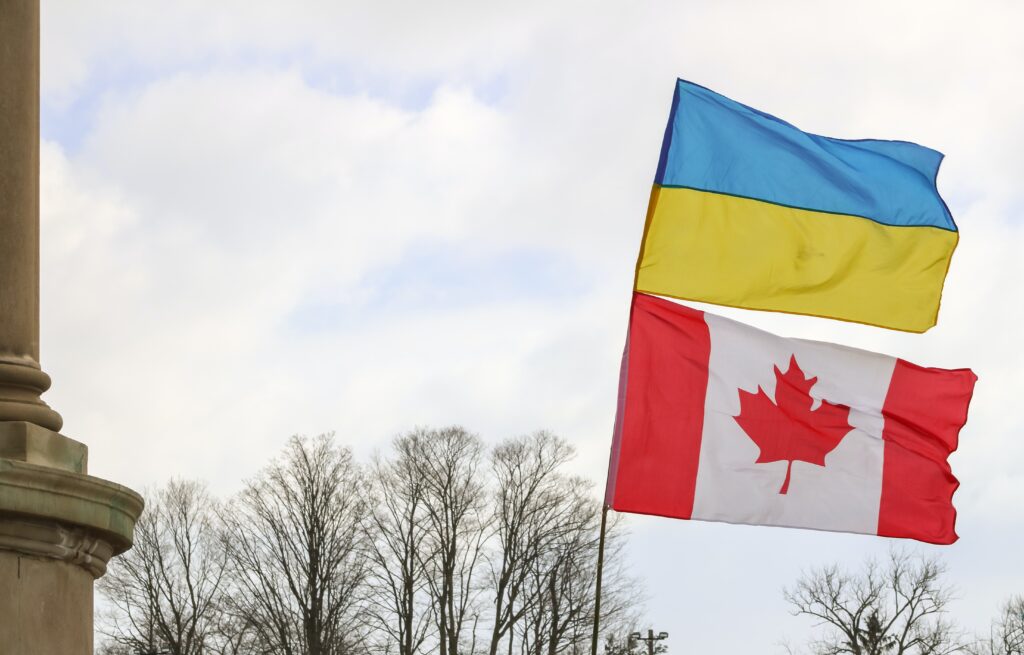 Alexandra Holyk was supposed to be enjoying her reading week in New York City when she heard the news that Russia was invading Ukraine.
"I just kind of stopped in my tracks and the conversation stopped," said Holyk.
As president of Ryerson's Ukrainian Students' Club and an immersed member of the Ukrainian community in Toronto, Holyk feels a sombre atmosphere in her circle.
"It felt like a bad dream that we couldn't get out of and we're still not waking up from," she said. "It just doesn't feel real. We're so far away from the situation that it just doesn't feel like it's actually happening, and that there's actually a war going on."
There are currently 27 students from Ukraine attending Ryerson, according to Ryerson University president Mohamed Lachemi.
Lachemi says the crisis is a priority for Ryerson and that they are "closely monitoring the situation and actively working to ensure the safety and security and well being of our students, faculty and staff who may be affected by the events unfolding in Eastern Europe."
Ryerson isn't the only campus in the GTA with a Ukrainian community affected by the crisis.
Third-year University of Toronto student Nadiya Kovalenko grew up in Ukraine and has family and friends still in the country. When her family member was trapped in Kyiv for a few days, she became increasingly worried and anxious.
"That was probably the most stressful time in my whole life," she said.
She has childhood friends who have taken up arms. Some have volunteered to join the territorial defence and one of them was badly injured in combat.
Kovalenko said the Ukrainian community has long been worried about hostility between Russia and Ukraine, but that they couldn't possibly have predicted the current situation.
"Crimea has been occupied since 2014. Eastern provinces have been seeing conflict for the same amount of time but none of us thought that things were going to escalate to this extent," she said.
As one of the co-presidents of the Ukrainian Students' Club at the University of Toronto, she hopes to support other Ukrainian students who may need it.
This Saturday, Ukrainian students from across the GTA will be gathering outside the Russian consulate for what they are calling 'The Next Generation Rally.'
"We are looking to highlight the next generation of Ukrainians in Canada who continue to stand up for our language, culture and heritage whether we have recently immigrated here or are fifth-generation Ukrainian in Canada," said Holyk.
In addition to clubs at Ryerson and U of T, it's also a collaboration with Ukrainian clubs and associations from Humber College, University of Guelph, McMaster University and York University.
Organized by the Ukrainian Canadian Students' Union, the rally will begin at 11 a.m. and is open to non-Ukranians who want to support the cause.
"A lot of Ukrainian students in Canada right now are either international students, and they plan to go back to Ukraine, or they're Ukrainian-Canadians and they had dreams to go to visit Ukraine to see the country of their ancestors and now this has been taken away from them," said Kovalenko.
"They are the future generation. They're the future of both Canada and Ukraine," she said.
Holyk says that the rally is a way to raise awareness on the issue and inspire non-Ukrainians to take action.
"We are proud of our Ukrainian culture, and we will not shy away from the hands of tyranny attacking our friends and family in Ukraine," she said.
Kovalenko says that one of the few positive outcomes of the crisis has been a reunification of the Ukrainian community.
"We've become way more consolidated and more united over what's happening right now," she said. "A lot of people before this didn't publicly identify as having Ukrainian heritage, and now they're opening up about it and they're coming together."