Unity Kitchens has created a safe community for those facing homelessness and food insecurity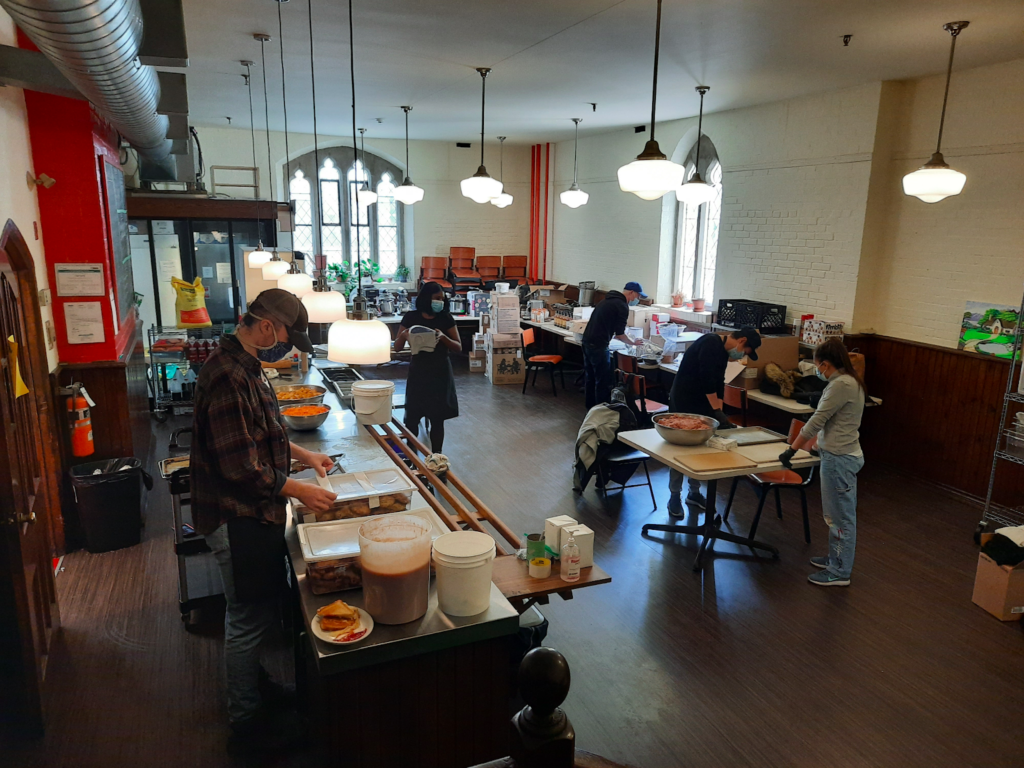 With its walls of pale yellow bricks standing in stark contrast next to the metallic walls of the Eaton Centre, there is a place much warmer, safer and welcoming for those experiencing homelessness and food insecurity in the city of Toronto.
This is where Unity Kitchen was born, a community service kitchen located in The Church of Holy Trinity (TCHT) which provides those who are facing homelessness in Toronto with fresh food and resources such as tents, jackets and sleeping bags. The kitchen operates out of the Trinity Square Cafe located within the church.
Every morning, the smell of sage from the morning meeting and fresh ingredients engulf the church. By 10 a.m., head chef Tara Currie is here. She washes her hands, heats up the food for the morning service, and at 11 a.m., food service begins.
"We're always busy here," said Currie. "Sometimes we have 100 people, or more than 100, but usually it's just 100 or under."
In March 2020, the church began offering sandwiches and soups to those living in encampments around the church, as well as those living unhoused in Toronto's downtown eastern core. The pandemic created food insecurity for those facing homelessness as a result of food programs around the city closing, which led to a higher demand for the kitchen's services.
According to research, conducted by the University of Toronto, one in eight households faced food insecurity prior to the pandemic. Since the pandemic began, there has been a jump to over 600,000 residents in the city facing food insecurity, according to Toronto Foundation. However, for those facing homelessness, rates of food insecurity were much higher, with a 200 per cent increase in people connecting with food banks since the pandemic started.
Unity Kitchen — much like the church itself — exudes a type of familial warmth, with the aromatic smell of freshly cooked meals, shared conversations amongst staff and volunteers, and the comfort of a safe space.
With the help of Trinity St. Paul's Church, St. Matthews Church, the Korean Catholic Church, Indigneous community groups, ex-prisoners and the Toronto Jummah Prayer Hall — to name a few — Unity Kitchen began to expand. The program is a partnership between the Church of Holy Trinity and Toronto Urban Native Ministry who provide financial support, guidance, leadership and outreach work. Other outreach groups such as Toronto Indigenous Harm Reduction, the Indigenous Support Project at the University of Toronto, Equitable Action for Change and Trans Pride Toronto also provide support to the church.
Currie initially began volunteering at Unity Kitchen before being offered her position of head chef. Prior to taking the job in THTC, she had been part of a culinary program at Christie Pitts that closed due to COVID-19 restrictions.
Currie explained that with most soup kitchens, frozen or donated foods are normally served but those also aren't the best quality, with the lack of freshness. By providing fresh food, the kitchen destigmatized the negative narrative around homelessness and humanizes people that need care the most.
"People have said in the lineup that coming here and getting food from us is one of the only times that they feel validated as a human," said Currie.
Currie recalls an instance where her cheese tomato and egg sandwich became the favorite of a regular, a sandwich that she had grown up eating. Another regular expressed how much it reminded them of growing up and what he used to eat.
Sinclair Bletcher-Lowman, who is an emergency community support fund project facilitator at Unity Kitchen, shares the same feeling of wanting to create a validating space.
"Here, we try to really create a space where anybody from anywhere [can]…feel affirmed in themselves," said Bletcher-Lowman. "It's really about expanding what we understand 'community' to be and who is included in a community."
Their journey with Unity Kitchen began 10 months ago, when the church began its emergency food outreach service. During the beginning, Bletcher-Lowman would prepare large batches of soup each week alongside their mother at their childhood home for the church. Overtime, Bletcher-Lowman found themselves spending more time at Unity Kitchen, from volunteering to do food distribution services and more recently becoming the emergency community support fund project facilitator in January.
Now, Unity Kitchen serves one meal during the day, which includes a hot fresh meal and drinks, clothing and resources for shelter, and basic necessities.
"Collectively we realized that this was going to be a long-term situation of our organization…this need is present and appears to be growing," said Bletcher-Lowman
The City of Toronto implemented a COVID-19 response plan for those experiencing homelessness in the city, which included prevention, mitigation and recovery. However, since its inception on April 16 2020, the city has seen a major increase in displacement and homelessness. The Canadian Medical Association Journal detailed that homeless individuals were five times more likely to contract and die from COVID-19, and most recently an outbreak occurred at Maxwell Meighen Centre that included cases of a variant virus.
Outbreaks in shelters have been reported at an alarming rate more recently with the introduction of the UK variant in Ontario. Since the start of the year, the city has seen over 274 cases, and a total of 1,118 positive cases linked to shelter outbreaks. For many, encampments are much safer and accessible.
"The city and the federal government were relying on this network of small organizations to shuffle people from place to place, from meal to meal," said Zachary Grant, community director at TCHT. "When all of the networks shutdown, it really revealed how dismal our care for the community was."
Grant detailed that during the pandemic, they had been told that formal agencies that provide resources were closed, revealing an absence of good policy for the most oppressed in Toronto's community. "Before COVID-19 happened, we were already in a crisis of houslessness of a growing scarcity of public space and social policy that was being dictated by developers."
When Grant first began working with the church, they noticed that there was an ongoing battle between those who were facing homelessness and what they called the developer class; those who were working on initiatives of policing public spaces and using it for private purposes.
"Yonge and Dundas Square would be one of them, where it was initiated as a public gathering place," said Grant. "Now, it's under public-private partnership…private security firms that govern the territory there are able to dictate who can and cannot be there, this is a phenomenon that's happening across the City of Toronto."
These actions are also seen in public spaces. Over the past year, through the increase of encampments across the city, we have seen the city use force to remove tents and resources from public parks. On Dec. 9 2020, two white trucks removed a tiny house shelter near Lake Shore Boulevard and Carlaw Avenue. More recently, the city removed multiple tiny shelters from Alexandra Park in February, this was just after the city filed an injunction against Kahleel Seivwright, carpenter and creator of the tiny shelters.
Recently, city officials have given encampment residence eviction notices to relocate to shelters through the Pathway Inside Program, which include shelters located in Novotel. This is currently only accessible to those in the four major encampments in the city: Alexandra Park, Moss Park, Lamport Stadium and Trinity-Bellwoods.
However, with the cities lack of action Unity Kitchen and other folks have taken matters into their own hands. Grant remembers people who have impacted their community, such as a young woman who wanted to be a nurse, helping those with stab or gunshot wounds and going around the city helping those who need medical assistance. They also remember an Indigenous elder who started a project called Native Wishing Well, where he and a few other people would hold onto tents, sleeping bags and other supplies for people coming to Trinity Square at night and in moments of crisis.
"I don't know if there is a magnetic draw, but if you're in a crisis… the city seemed to funnel you here, and they were ready for it." said Grant. "When they came across someone in crisis they would work together to meet that person's primary needs, get them stabilized and then work to find what the next thing was for their well-being."
Grant said that they learn a lot from these folks, and that it's inspiring to see unhoused people coming to help and volunteer as much as they can.
"Those folks who our society has written off and said 'they don't even deserve housing' are really showing us and leading us each day in the ways that we should be in our heart…with one another," said Grant. "(They're) showing us that there's no barriers to being a positive force in our communities."