Film students have found news ways to be creative behind the camera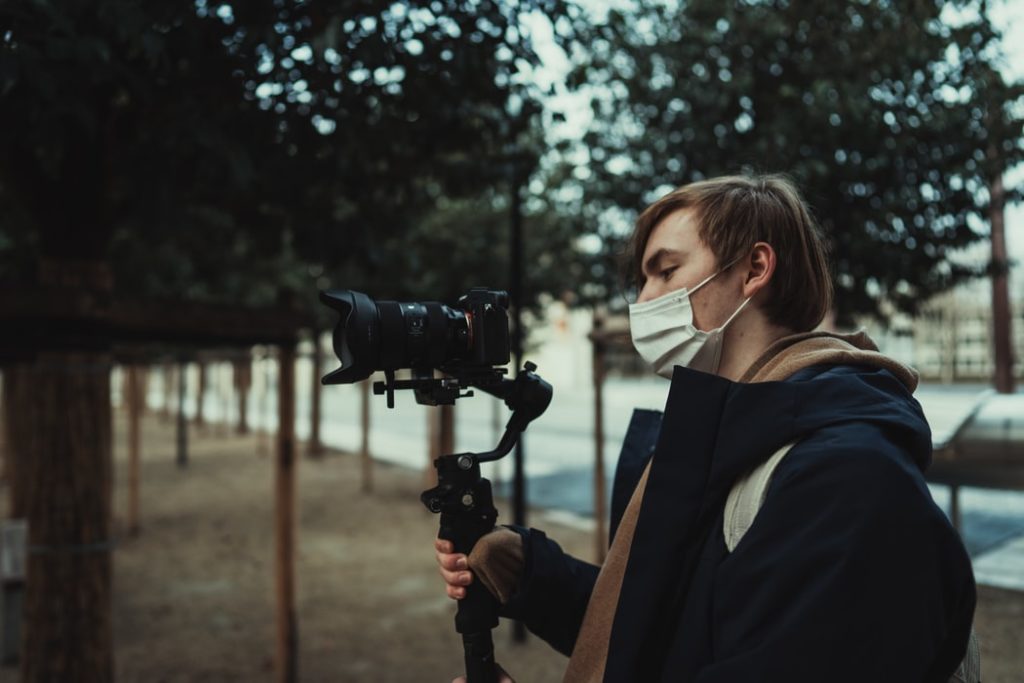 Despite the changes to their profession, people working in the film industry and attending post-secondary film programs have found ways to safely practise their craft.
During the pandemic, fourth-year Ryerson film student and freelance creative producer Júlia Batista has worked on a total of eight film productions.
By the end of this month, it'll be 10. Batista hasn't had a positive COVID-19 case on set yet and she's doing everything that is industry standard to prevent the spread.
"Clearly that works in my personal experience, but you can't be sure," she said.
After working in this new setting for a while, Batista has grown accustomed to the rigorous measures. She said the measures are so strict, the safety risk for COVID-19 infection isn't really higher on set than in other situations in everyday life, despite filming involving different groups gathering.
"It's definitely safer than going and seeing friends, or any other social setting. We're there for work," she said. "We take it very seriously, and most productions take it very seriously because we want to stay in production."
Batista now has a COVID-19 monitor on set, whose sole job is to make sure people are following the rule. Those protocols include wearing masks at all times, having hand sanitizer for everyone, as well as wipes to clean equipment and personal sections, and staying socially distanced and confined to specific sections. Batista also said catering is no longer an option and food comes individually packaged.
Batista recalled a scare during her December shoot for a Ryerson film she was working on.
The lead actor ended up getting sick, so they shut down the production to await their COVID-19 test results.
Luckily, the actor ended up just having the flu. While this delayed production, she sees this as a blessing in disguise.
"We got three more months of prepping that we very much needed," said Batista.
"It turned out fine. I was prepared, I had done it before, a lot of people on set had done it before many times. You can't be lazy."
Ryerson University's film studies program is no stranger in having to pivot and meet the new standards.
"Filmmaking in general is the kind of thing that's a communal endeavour," said film studies program director John Tarver. "As a result, it's just a harder thing to be able to do that with isolation and social distancing."
Tarver recounted when the pandemic hit and the program had to scramble to come up with a plan for students who were in the middle of their semester.
"In a way, we were kind of lucky,"said Tarver. "When the COVID-19 outbreak happened, a lot of our students had already actually filmed. It was kind of dumb luck. (A) few hadn't, (but a) majority had."
Those who had filmed were able to do the editing and post-production work at home. The faculty anticipated that the department would need a complete overhaul so it would be ready for the upcoming virtual semester. They formed a committee that looked closely at Ontario health guidelines, consulted legal teams and formed their own protocols, which were also vetted by film industry professionals.
However, Tarver said that there were differences. Some of those had to do with Ryerson's own COVID-19 policies, and the reality that students simply wouldn't have the same resources that a big production would have. For one thing, all classes had to be virtual. Including the extra dextrous ones like cinematography.
Tarver found this to be challenging at first:"It's (normally) people in a studio, doing lighting, (and) doing camera work physically," he said.
Typically, Tarver would spend the first hour of his three-hour class lecturing, then two hours on hands-on cinematography. Since students didn't have access to the school's equipment, they had to work with the lighting that was provided in their own spaces and use equipment or cameras that they have handy, like iPhones.
"It was then less about working with the piece of equipment and more about understanding the principle involved – whatever that happened to be. If it's a certain kind of light, if it's a certain time of day that they're trying to capture, a certain kind of composition, then that's what it was about."
The lecture portion of his classes also had to be pre-recorded. After spending a couple weeks with an assistant working on the recordings, Tarver saw a slight silver lining in the sea of change and compromises.
"All that stuff's in the bank now," he said.
Whenever Tarver gets the chance to teach in-person classes again, he sees the possibility of having students watch the clips before class, so they have more time to do the hands-on portion of his cinematography course.
"Now it's a resource, the way I looked at it," he said. "Maybe it's not just for the semester, maybe it's not just for COVID. Maybe this is sort of for the future too."
Tarver reached out to film professionals in Ontario who are directly involved on set in productions during COVID-19. They hosted a Zoom event where students got to speak with industry professionals directly about filming during the pandemic and asked them any questions they had.
"I think that went really well," said Tarver. "I also thought it was a great opportunity for our students to get to know people out in the world."
Originally he thought this was only pandemic-specific. Now, the idea shows a new possibility for students in general.
"We don't necessarily need a virus to make us do that…I think it was a nice way to try to take a negative and turn it into a positive."
Tarver commended his students for pivoting to meet the new demands, and for creating great work despite new restrictions.
"Our students have risen to the challenge," he said. "Sometimes having restrictions and limitations on what you can do brings out creativity."