Financial difficulties have caused some music-lovers to miss out on experiences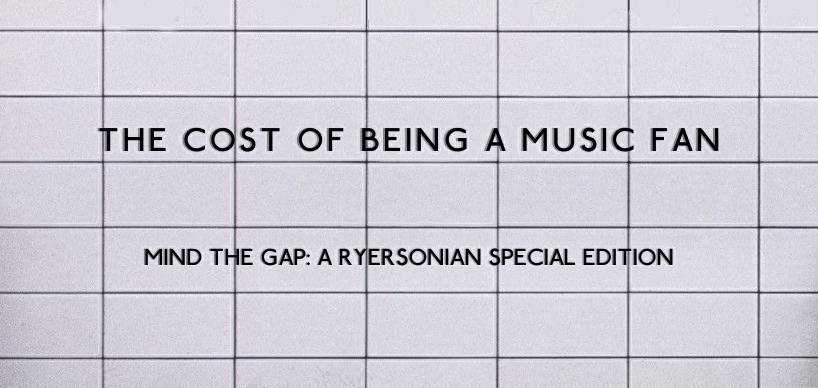 Being a music fan comes at a cost. A lot of fan experiences require money, whether that be for new music releases, merchandise drops or live events.
For BTS fan Lin Velasco, keeping up with merchandise means buying different versions of concept albums, a calendar that the group releases yearly and winter and summer photobook packages that come with photo cards and stickers released in each season. Although Velasco has not been able to purchase everything, it is something that they wish they could collect.
"I think definitely price wise being a K-pop fan is so much more expensive compared to being a westernized fan," said Velasco. "Since K-pop artists release a lot of content, a lot of people buy that content so it's more challenging to actually afford it."
The official BTS merchandise can be purchased on an app called Weverse, where all prices are in U.S. dollars. Albums range in price from $14 to $75. Other merchandise includes hoodies, priced at $63, light sticks for $32 and mini photo cards for $8. On top of that, fans often have to pay a $25 to $30 shipping fee and about $30 to $40 in duties and taxes, depending on the package size and their location.
Apart from not being able to purchase merchandise, Velasco said one of their biggest regrets was not being able to see the group live when they came to Hamilton, Ont., in 2018. They played three nights at the FirstOntario Centre, with ticket prices ranging from $80 to $325, which sold out within the hour.
"I missed out on that whole experience and feeling at home with people and being in a community of people that share the same love as you for an artist that you all care about," they said.
Velasco said they worry that, even post-pandemic, they won't have a chance to see their favourite artist perform live. BTS were set to headline two nights at the Rogers Centre in Toronto before the concerts were postponed due to the COVID-19 pandemic.
As a result of Velasco being unable to get tickets for these events, they anticipate that the process will be even more difficult post-COVID, since those who had tickets for the original events will gain priority access to ticket sales — and the growing fanbase has caused an increase in demand.
Missing the opportunity to see their favourite artist in concert is something that Connor Hatziyannis, a One Direction fan and third-year professional communication student at Ryerson University, can relate to. He missed out on a chance to see the group when they were still together and has never gotten to hear the songs from his favourite One Direction albums live.
"It definitely sucks when you see all those big concert videos," he said. "I could have been there, I could have experienced it and it's just something that you won't get to experience, especially because One Direction is on an indefinite hiatus."
Since the members of One Direction have now gone solo, there's also more to keep up with. Back when the group was still together, the average price for a ticket was US$163, according to SeatGeek.com. Now that the members make their own music and go on their own individual tours, fans have to pay an average of US$204 to see just one member of the band, Harry Styles, live, according to SeatGeek.com.
When it comes to the fan community on Twitter, Hatziyannis said he noticed a hierarchy within the fandom based on how much money they have to spend.
"It's just like, 'oh, I'm better at being a stan than you are just because you don't have money for a shirt that has Harry Styles' name on it,'" he said. "It's just very elitist and classist within the fan community because not a lot of people talk about not having money for their stuff."
Ariana Grande fan Vanessa Paningbatan-Cerezo said she believes that supporting artists should be something fun and not feel like an obligation.
"I do it more for my joy. If there are other ways to support her that don't require financial things, like sharing a post or spreading her music around, then yeah, I'm down to do that," she said. "But I don't feel obligated to always buy something and promote financially."
For Paningbatan-Cerezo, part of this is due to the fact that Grande is already a well-known superstar. She said that she thinks it's different for fans of smaller artists, whose money would directly impact the artists' success.
However, Paningbatan-Cerezo said she doesn't think that money should determine a fan's worthiness. She said fans who create art or spend time making a costume deserve to be considered as big a fan as those who can afford to buy all the traditional merch.
"People have their own ways of expressing (being a fan). Whether it be financially, like supporting them through concerts, merch, promotion, or they do their own thing and try and share it," she said. "I don't think you need money to be a good stan."
Hatziyannis said he believes that this toxicity is something that comes from the fandom and not necessarily the artists themselves. Citing former One Direction member Louis Tomlinson as an example, he said he appreciates how Tomlinson often tries to meet fans outside of venues and recognizes that not everyone can afford to pay $200 to meet popular artists like him.

In 2017, Tomlinson engaged in a discussion with fans on Twitter about the concept of meet and greets. He promised that he would try to work out a system that would make his as fair as possible. He tweeted: "I was thinking about doing some kind of competitions to make it fair. It shouldn't be about who has the most money…"
Although the pandemic has put concerts on pause, in a way it also seems to be a blessing in disguise. Whereas before artists would announce shows and give fans a couple days to get money for tickets, the pandemic has given music enthusiasts time to save. "For the first time I don't have to worry about scrounging money for a nosebleed (seat)," Hatziyannis said. "I have time to save a little bit more."