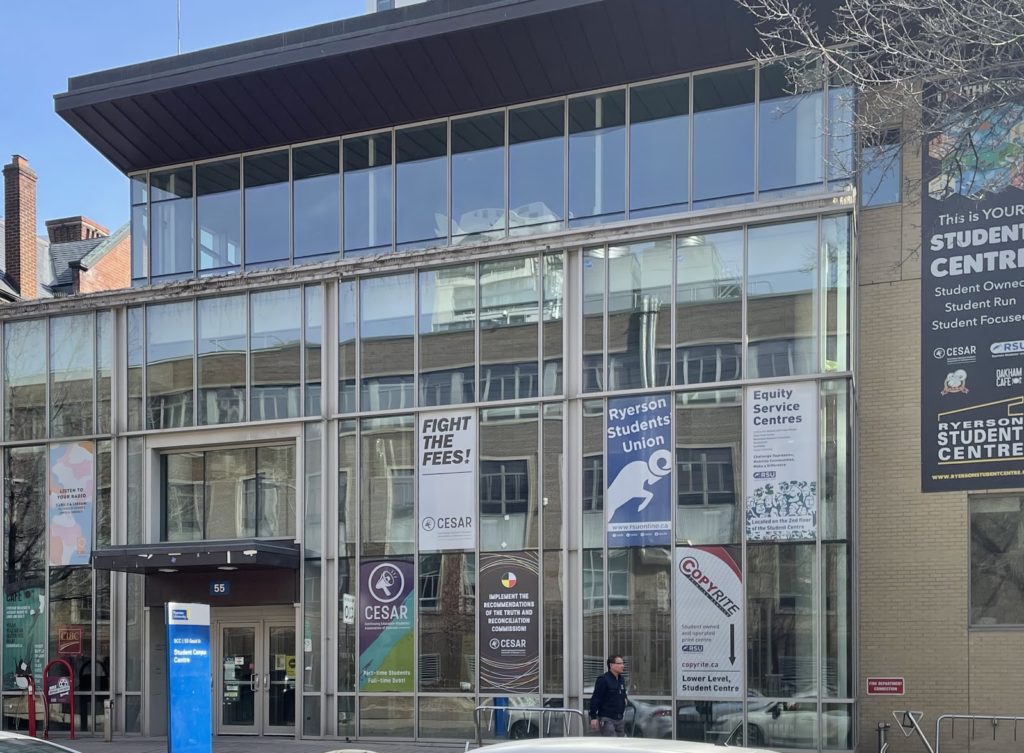 Listen to the story here:
Current TMSU president Marina Gerges will run uncontested in the upcoming election. Four students were rendered "ineligible" from running for president in the Toronto Metropolitan Students' Union election after failing to meet the TMSU's candidate eligibility requirements.
As a result, Gerges will be aiming for re-election subject to a Yes/No vote.
On March 21, the Eyeopener reported that Gerges alleged she was set up "to be caught drinking and driving," 13 days into her term as TMSU president. An email from an undisclosed sender to several TMU students made the allegations, which Gerges responded to in two Instagram videos.
This comes a week after an investigation was launched into "questionable past financial transactions" from the 2021-22 fiscal year, which came to light when the students' union was preparing for its annual audit.
"I think this investigation is something that is 100 per cent going to address our legacy and our relationship with the students," said Gerges in an all-candidate open forum on March 20. "I think back in 2019 when no action was taken, we did lose a lot of students' trust. I hope with what we're doing now that students are able to see that we're trying to right the wrongs that were done."
In 2019, it was revealed that approximately $250,000 in questionable spending had been charged to the Ryerson Student Union's credit card. The financial scandal eventually led to the impeachment of former RSU president Ram Ganesh.
"I've had to deal with a lot of things I never thought I'd have to deal with when I started this position," said Gerges. "But because I've been able to take it on, I will be able to handle it even better this coming year, and whoever is in my position in the future won't have to be discouraged from running for the TMSU because of how it might affect their reputation."
This year the TMSU is focused on getting students to the polls, which has been a chronic problem in the past. Only about 2,500 students cast their ballots out of nearly 40,000 eligible voters last year.
So, why aren't students more interested in these elections? As vice-president equity candidate Aya Bakir puts it, students are busy, and many don't realize the elections are happening at all.
"It's a very stressful time. I know that personally as a student myself, there's a lot of midterms going on," said Bakir.
Bakir will be running independently against Trevohn Baker who is a member of the Team Revolt Slate, which is advocating for things like increased wages for TMSU part-time staff and support for campus groups.
Fellow Team Revolt Mahira Shoaib is running for vice president operations against non-slate affiliated candidates Angie Awadallah and Success Daka, as well as Team Dream member Nathan Sugunalan who spent last year as vice president of education.
Along with Dream and Revolt, Empire, Vision, Ayub & Brandon, Breakthrough and Metropolitan Engineers are the slates running in the election.
However, less than half of the candidates have decided to run under a slate affiliation. Gus Cousins, who is running for re-election as faculty director of The Creative School believes slates could be a thing of the past.
"One of the common problems we tend to see with certain slates is that they continue to make promises they can't keep," said Cousins.
He grew up with a passion for politics, and eagerly took on the challenge to tend to the 'disaster' that was the TMSU. While there are many things that Cousin hopes to accomplish this year, he has one wish for students.
"If you don't want to vote for me, then don't vote for me, but please just vote," said Cousins.
As a member of the TMU baseball squad, last year Cousins fought to get increased funding for non-varsity athletic clubs and was proud of what the Students' Union was able to accomplish. This year, he is prioritizing improving TMSU's By-Laws.
"I plan on being a part of the reformation of the Students' Union in any way I possibly can, regardless of who gets elected."
Voting opens today at 10 a.m. and runs until March 24 at 5 p.m. on my.torontomu under the participation tab.