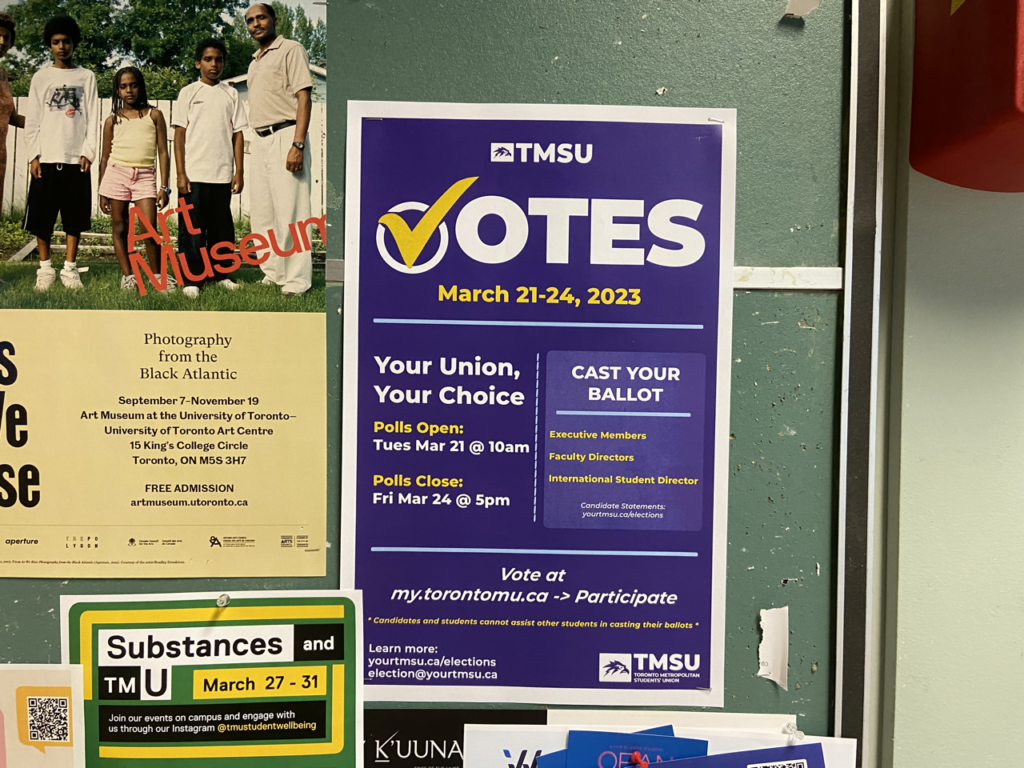 All members of Team Revolt Slate have been disqualified from the Toronto Metropolitan Students' Union (TMSU) 2023 election after receiving 60 demerits points, according to a statement released by the Elections and Referenda Committee (ERC).
After spending several days reviewing the elections operations, appeals, complaints, and results, the ERC took action.
"Due to the unprecedented number of submissions, the Committee has made a number of decisions related to the conduct of candidates and campaigners during the election," wrote the ERC.
Team Revolt was issued demerit points for allegedly violating four election bylaws, including campaigning to students while they are voting, misrepresentation of fact, accessing a member's voting portal on their behalf, and multiple instances of unauthorized campaigning.
According to Section 8.3.8.4 of the Elections Procedures Code, accruing more than 35 demerit points as an executive candidate "will result in an automatic disqualification." The ERC states it has the authority to "[i]ssue demerit points, disqualify candidates or rule any election invalid for violations of By-laws and policies."
As a result, vice president operations-elect Mahira Shoaib, vice president equity-elect Trevohn Baker, vice president student life-elect Kareena Bhatia and vice president education-elect Abeeha Ahmad have all been disqualified.
Candidates have forty-eight hours to appeal the decisions of the Committee. The ERC has said they will wait until the end of the appeal period on Wednesday, March 29 at 6 p.m. before making additional comments.
In an email sent to On the Record, the ERC wrote that a run-off election will be run within two weeks.
The ERC is, "preparing its complete response to a number of alleged irregularities and violations of the "Code" during the election and is committed to producing a full report of its findings to members this week."
As previously reported by On the Record, former TMSU president Marina Gerges was not re-elected for a second term after running uncontested, failing to receive over 50 per cent of the Yes/No vote.
Team Revolt members did not respond to On The Record's request for comment on this story. The slate's website is currently down and marked as under construction. Its Instagram account is also offline.
The voting period took place from March 21 to March 24 and the results were announced on the TMSU website on March 24.