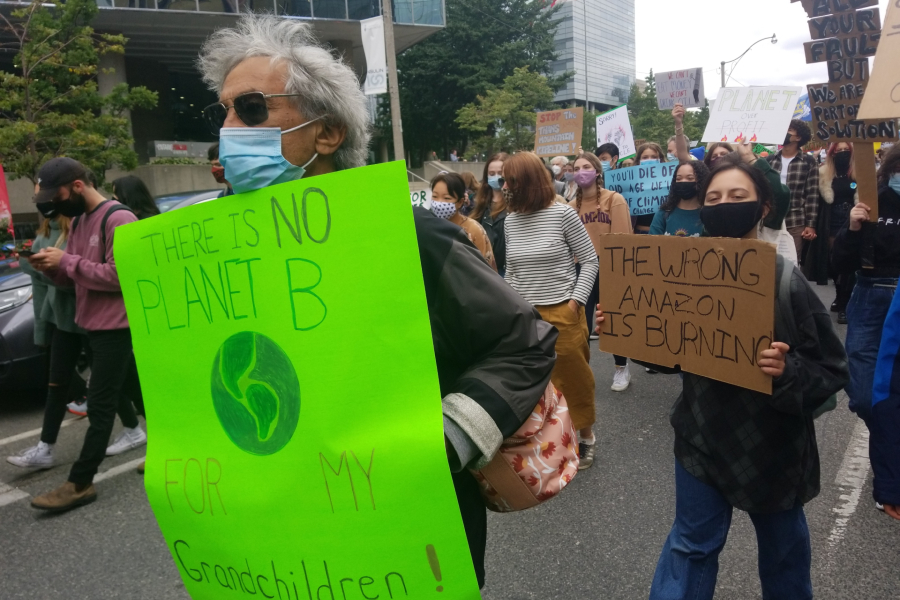 Hundreds of people demanding climate policy changes marched through downtown Toronto on Friday.
The Queen's Park global climate strike was organized by a youth-led climate justice group named Fridays for Future Toronto.
"Events like this are really an opportunity to block business as usual, to make us stop and think about the climate crisis," 22-year-old chapter founder Alienor Rougeot said.
The group is demanding the federal government "stop the expansion of fossil fuel and stop funding fossil fuel from subsidies," Rougeot said.
Fridays for Future Toronto also calls on the government to phase out fossil fuels during the next 20 years.
Rougeot says she feels a moral duty, as a local white woman in downtown Toronto, to ask the government to do something about the climate crisis.
"I don't want to raise kids on a planet that's burning. I don't want to make choices between affording food and affording certain other commodities that have become too expensive," Rougeot said.
The strike was an opportunity for people to voice their concerns about climate change and ask questions.
"I'm here because we are killing our Mother Earth. I want systems to be changed, and I need Mother Earth for our future generations to be safe," said 18-year-old protester Acacia Galvez.
With the event being open to the public, high school teacher Andy Wang brought roughly 20 students from Jarvis Collegiate Institute to the event as an educational school trip.
"I think it's important to experience activism and let them know how to get involved in doing something about climate change when they're all worried about it," said Wang.
For many young people at the event, this was an opportunity to learn about activism.
"For the youth here, it's a first step, and then they can get organized further, learn how to organize their schools and institutions, so it's also a good meeting place," said Rougeot.
Those who want to get involved as an organizer or volunteer can head to the Fridays for Future Toronto's website or Instagram page to sign up.
"If you don't want to get involved that way, you can either donate to front-line fighters of the climate crisis or organizations currently involved in fighting the climate crisis. Educate yourself and your family, and make lifestyle changes," 18-year-old co-ordinator Sigfried Hemming said.
Fridays for Future Toronto wants students to reach out to their university and local politicians to demand more easy access to climate change information.
"I believe we've made slim to none progress. I know a lot of people would disagree, but politicians have been paying nothing but lip service," said Hemming.