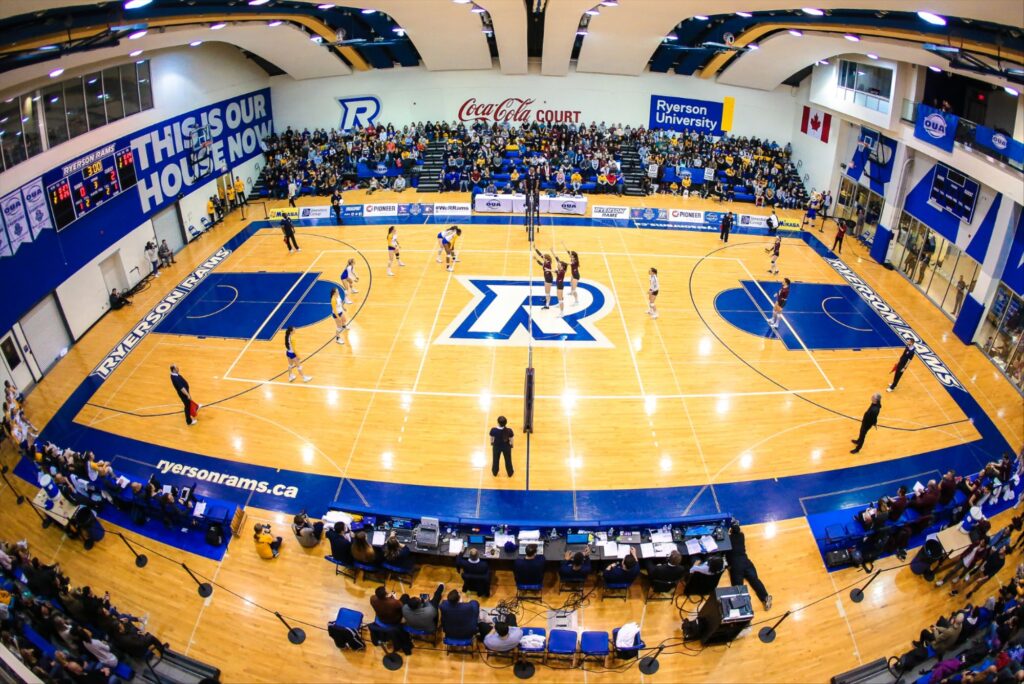 The Ryerson Rams men's soccer team kicked off its season with a home game at Downsview Park on a warm, early fall evening.
The Rams were playing against their crosstown rivals, the University of Toronto Varsity Blues, and the stands were packed with supporters from both schools. After the game, Rams head coach Filip Prostran couldn't give the enthusiastic fans enough praise.
"[The crowd] was fantastic, it was electric," he said.
But there was another story being told by those fans that evening — and by protocols they had to follow just to get into the stands.
A handful of staff were stationed at the gates, controlling entry to the facility. To enter, fans had to show proof of vaccination and a completed health questionnaire. Then they received wristbands to wear as evidence that they'd been screened before entry.
It all added up to one small piece of a giant puzzle that intercollegiate sports governing bodies had to put together over the preceding several months in order to pull varsity teams out of the grip of the pandemic shutdown and push them back on to the playing fields.
On March 12, 2020, USports — the national governing body for university sports in Canada — shut down all games. Roughly an hour after the end of a quarterfinal hockey game at the national championship, the players heard the news that there would be no semifinals. The season was over for both the men's and women's teams. The men's and women's volleyball seasons also came to an abrupt end that day.
Between then and the return of university sports this September, it was up to USports and its regional governing bodies to figure out how they would get the games back on once it was safe to do so. It meant dealing with things ranging from scheduling games to restructuring leagues; from putting in place vaccine protocols to figuring out the rules for teams that would have to travel to away games.
Ontario University Athletics (OUA) is one of the larger divisions of USports. Gord Grace, president and CEO of OUA, has been busy solving scheduling and logistical issues since the pandemic first reached Ontario.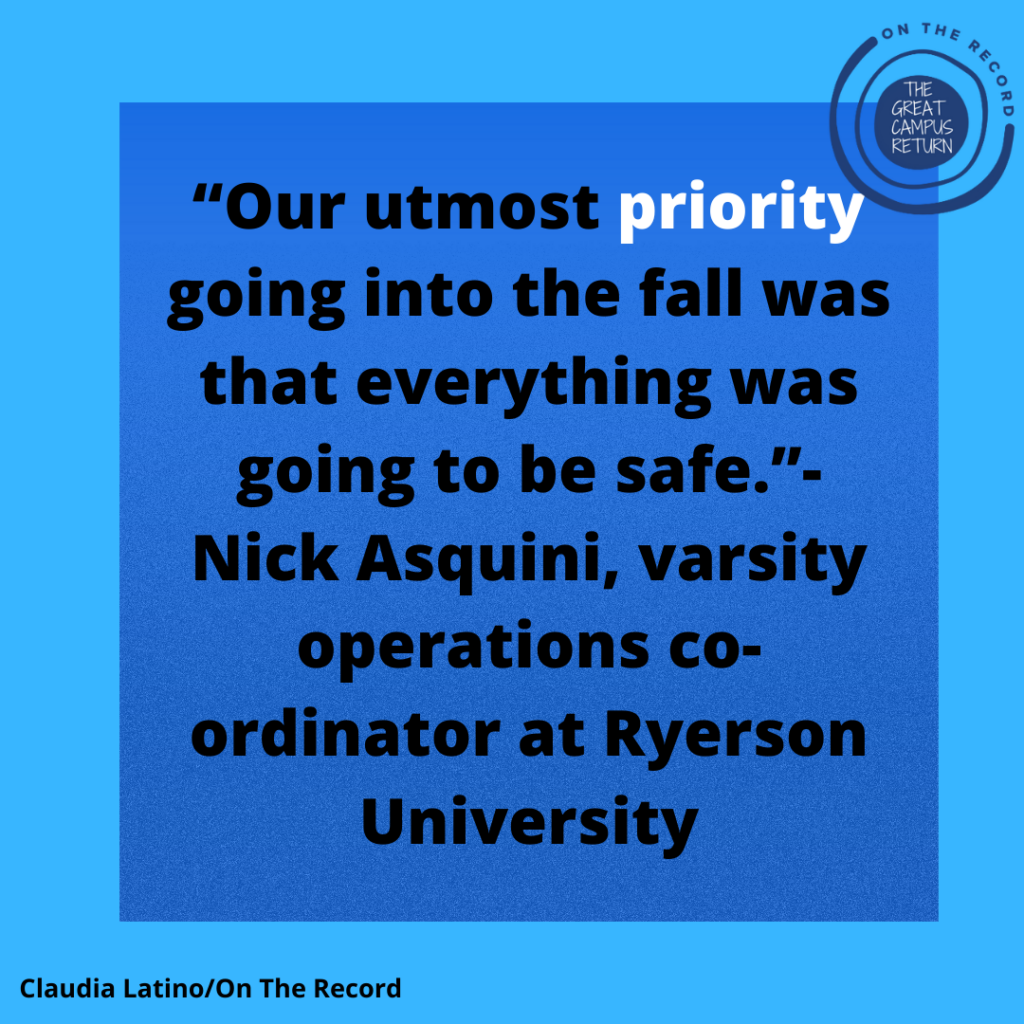 Looking back on the first days he spent tackling scheduling, Grace said recently that he soon realized there was no one-size-fits-all solution — each of the 49 sports needed to be handled differently.
"We have 11 football teams; that's an odd number. That makes it challenging," Grace said. "We now have 19 men's hockey teams because Laurentian dropped out [and] we have 12 women's teams."
It wasn't just a matter of figuring out how to make the schedules work.
It is also their job to keep the athletes and coaches safe, so they had to minimize travel and avoid overnight trips as much as possible.
As big a job as it was, OUA was fortunate in one respect. Even though Ontario is a large province, most of the schools in the league are situated along the same highway.
For USports' western division, Canada West Universities Athletic Association (known as Canada West), geography complicated things. Their division stretches from Victoria to Winnipeg. The University of Winnipeg is closer to McGill University in Montreal, a whole division away, than it is to the University of Victoria.
Rocky Olfert, managing director at Canada West, said they did their best to keep games regional, but that wasn't always possible.
Olfert says that while he and his team were able to keep play in certain sports contained to a relatively small area, that didn't work across the board. He says the fewer number of teams in some sports, such as hockey, made travel necessary.
According to Olfert, everyone in Canada West met their vaccine mandate. But when it came to scheduling, they introduced buffer weeks. Buffer weeks are essentially gaps in the schedule where games can be rescheduled to if they are postponed.
"We cancelled and postponed three men's hockey games because of COVID, just out of caution. MacEwan [University] had two cases (of COVID-19)," Olfert recounted. He said the buffer weeks built into the schedule meant, "if we need to reschedule, we can; so if we don't have to play, why risk it?"
Olfert says the result of all the planning was a seamless and safe transition to the new world of university sports during a pandemic. He says the fall sports season has gone extremely well and the return to sport has been invigorating for everyone involved, with athletes performing at a high level.
It wasn't just the USports administrators who had to adapt and work hard to make the return to play successful. A lot of the work fell to the coaches.
Rams men's soccer coach Filip Prostran says managing all of the different policies was a challenge. "You had to stay up to date on all the policies the OUA implemented, your own university and also other universities," he said.
This extended beyond wearing masks and social distancing. For example, teams in OUA's soccer division could only travel with a party of 25, including coaches. For Ryerson, it was broken down to 20 players and five staff. And that meant that some team members couldn't travel.
Prostran also said that as the team visited other schools, it seemed each one had different protocols. "With travel and games, that was a learning curve," he said. "But we just made sure our team was respectful and flexible. We were all just learning as we [went]."
Nick Asquini, the varsity operations co-ordinator at Ryerson, said he's proud of what the school has done. The return to sport has had a lot of variables and they've been able to maintain an extremely high level of safety for all athletes, coaches and fans.
"Our utmost priority going into the fall was that everything was going to be safe," said Asquini. "We've done our best to control everything around the games, to control the environment.
"From a Ryerson perspective we feel pretty good about how the fall has gone."