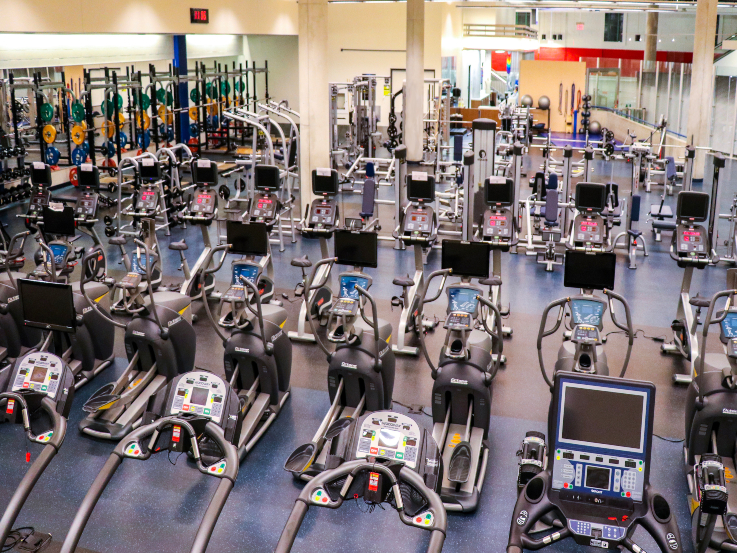 Campus buildings have reopened this semester, but things could soon change, given the rising number of COVID-19 cases in Ontario.
The Mattamy Athletic Centre (MAC) is one of the campus buildings that are open to students and faculty. Since reopening on July 26, the fitness centre has welcomed over 5,000 people while operating under 50 per cent capacity, and has seen no transmitted cases so far.
In line with the reopening are new precautions introduced by the school to help curb the spread of the virus.
To visit the campus, students are required to either provide a proof of vaccination or a negative test within two days. There is also a mandatory health screening before every visit to campus. Along with those measures, students who wish to visit the MAC must book an appointment online for fitness training.
While this has been a positive step forward, rising COVID-19 cases are a cause for concern for keeping these amenities open.
As of Sept. 15, 10,230 cases were reported across Ontario over the last two weeks. This marks a significant uptick from a month prior where 4,471 cases were reported over the two-week span.
Modelling for cases in Ontario shows a worst case scenario of around 9,000 daily cases by October. This would far surpass the 114 single day cases experienced on July 11.
As the city of Toronto has seen a recent case rate of around 70 per 100,000 people, the MAC faces a considerable risk even with health measures in place, given that a dramatic surge would almost certainly affect provincial guidelines once again.
Thomas Tenkate, who specializes in infectious disease within Ryerson's School of Occupational and Public Health, believes it has more to do with rising cases of concern when it comes to assessing the fate of reopenings across the city.
"We really have to see what happens with the trend of the delta variant and really at this stage it's not going down, it's continuing to go back up again," says Tenkate.
For some students, working out at the MAC may be their only option to exercise and another closure would be frustrating.
"It would absolutely impact my mental health and stability if I wasn't able to have that resource," says Casey Dobson, a third-year sport media student at Ryerson.
"Working out is the biggest way I cope with mental illness and I for sure felt the impact of not having that option last season," added Dobson.
Delta variant cases rise in Ontario, and as of Sept. 15, there have been 15,925 delta cases in total, marking an increase of almost 10,000 since Aug. 15.
"Whatever measures we put in place to try and stop [the virus], it's going to continue to mutate to counter those measures," says Tenkate.
According to Timothy Sly, professor emeritus of Ryerson's School of Occupational and Public Health, the current pace of cases would require roughly 85 per cent of Canadians to be fully vaccinated to effectively reach herd immunity. Canada currently sits at just under 70 per cent fully vaccinated.
*All COVID-19 statistics are via. Public Health Ontario's data tool