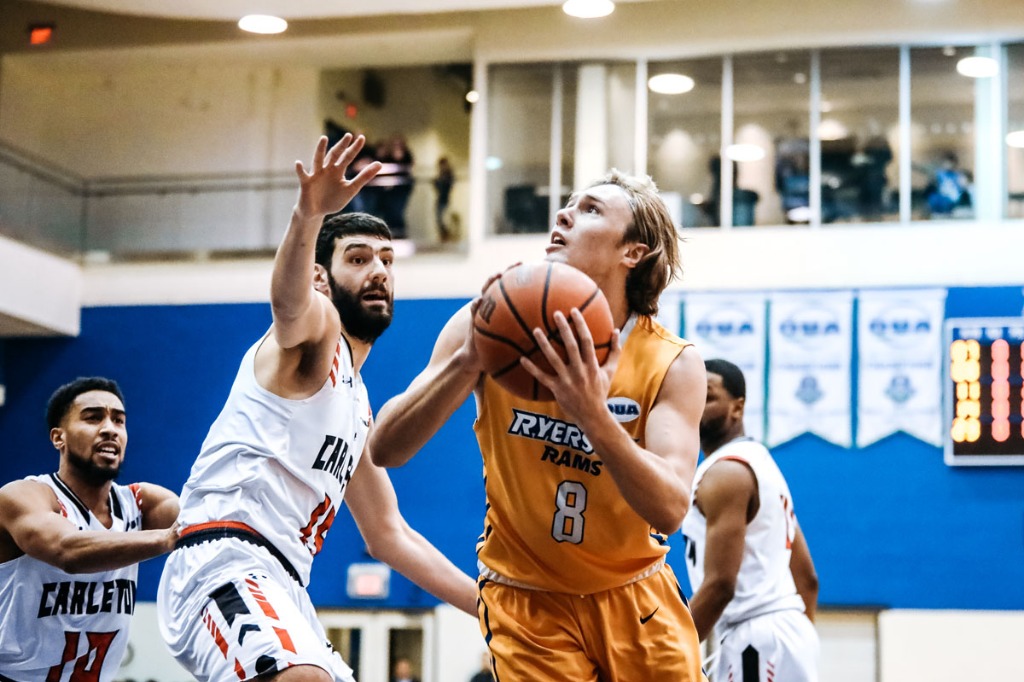 Bouncing back from a global pandemic is hard, and the Rams men's basketball team will be ridden with challenges this season.
The Rams begin their season at home at the Mattamy Athletic Centre (MAC) this Friday, as they'll host the Queen's University Gaels in their first regular-season game in over a year and a half.
It's a date that many players and fans of the team have set in their calendars, but a lot of work was done to get back to this point.
The Rams finished 16-6 in their last season of play, getting their lowest number of wins since the 2013-2014 season. They lost to the University of Ottawa Gee-Gees in the OUA quarterfinals.
While fans got used to seeing them dominate the regular season in years past, the makeup of this team is different, with the addition of several rookies and departure of several key players on the team.
There are 12 new players on the roster from two recruiting classes. It's not surprising that there are so many new players, considering the OUA cancelled all fall sports in June 2020, and then extended that decision in October of that year.
The decision barred several rookies from seeing the floor last year. 
Rams head coach David DeAveiro says he understands that learning to play as a new group will be a challenge, especially since it's his first year coaching the team.
DeAverio was hired as head coach in April 2020, replacing interim coach Borko Popic, who took over from longtime head coach Roy Rana. Rana is currently an assistant coach with the NBA's Sacramento Kings.
DeAverio says it's going to be a development year and that the team will need time to grow.
"I don't think we're going to dominate anything," says DeAveiro. "Everyone that was expecting to see the Ryerson teams of the old, I don't think that's going to happen this year."
He said he expects things to be different compared to past years given how many new players are on the team. But something he wants to emphasize is playing hard, which would help elevate the talent on the team.
The team's talent is shown on the offensive side of the floor. Its shooting looks promising given the abilities of players like second-year guard Tom Dumont, who DeAveiro noted as a shooting threat.
Dumont shot 50 per cent from the three-point line in the 2019-20 regular season, showing how scary he can be from beyond the arc.
"We look at Tom [Dumont], his whole role has changed," DeAveiro says.
Dumont says he knows his shooting is going to be key in elevating his role on the team. He also feels confident that he can be a key contributor in more areas than shooting.
"I'm a pretty versatile player," says Dumont. "On offence I can shoot it, drive and finish at the rim, or kick it to the open guy which enables the ball to move and be shared."
At 21 years old and having played in both France and the United States, he has the basketball experience that some of the other players don't have. It's something he wants to use to help his younger teammates develop throughout the season.
"I want to improve at being more of a leader on the court," he says. "Being able to have an impact on the game even if my shots aren't hitting."
One of the rookies who could benefit from the leadership is Aaron Rhooms, a first-year forward who stood out with 19 points and nine rebounds in the team's opening pre-season loss against the Laurier Golden Hawks.
He says that communication on the court is what they need to improve on the most.
"We're a new group of guys with varying ages, so it's sometimes hard to talk to one another," says Rhooms.
DeAveiro also emphasized communication, as he wants the team to pick up on it as the season progresses to help them on the defensive side of the ball.
"At this particular point, I think we're much better offensively than defensively," he says.
DeAveiro said that communication will be difficult to establish at first.
He mentioned the team's lack of access to amenities during the pandemic is a big reason why they may need more time to gel than other programs not located in Toronto.
Underdeveloped communication, few veteran players, and a lack of length on the team can make it difficult to defend at the OUA level, which is something he's aware of.
"Length was something we were trying to recruit, but we're shorter in size than we would like to be," he said.
This is especially true after losing seven-foot-two centre Tanor Ngom, who left a year ago to play NCAA Division I basketball for Florida State University.
Other players have departed for professional basketball opportunities. Tevaun Kokko is playing in Finland, Diar Alkaldy is in Iraq and Jayden Frederick is in Georgia.
However, the team has plenty of fresh legs given its rookie makeup, which can help the team be better defensively if they combine it with the commitment to play well on both ends of the floor.
"The part of my game that I'm most focused on right now is probably on the defensive end. I feel like I'm a decent defender but could definitely take it up a notch," says Rhooms.
Despite this, the Rams understand they have the ability to score, and say they aren't going to let their defensive concerns and inexperience stop them from playing competitively.
There is one last element that's returning to the game along with the players — the fans.
"The game isn't the same without the fans and having them back is great," says fourth-year guard Eli Farrakhan.
DeAveiro said he is looking forward to seeing fans in the stands, as it ultimately played a role in his decision to join the Rams.
"Part of the reason I came to Ryerson was because I would see the crowds they had," he says.
Ultimately, he has one message for fans as they return to fill the bleachers;
"Be patient with these guys."