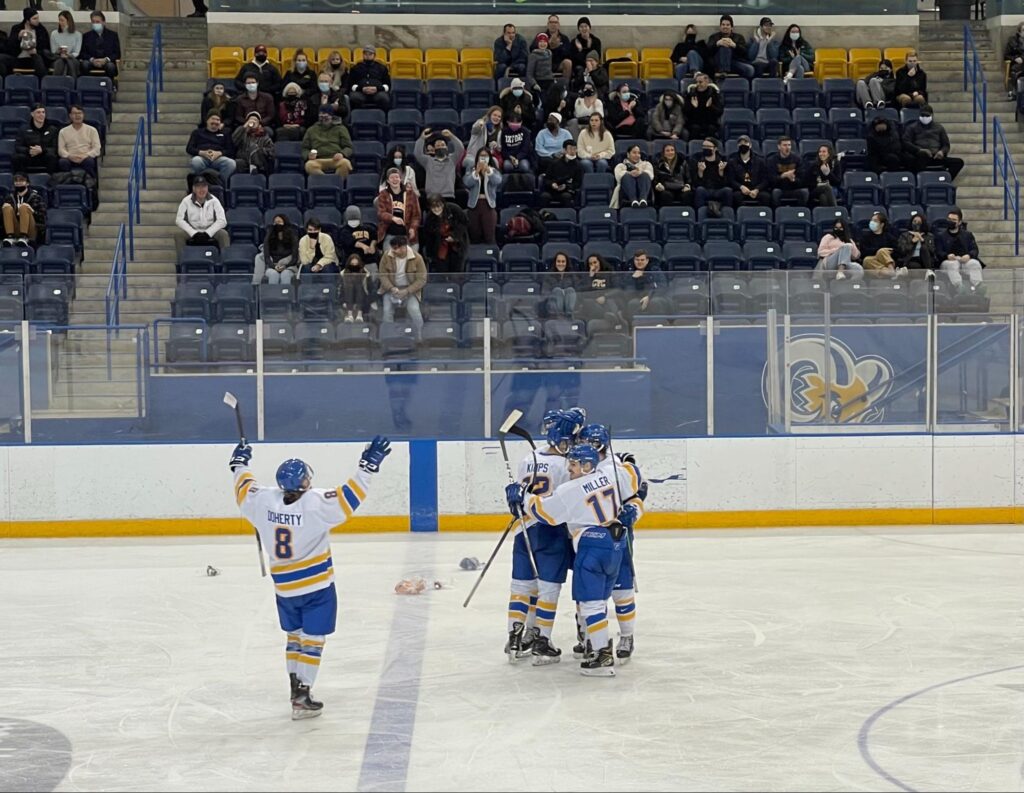 After failing to capitalize on a big shot advantage in the first two periods, the Rams scored three straight goals in the third to steal a 3-1 home ice victory over the Toronto Varsity Blues Thursday night.
They were led by first-year forward Kyle Bollers, who scored the game-winning goal.
The first goal for either side wouldn't come until 14 minutes into the second period when Varsity Blues' first-year forward Danny Katic found the puck in a scramble in the crease and knocked it in.
Despite going scoreless in the second, the Rams had 20 shots on goal, almost matching their season high of 22 in a single period. They finished the game with a 45-22 shot advantage.
The Rams finally found the back of the net just over seven minutes into the third, when fourth-year forward Gregory DiTomaso scored on a slot shot to tie the game at one apiece.
Moments after the goal, teddy bears fell onto the ice from the stands with people throwing them in hopes of winning a pair of Toronto Maple Leafs tickets.
The teddy bears were sold on the third floor of the Mattamy Athletic Centre, with all proceeds going towards the Salvation Army and CTV's Toy Mountain campaign.
With the game tied 1-1 and less than three minutes left in regulation, Bollers scored his fifth goal of the season to give the Rams the lead.
First-year forward Elijah Roberts brought the puck up along the boards and passed it to Bollers, who tucked it over the shoulder of Varsity Blues' third-year goalie Alex Bishop to win the game.
"We were peppering the goalie all game," said Bollers. "Our line was flying, everyone was flying. And to finally put it past [Bishop] was unbelievable."
He extended his team-leading goal count to five on the season. He scored twice in the Rams' win against Lakehead on Nov. 13.
The Varsity Blues pulled Bishop for an extra man advantage in the final minute. With 20 seconds left in the game a slapshot directed at the Rams' net hit the post.
The Rams took the puck the other way, and third-year forward Jacob Kamps iced the game with an empty-net goal.
The Varsity Blues have struggled protecting the net this season, allowing 19 goals in five games.
Rams' head coach Johnny Duco gave credit to the team's analytics co-ordinator, Larkin Lee, for the third period turnaround.
"[Lee] and his team do a tremendous job behind the scenes, really mapping out where we're having success, and where we may be looking to make some adjustments," he said.
The Varsity Blues and the Rams will face off four more times this season.
The Rams wrap up the first half of the season against the Brock Badgers this Saturday, Nov. 27, at the Seymour-Hannah Centre in St. Catharines.