The men's and women's teams are both holding closed door practices despite the cancelled fall portion of the season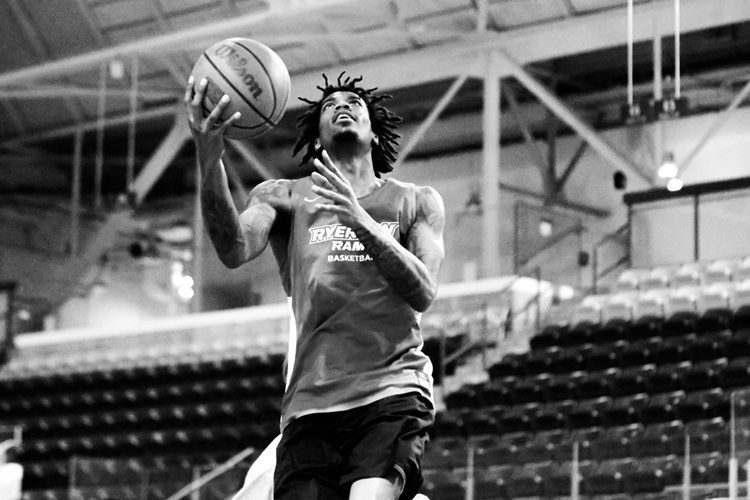 The Ryerson Rams women's and men's basketball teams are returning to practice despite the cancellation of the fall season due to COVID-19 and the uncertainty of a winter semester start.
After a series of photos and videos were posted on the Ryerson Ram's Twitter and Instagram pages, Ryerson Athletics confirmed the basketball teams have returned to the Mattamy Athletic Centre (MAC) to continue training. 
U SPORTS and Ryerson University have yet to announce a potential start to the season after all games and fall semester championships were cancelled in July. The basketball season usually begins in the fall and concludes midway through the winter semester.
With training camp prohibited by U SPORTS, women's basketball head coach Carly Clarke and her staff had to rework their regimens for these practices.
"We have slowly returned to training and created a plan to properly increase the physical load on the student athletes," Clarke said. "With multiple months of not playing and training in a facility, monitoring the physical load is an important part of avoiding injury."
In accordance with the university's safety protocols during the pandemic, Clarke credits the school departments for ensuring all individuals entering the MAC practise social distancing and wear a mask. Coaches and staff wear masks for the entirety of the practice, while players perform drills that avoid excessive contact.
"We are focusing primarily on skill development and team concepts — avoiding any contact while training for the time being," said Clarke. "Lots of hand sanitizer and cleaning of equipment to ensure safety as well."
Players and staff are also advised to follow the public health guidelines as advised by the Ontario government when they leave the MAC, according to Clarke.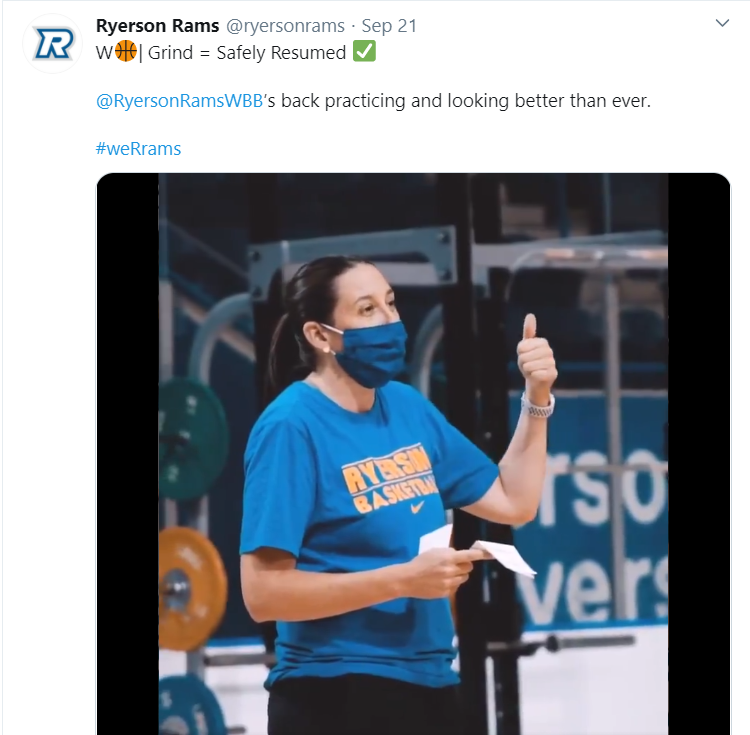 Clarke said she cannot comment on whether the season can potentially start in the winter semester, but is ensuring that the team stays ready, using its slogan as inspiration: "being the best at getting better."
"There is tremendous opportunity during this time to improve on some things that we would not normally prioritize if we had games in the near future," said Clarke.
Ryerson Rams employees enter the MAC
Last week, Rams' official photographer Josh Kim took pictures of the men's team performing drills in the MAC.
The first-year sport media student, who has experience photographing the Ontario Hockey League, the East Coast Hockey League and the Canadian Women's Hockey League, said the pandemic has changed how he approaches each shift during these MAC practices. 
"It's quite impressive to see them (players) put in that much work regardless of the outcome (of the season)." said Kim.
"There's so much uncertainty over sports and if it's even happening," added Kim. "Everyone (Ryerson Athletics and staff) are in the dark and still relatively waiting patiently for something to happen."
Kim and the Ryerson Athletics staff do not have a set plan on how their coverage will look moving forward, with weekly meetings expected to frame a timeline this semester and beyond.
Kim sees the current situation as unfortunate, especially with Ryerson's basketball teams returning to the MAC with new faces and a desire to build on last season's playoff runs.
"I know Ryerson completely revamped their coaching staff this year basketball-wise, and to my knowledge, deeper rosters."
Changes include the hiring of David DeAveiro, the new head coach of the men's team. DeAveiro, who previously coached the McGill Redmen, brought in his own coaching staff this summer after last year's head coach, Borko Popic, took on an assistant coaching position with the Edmonton Stingers. Another major change is former star centre Tanor Ngom transferring to Florida State University to compete in the National Collegiate Athletic Association (NCAA).
As positive COVID-19 cases increase in Ontario however, Kim is unsure if a season is feasible this year.
"It started looking pretty optimistic when the (COVID-19 positive) cases were going down as the summer was wrapping up and September rolled around, but now that they're going back up again, we're back to square one" he said. "We don't know what is going to happen, and practices might even be cancelled at one point." 
If COVID-19 cases continue to be in the triple digits, Kim said the season "can be pretty much ruled out."
The university's response
On Monday, Ryerson president Mohamed Lachemi said the university had signed off on teams returning to train in a phased-in approach.
"We also had our legal services draft waivers and informed consent forms that are required to be signed by all student athletes and staff prior to returning to training," he said.
Prior to approving these practices, Lachemi said there were "COVID-19 education calls" with each Rams team to remind them of public health guidelines before their return. Staff and teams are reminded to strictly follow public health guidelines on and off-campus. Lachemi said these practices are part of the experience that the university wants student athletes to have on campus.
Regarding the potential of a season starting in the winter semester, Lachemi said there was an Ontario University Athletics (OUA) meeting last week and the OUA is gathering feedback via survey from each institution. A final decision is expected following a board of directors meeting in October.
"Once the decision is announced, we will proceed accordingly with the health and safety of our players and staff," Lachemi said.