Speakers included Ryerson president Mohamed Lachemi, Toronto mayor John Tory and founding dean Donna E. Young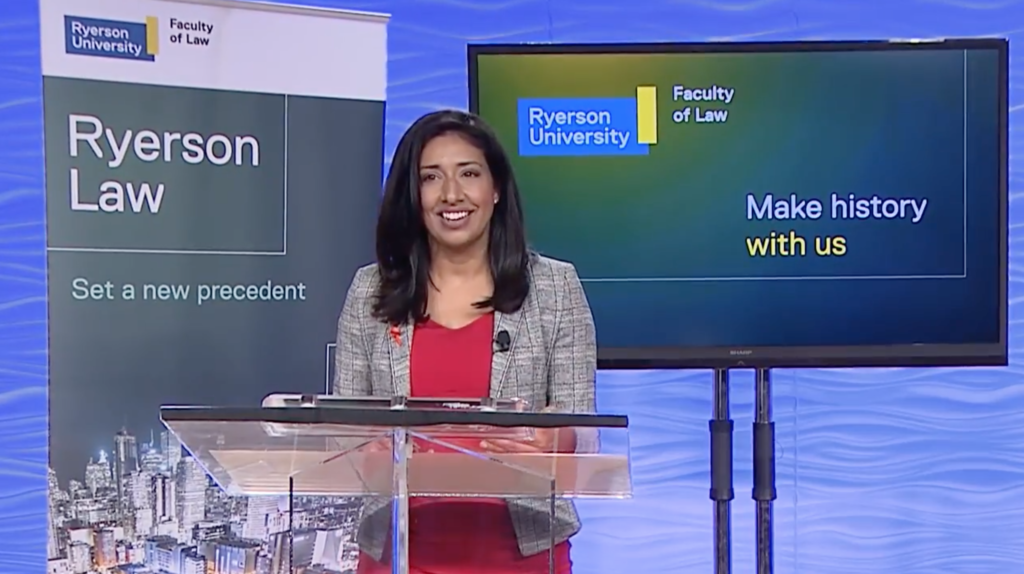 Ryerson University's new Faculty of Law had its official grand opening Wednesday evening, featuring speakers, musical performances, video greetings and promotional films over a one-hour virtual event hosted by Global News anchor and Ryerson alumna Farah Nasser.
"Transformational change takes courage, and takes vision. And by joining us virtually, you're helping make history." Nasser said, addressing the students of the 2023 inaugural class.
The event was broadcast on Ryerson's YouTube, Facebook and Ryecast pages, and showcased a diverse set of voices to convey the unique new approach Ryerson aims to take in producing a progressive generation of new lawyers.
"For Ryerson, this is a moment 72 years in the making," said Ryerson president Mohamed Lachemi to an almost entirely digital crowd. Lachemi presented a proposal for the law school to Ryerson's Board of Governors nearly four years ago. Plans for the new law school—Toronto's first in over a century—have been in development since.
"We have pioneered approaches to learning, curriculum, research, and today, the official launch of a deliberately disruptive law school—our approach has resonated," Lachemi added.
Donna E. Young, the founding dean of the new law school, addressed the digital attendees following Lachemi.
"We're charting our own path, and the pandemic has not slowed us down. Indeed, it has underscored why we are here and what we need to do," said Young. She then likened the inequities COVID-19 has exposed to the weaknesses in the justice system, which Young said, underscore the impacts of anti-Black and anti-Indigenous racism.
"These phenomena will continue to challenge us, but Ryerson law will prepare lawyers ready to adapt and respond," added Young.
The event took a break from its speakers when artist iskwē graced the audience with two powerful pre-recorded performances. The Juno-nominated performer belted out "The Unforgotten" and "Little Star" while accompanied by a pianist and cellist.
Mayor John Tory also delivered remarks, after having presided over the official ribbon cutting ceremony last week.
"This is going to be a law school that is going to focus on a new type of legal education where the students who graduate will be even more practice ready and more tech savvy and committed to providing cost-effective legal services to those who need it," said Tory.
The mayor underscored that access to justice is a major issue in Ontario and hopes Ryerson's approach will help with the increasing problem.
Ryerson's Faculty of Law is requiring week-long intensive courses at the start of each semester on various subjects, including technological innovation, coding, access to justice solutions and finance. Students are not expected to complete articles after graduation but will take part in a professional placement in their third year.
Other speakers included professor Anver Saloojee, assistant vice-president international at Ryerson University, who spoke of the journey between the proposal for the new law faculty and the welcoming of its inaugural class.
Annamaria Enenajor, partner at Ruby Shiller Enenajor DiGiuseppe, then gave a rousing address on why law matters and how the justice system has an unequal impact on Canadians based on race and gender.
"There is overwhelming statistical evidence to show that Black and Indigenous Canadians are more likely to be stopped by police officers, judged harshly by our courts, and experience violence at the hands of authorities," she said.
The event concluded with a town hall-style question and answer session with Sari Graben, associate dean of Academic, Research and Graduate Studies, and Tanya De Mello, assistant dean of Student Programming, Development and Equity. The students of the 2023 inaugural class then shared their excitement to embark on the next three years.
With the first year of Ryerson's Faculty of Law well underway, students are attending classes mostly virtually. However, some in-person attendance has been permitted.