Volleyball's Jasmine Rivest hopes university sports will safely return in 2021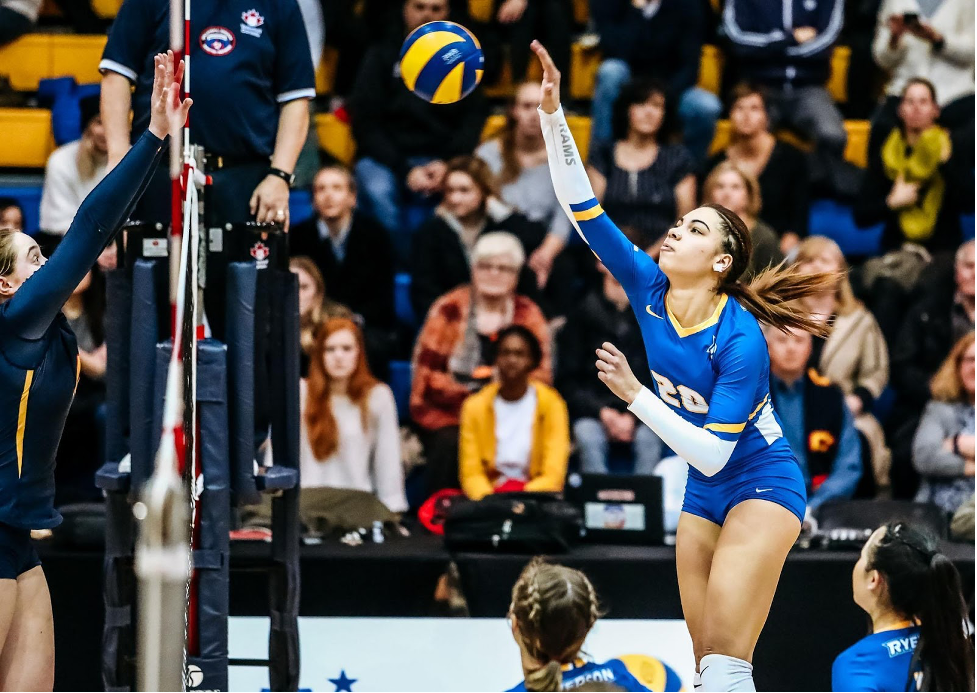 All Ontario University Athletics (OUA) games were cancelled this season due to COVID-19, but one student athlete is adjusting to the new normal and remains hopeful sports can return safely for the 2021-2022 season.
Outside hitter Jasmine Rivest of the Ryerson Rams volleyball team was looking forward to building on the success of last year's run to the playoffs before the season was officially cancelled on Oct. 15 due to the pandemic.
"We were prepared to take the bad patterns and mistakes we identified from the previous season and learn from it so that we would be prepared to apply it going forward in a productive manner," said Rivest.
Rivest is now in her second year studying arts and contemporary studies. A rookie in the 2019-2020 season, she broke out and played a key role on a roster with national championship ambitions.
Her stat line of 93 kills, 71 digs and a .217 hitting percentage helped the Rams to a record of 17-4, which included a 10-1 record away from home court at the Mattamy Athletic Centre (MAC). A notable highlight was Rivest's season-high 20 kills during a Nov. 9, 2019 match, the sixth highest in the volleyball program's history.
The Rams' playoff run ended with a five-set loss to the Guelph Gryphons on Feb. 29, but Rivest received individual honours, including the OUA East division Rookie of the Year. She was then selected as a member of the U SPORTS All-Rookie team and was also named the Ryerson Student Union female Rookie of the Year in April.
Without games or a full-time commitment to the team this school year, Rivest found it odd to have so much free time, but said there have been opportunities to find new hobbies.
Rams teams were permitted to hold practices three times a week with two workout sessions. However, Rivest said these sessions were restricted to 10 people at a time, which often included head coach Dustin Reid.
She believes games will safely return next season, but athletes will be held to new safety standards when they take to the court.
"I think we have to get tested the day prior to game (day) and then based on that, we will be able to travel to away games and whatnot," she said.
Those measures would be like those currently employed by major league sports teams, including those in the National Basketball Association, the National Hockey League and Major League baseball.
As for the fans, Rivest thinks crowds will return to the MAC with social distancing protocols in place to manage the influx of people wanting to socialize again. Last season, the volleyball games often drew large crowds to show their support for a team that has consistently seeded in the top three of the OUA East since the 2014-2015 season.
"In all honesty, COVID-19 is just a part of life now and we have to find ways to adapt to it," she said. In terms of the potential for a shortened season or reduced travel next season, Rivest does not think the number of games will change.
"I think there will just have to be more systems and health precautions in place to ensure everyone's safety," she said.
Rivest wasn't the only member of the team with accolades from last season. Right hitter Cailin Wark was named a U SPORTS First-Team All-Canadian and head coach Reid won his third consecutive OUA East Coach of the Year award.
An update on U SPORTS for 2021
Ryerson president Mohamed Lachemi said that following Toronto's second lockdown, which came into effect on Nov. 23, the MAC will be closed to athletes and students for the duration of the lockdown, with further updates expected in the new year.
If university sports do return for the 2021-2022 season, Lachemi said, they will do so under the directives of OUA, U SPORTS, provincial sport organizations and national sport organizations.
To accommodate athletes, officials, staff and fans during games next season, Lachemi said the university will adhere to guidance provided by Provincial Health Ontario, Toronto Public Health and Ryerson's own Emergency Health Services.
In October, Lachemi twice-monthly meetings between Ontario university athletic directors and U SPORTS representatives included preliminary discussions about teams safely returning to play after March 31. When asked recently to comment on what proposed changes are being discussed during these meetings, Lachemi would not provide an update.
The fall portion of the OUA season was cancelled by U SPORTS in July. Winter championships and games were cancelled on Oct.15.
Rivest is listed as a red shirt this season according to the Ryerson Rams website, meaning she will not lose a year of playing eligibility. U SPORTS indicated on its website that eligibility years will not be affected by cancellations during the pandemic.