As leagues continue to promote more diversity in hockey, media personnel are working to create more diverse sports news teams and content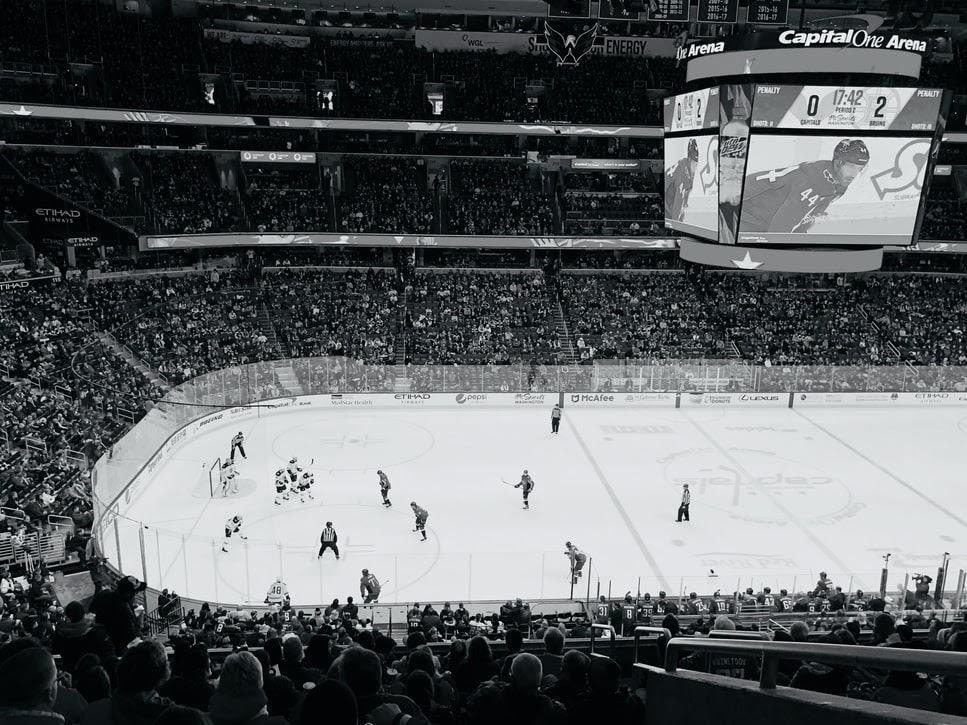 At a time when racialized National Hockey League (NHL) players are banding together to promote change and inclusiveness, racialized members of hockey media are working to normalize diverse voices in hockey culture, despite the challenges of a sport too comfortable with its traditionalism.
Matthew Rodrigopulle, a recent graduate from Ryerson's journalism program, is currently interning as a broadcast associate with Sportsnet. He says he realized that hockey is a white dominated industry as he went from childhood fan to pursuing his journalism career.
As a Sri Lankan Canadian whose fandom traces back to the Canadian Olympic teams, Rodrigopulle says he did not realize the diversity issues in hockey at a young age, and never thought about it through that lens.
"It is pretty unattractive for a lot of people of colour to get into the sport because there are times when it does not seem as welcoming as other sports," he says.
Rodrigopulle recalls entering dressing rooms for media scrums and post-game interviews, and quickly feeling out of place.
"It's a pretty big ratio of minorities to white media members," he said. "You tend to think, 'what are the odds of me making it into the industry if you only see that one brown guy on TV?'"
Rodrigopulle credits former Toronto Maple Leafs centre Nazem Kadri and current Edmonton Oilers forward Jujhar Khaira with inspiring him in his pre-teen years to continue pursuing his dream to one day work in hockey media, as well as attracting more South Asian and Middle Eastern fan bases.
Rodrigopulle continues to voice his support for diversity in hockey on his sports podcast, Behind the Net podcast. Despite the challenges, he sees the inclusivity being promoted in major media giants such as Sportsnet. While change is happening, he hopes it will "accelerate a lot faster."
Creating a new standard
As these changes gradually come into place, Kevin Yeung is part of a team that is setting a new standard in sports media.
"What we do does not resonate with the traditional fans," he said.
Yeung is the social media producer for The Sports Network's (TSN) Bardown, a website and social media brand where the approach to sports coverage and fandom is breaking away from traditional sports journalism. The expected breaking news and game recaps are present on their media platforms, but also include off-script retro reviews of NHL video games, nostalgic sports apparel promotions and lighthearted conversations that are connecting to an audience beyond traditional, old-time hockey fans.  
Yeung says this approach is made possible by their staff, who are not only younger, but also more racially and gender diverse than most mainstream sports reporters. Yeung, who is Chinese Canadian, is a graduate from Ryerson's sports media program. 
Despite the more laidback content that appeals to the new generation of hockey fans, Yeung said Bardown continues to support the important global movements that are happening in sports and society. "From our work perspective, these are messages and movements we want to support."
Yeung recalls the staff supporting one co-worker, Luca Celebre, who chose to not watch and cover a playoff game between the Colorado Avalanche and Dallas Stars on Aug. 26. This was in solidarity with the NBA and MLB, which had cancelled their games in the wake of the Jacob Blake shooting by police in Wisconsin. The NHL chose to cancel its games on Aug. 27 and Aug. 28.
"In terms of the approach to certain fan bases, we choose the messages we need to bring out, and hockey and basketball fans react differently to social and political things," Yeung said. "It doesn't affect what we post, but how we frame things."
While the NBA continues to be at the forefront of promoting diversity in the sports world, Yeung said the changes happening in hockey are equally important and necessary.
"Hockey, the culture, is not as diverse and is as not as welcoming to minority groups, especially to Black players."
Yeung applauds the creation of the Hockey Diversity Alliance (HDA), which is striving to promote a more diverse and inclusive environment in hockey. Bardown included HDA apparel on its website, with all funds going to the HDA's efforts and to the Time to Dream Foundation headed by former NHL player and activist, Akim Aliu. 
"Their perspective is one that resonates with me," said Yeung.
Confidence in the career pursuit
Mike Jagassar, a third-year journalism student, is grateful that the incremental changes to hockey culture allowed him to enjoy a competitive junior hockey career and paved the way for his future career goals. Without hesitation, he says he is confident that hockey can finally embrace the transition towards capturing the full representation of its fan base.
Jagassar's father, who is of Trinidadian descent, played hockey professionally in Europe. His mother, who is Ecuadorian, ensured her son learned to skate and be entrenched in competitive programs like the Greater Toronto Hockey League (GTHL) and the St.Michael's College varsity team.
While Jagassar said he did not receive any racial backlash during his playing days, he recalls "the flak (insults) directed to Asian teammates" and the stories of what his father endured during his days as a non-white player.
Recalling some instances involving player suspensions, he said junior leagues like the GTHL have implemented stiffer suspensions for racial slurs and explicit actions during games. He credits this change as one that can influence other levels of the sport.
Switching to his new role as a student journalist, Jagassar looks to players like Leafs centre Auston Matthews (who is half Mexican), as well as Black athletes including San Jose Sharks winger Evander Kane and Las Vegas Golden Knights winger Ryan Reaves as more prominent voices that are helping to normalize diversity in hockey. Kane is also a co-head of the HDA.
One notable inspiration for Jagassar is winger Akil Thomas, the hero of Canada's gold medal game during the 2020 World Junior Championship. Thomas, who is a Black athlete and friend of Jagassar, is part of the Soul on Ice podcast that comments on issues regarding hockey's past, present and future, according to the Los Angeles Kings webpage on NHL.com.
Compared to the past generations in hockey, when racism was tolerated or the leagues refused to admit its prevalence, Jagassar said he believes that racialized student journalists can see the possibilities are there for them to break into the hockey industry. He cites Hockey Night in Canada in Punjabi as an example of the changing hockey industry that reflects the current fan base.
In addition to his freelance work covering the Ryerson Rams varsity teams, Jagassar is a news writer and board operator for CTV News in Ottawa.